Law & Order: SVU Season 19 Episode 21 Review: Mama

Jack Ori at .
I'm a sucker for a good love story.
It was only a small part of the plot of  Law & Order: SVU Season 19 Episode 21, but Hal Linden's guest appearance broke my heart. He was hopelessly in love with a woman who first rejected him for her husband, then forgot him altogether because of dementia.
And then at the end of the hour, he came to the nursing home with flowers and Maddie finally remembered his name, bringing tears to my eyes.
I'm grateful that these two people got somewhat of a happy ending rather than some bizarre twist in which he turned out to have raped her.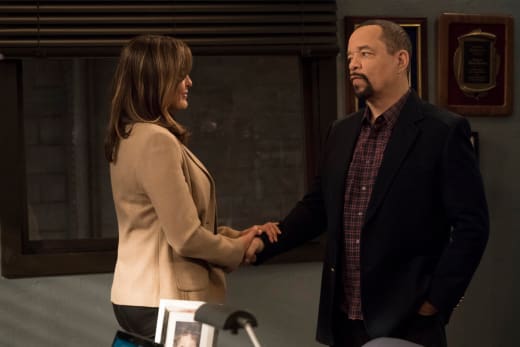 "Mama" wasn't really about the love story between Maddie and Leonard Maxwell, of course. That was just a sideline.
In some ways, the case was a subplot too. The real story here was the way elderly people in nursing homes are treated. 
These women, nobody cares about them. Their sell-by date has expired. So what do we do? We throw them in hospitals, forget about them. We can't put them out at the side of the curb for Wednesday morning pickup. The least we can do is keep predators away from them.

Benson
Maddie attached herself to Benson, calling her best friend and sometimes mistaking her for her daughter, or perhaps for another daughter that was not seen on-screen.
I kept wondering what was going to happen after the case was resolved and Benson had no reason to visit the nursing home anymore. I was sure Maddie would miss her and ask Christine what happened to her, even though she didn't really know Benson.
Their final scene together was especially poignant. Afterward, when Benson returned to the squad room wearing the necklace Maddie had given her, it made me think that she may continue to visit her.
I hope so. It saddens me that Maddie might never see her "best friend" again.
From the beginning of this case, I wondered how they would be able to prosecute anyone even if they could prove Maddie was raped.
Her dementia made it difficult for her to remember what she was supposed to do while identifying suspects, and it was hard to tell what had really happened.
Nevertheless, I was irritated with the judge who threw out Maddie's case.
Related: Get True Crime Files by ID via Prime Video Channels for Over 1,000 Real Life Mystery and Suspense Shows!
Although Maddie had difficulty with lucidity, it was clear that she could communicate what happened to her in her own way. She started crying and rambling about marzipan cookies whenever she saw Henry's photo.
This is kabookie. Even if you prosecuted him, it wouldn't stand up in court.

Grandson
Was that enough to convict him? Probably not, but Stone might have been able to call Christine and the nurses who dealt with Maddie every day to back up her testimony.
And for her sake, I wanted this guy locked up sooner rather than later.
 I was thrilled that Stone was willing to try, even if the judge got in his way.
Benson's passionate plea to not ignore elderly victims resonated, probably because he wouldn't want someone taking advantage of his sister, either. I liked seeing Stone be on the right side for once, and he was a lot more likable than he ever had been before.
Patrice was faithful to one man for over 50 years. Maybe you can die of a broken heart.

Carisi
Patrice's death and the plethora of people who came forward after the news broke about Maddie's case both underscored the point about the way older adults are often treated, especially when they become too ill for relatives to care for them at home.
Nobody visited Patrice at all until her rape, and soon after she died. That seemed incredibly tragic, especially coupled with the fact that before her assault, she had never had a sexual partner other than her late husband, who she had been with for over 50 years.
Even more striking were the comments that people made when they came forward at the end of the hour. They all said over and over that they didn't take their relatives' claims of rape seriously, and it wasn't clear why.
Did they all have dementia, or was it because people believed on some level that once they had to put a loved one in a nursing home, she no longer had the mental capacity to understand what was going on regardless of her cognitive abilities?
Related: Get Hallmark Movies Now Via Prime Video Channels for Stories With Heart, Captivating Movies, & More!
It shouldn't have been so easy for Henry to get access to his victims, either. He worked as a temp -- but even temps should have had to undergo a background check and be supervised while with patients.
Carisi: This guy's a real Renaissance man. He's been an orderly, a nurse, a chef, and a rapist.
Rollins: He was a temp. Filled in where needed.
The full-time staff didn't seem to know anything about who Henry was with or what he was doing, and that was just wrong.

Related: Get Shudder Via Prime Video Channels For Spine-Tingling & Provocative Films, TV Series, & Originals!
Henry and Trudy Morris were both odd characters. I'm not sure what the dynamics were between them or how they figured into Henry's choice to rape women. From his pre-arrest rant, it seemed like he was desperate for his mother's love and attention, but it didn't make much sense.
I wish Dr. Huang, or some other psychiatrist if not him, were still on the show to provide insight into such things!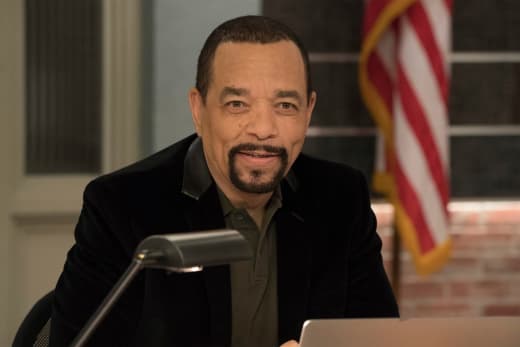 The ending of "Mama" was a happy one not only because Maddie's rapist got caught and she was reunited with her former lover, but because Fin returned to the Special Victims Unit!
I was afraid Ice-T was leaving the show and was glad to see Fin came back.
I liked the way everyone responded to his transfer, though, especially Benson.
Benson: I thought we were like family. So why do I have to hear this from Dodds?
Fin: Dodds has a big mouth.
I couldn't help thinking that she was responding to the way Stabler abruptly disappeared without saying goodbye when she accused Fin of doing the same thing.
Maybe it's just my pro-Stabler bias, but I like to think that she still harbors some feelings about that after all these years. 
In any event, it made my day to see Fin back at his desk with his Cheshire Cat smile.
I hope this leads to some more significant stories for him since he's in the background far too often for my liking.
What do you think is in store for Fin, Benson, and the others after watching "Mama"?
Are you glad Fin is back for good?
Were you as relieved as I was that Hal Linden's character didn't turn out to be a rapist after all?
Weigh in below, and don't forget you can always watch Law & Order: SVU online if you missed anything.
Jack Ori is a senior staff writer for TV Fanatic. His debut young adult novel, Reinventing Hannah, is available on Amazon. Follow him on Twitter.