Life Sentence Season 1 Episode 2 Review: Re-Inventing the Abbotts
Allyson Johnson at . Updated at .
There's a naivete to the character Stella as played by Lucy Hale on Life Sentence that is both endearing and aggravating, demonstrated in full in Season 1 Episode 2: Re-Inventing the Abbotts.
She has so consistently been lied to since her cancer diagnosis that her understanding of the world and the people she fills her world with is limited. 
In some ways, it shows in more practical manners, as she mentions the trouble her illness meant in trying to go to college or the fact that since she was 15 when she was diagnosed, she never got to experience the coming of age experience of dating around. 
In others, however, it comes in both her sweet and frustrating belief that everything and everyone can be fixed as long as she tries to force the situation.
Much of the show's success lies on Hale's shoulders and her ability to toe the line of aggressively earnest helps lift it up from rather on the nose dialogue.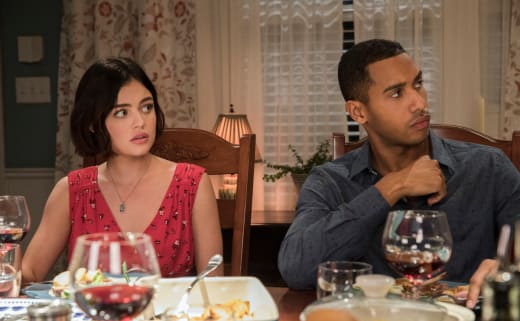 Stella's disbelief over the shambles her family makes everything about Life Sentence more believable.
Of course, she can't believe the disarray in which she's found herself -- they've been actively lying to her and misleading her for years, painting a picturesque, fairytale version of a family to aid her in enduring her illness.
Related: Get CBS All Access via Amazon Channels for Hit Shows, Exclusive Originals & Live TV!
It's hard not to root for Stella to be angrier with how those she loved to mislead her, so caught up in the lie themselves that they never questioned what might happen if she were to beat the odds. 
To be fair, there were no real consequence to my actions until last week.

Stella
It's Stella's increasingly disillusionment that makes up for the bulk of the episode and, for the most part, it's largely successful. It might've been even better had the show trusted in its abilities and allow the anger in the family dynamic to boil for an episode longer.
It's already burning through plot at an alarming rate. 
Hey don't be so hard on yourself. You weren't trying to make everything worse.

Aidan
The other highlight is the one most surprising in Ida.
As the matriarch of the family that up and leaves it for another woman (simultaneously announcing herself as bisexual to her family), Ida was the most questionable in terms of motives since the start.
Twenty episodes into the episode, Ida still felt like the least developed of the characters. 
Being a real person sucks.

Stella
It got to the point where she was playing as needlessly antagonistic as she broke through walls and tore up lawns all in order to sell a house her family loves.
A woman who came to terms with her sexuality after her children are all grown is rich with possibility and up to this point, it felt as if the writers were using it mainly as a punchline. 
Life Sentence Season 1 Episode 1 Review: Is a New Lease on Life Enough?
It's only once Stella rips into her that our sympathy grows. Was it necessary for the writing team to quite literally spell all of her motives out for us? Goodness no. In fact, it would've been better had the seeds of her unhappiness with the house been planted earlier. 
I think I liked it back when you guys lied to me. Can we go back to that?

Stella
Despite this, the realization of how this house that everyone shares such fond memories is also the one that Ida experienced some of her worst is a potent idea and it rings true. 
What rings a touch more false is how the family all comes together in the end to further fix the damage to the family.
Aidan speaking to the mother of his child, Elizabeth going to a writing retreat, Paul giving Aidan the support he's always wanted and Wes's declaration of love? All feels too structured to elicit a response from its viewers. 
It rings with insincerity since we all know that to make a full season of a television show, all of these resolutions that the script sped through will need to be disassembled in the following episodes to create further drama. 
Elsewhere, the episode works in the smaller moments.
Elliot Knight may prove to be a secret weapon in the series as his Wes is dealing with an avalanche of mess with Stella, her family and his possible deportation and Knight perfectly capture his stunned panic as he desperately tries to hold everything together. 
In an example of needing to spend more time with the characters rather than simply burning plot, it would have benefited the characters to allow more scenes of just Wes and Stella studying together as Knight and Hale share a palpable chemistry. 
We're still in the early stages of the series and, to its credit, it has an immense amount of charm to keep us hanging onto it.
Will it continue to race through its narratives though? And are we being set up for Stella and Wes to not be the main couple of the series to root for?
Don't forget you can always watch Life Sentence online if you want more (yes, more). 
Allyson Johnson was a staff writer for TV Fanatic. She retired in May 2018. Follow her on Twitter.