I know that we live in complicated times, but I was utterly flummoxed by Police Commissioner Frank Reagan's decision at the end of Blue Bloods Season 8 Episode 15.
I'll start by saying that I could see both sides of the incident between Officer Whitman and Mr. Rivera.
She was trying very hard to do her job, while he looked like a scared deer caught in the headlights.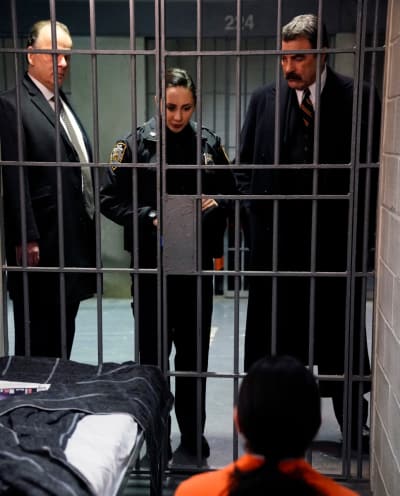 Does Officer Whitman ask many people she stops about their immigration status? I've seen plenty of people not want to show their identification to the police. Do they all end up being asked if they're in the country legally?
And if it was because he had brown skin, well, you'd half to ask at least half of New York City that question. 
Sid: She went by the book, and we're trained that book's the bible.
Garrett: And like the bible, the wrong translation can cause more harm than good.
It felt like the officer was a rookie who was overcompensating. I thought bringing her to meet the man in jail was a step in the right direction because it would give her a balanced view of what happens once someone is in the system. 
Unfortunately for Mr. Rivera, since he wasn't a citizen, he could be held in detention indefinitely awaiting a hearing, which would be cruel even if he weren't claustrophobic. 
Related: Get CBS All Access via Amazon Channels for Hit Shows, Exclusive Originals & Live TV!
I expected Frank to order the officer to have some sort of retraining. She didn't technically do anything wrong, but she certainly could have handled the situation better, and this could have been used as a training issue for the entire NYPD.
But Frank chose to fire her, and I was floored. 
Even his Blue Bloods quote didn't quell my shock:
"By general law, life and limb must be protected, yet often a limb must be amputated to save a life, but a life is never wisely given to save a limb," Abraham Lincoln. This department is the life, Officer Whitman is a limb.

Frank
Yes, firing someone who is well respected and has a family history within the department will certainly get everyone's attention, but is ruining this woman's career the right way to bring about change?
Perhaps it's the most expedient way to get the point across, but it doesn't jibe with the Frank Reagan I've known over eight seasons. 
Frank Reagan has always taken the side of his officers, even when the circumstances were far murkier than they were here, and the pressure to take action far greater. 
So why fire Officer Whitman when some sort of counseling, retraining or disciplinary action seemed much more appropriate?
I'm still at a loss.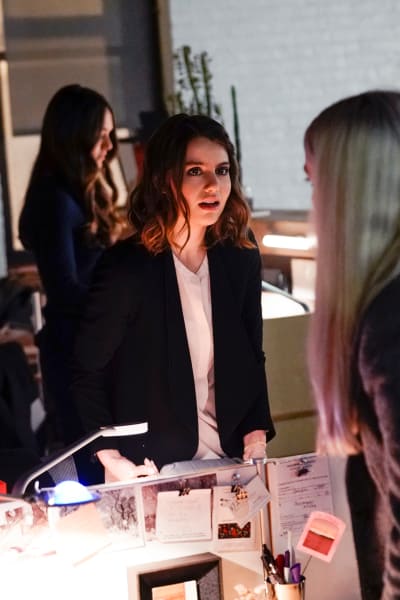 Then there was Nicky's new job. 
I found it amusing that when Nicky's coworker told her to be careful about what she wore to work, it took my husband a while to figure out why. 
I knew why before the woman finished the sentence. 
Nicky's boss was a stereotype that exists far too often in real life. The overly friendly pushiness. The crossing over boundaries while making it just seem like circumstance. 
The biggest problem I had with this story was the pace. In real life, these things usually take weeks to play out with things starting off far more subtly and then increasing over time. 
Related: Blue Bloods Season 8 Episode 14 Review: School of Hard Knocks
My other issue was that three other women walked out with Nicky, not that I didn't applaud the move, but back in the real world most people just can't walk out on their job. 
And personally, I wish Nicky would have broken the creeps nose when he forcibly kissed her, by that's just me. 
I did wonder about Erin's reaction to Nicky using the last name Boyle. Was Nicky going by Reagon-Boyle up to this point? I vaguely remember this coming up before with Nicky, but I'm fuzzy on the details. 
I know that laws can vary from state to state, but usually, if a father is listed on the birth certificate, the child is automatically given his last name. So why the shock over her using the last name Boyle?
Finally, we get to Danny.
The one thing I've learned is that life is beautiful, and it's sad but sometimes it's just practical. Money counts.


Danny
Money definitely counts, especially when raising a family on your own, and I was proud of Danny for considering all of his options. 
Having two teenaged boys headed towards college and being down to one income, the future must look daunting. 
But Danny Reagan walking away from the NYPD to work in private security would be a disaster. 
First, he'd be bored out of his mind. Danny needs both the challenge and the adrenaline rush that being a detective provides. 
I can't even imagine how annoyed he would become having to cow-tow to the whims of a wealthy man and his family. And that phone call during Sunday family dinner was a not so subtle look at what was to come if he had taken that job. 
Related: Get Showtime via Amazon Channels for Award-Winning Original Series, Hit Movies, Sports & More!
Second, I think that being a detective grounds Danny. He's lost Linda. They lost their home before she died. All he has left to hold on to are his boys and his job, and the boys are growing up fast. 
Although things will be far from easy, Danny still makes a decent salary and has lots of family support. 
Last but not least, Jamie Reagan had no story at all, yet again. It's become a trend that I despise. 
So TV Fanatics, were you as surprised as I was by Frank's decision to fire Officer Whitman?
Should Nicky have handled her boss any differently, and should Danny have bailed on the NYPD for a much better paycheck?
Check back for my review of Blue Bloods Season 8 Episode 16, and until then, you can watch Blue Bloods online here at TV Fanatic. 
C. Orlando is a TV Fanatic Staff Writer. Follow her on Twitter.