Mr. Robot Season 3 Episode 8 Review: Eps3.7_Dont-Delete-Me.Ko

Caralynn Lippo at .
Unlike other recent installments of the series, Mr. Robot Season 3 Episode 8 was largely introspective and had relatively little plot-driving impact – until the closing moments, at least.
"Don't Delete Me" found Elliot floundering in guilt and depression following the Evil Corp terrorist attacks, until he was saved by an unexpected encounter.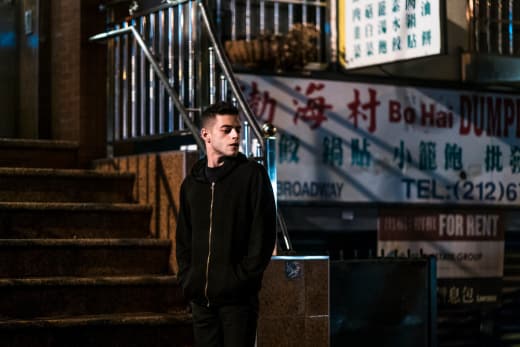 Overall, this was about as predictable as an hour of this show can possibly get. But in the end, it was well-executed and avoided too much sentimentality, so I can't legitimately fault it.
I will say, though, that this was easily my least favorite hour of Mr. Robot Season 3 thus far (and with just two left, it will probably wind up at the bottom of the ranking when it all shakes out).
The show skipped ahead three weeks after the catastrophic events of the Evil Corp terrorist attacks that occurred at the end of Mr. Robot Season 3 Episode 6, the repercussions of which spread throughout Mr. Robot Season 3 Episode 7. Once more, the show drastically narrowed the scope of its focus, more akin to Episode 6 than Episode 7's expanded cast of characters.
"Don't Delete Me" specifically focused on how Elliot was handling the aftermath of the attacks on 71 E Corp buildings – which is to say, quite badly.
The strength of the hour was squarely within Rami Malek's incredible acting talents. He was utterly broken, guilt-ridden, and traumatized after learning that Trenton and Mobley had died and been framed for the attacks and for working with Iranian terrorists.
At first, Elliot attempted to just delete them and hide them away in his binder of DVD files (like his many other hacks). But in the end, he just couldn't do that, in a gradual development of character growth that wound up being surprisingly uplifting and optimistic for a dark and typically dismal show like this.
After a tense encounter with Darlene, Elliot came to the decision to "delete" Mr. Robot from the world – by killing himself with morphine pills.
Deletion. When you make that decision, there's always that moment of hesitation. That annoying "Are you sure?" dialogue box, and then you have to make a decision. Yes or no. Yes means ridding the world of Mr. Robot forever. That includes you. Maybe it's something I should have done a long time ago.

Elliot
But before he attempted the deed, Elliot decided to go on the world's most depressing farewell tour, visiting the families of both Trenton and Mobley to make some form of amends and to let the survivors know that their loved ones weren't terrorists.
While Mobley's shitty lawyer brother didn't believe Elliot at all (and clearly didn't care much for Mobley when he was alive), Trenton's dad immediately understood what Elliot was saying and accepted it.
Of course, it wasn't Mobley's brother or Trenton's dad who wound up having the biggest impact on Elliot and on this installment – it was Trenton's kid brother, Mohammed.
The idea of a downtrodden, utterly hopeless person finding hope and possible redemption in an innocent child is undoubtedly an overused and rather boring trope at this point. While that's 100% exactly what the show did here, the Mohammed/Elliot scenes had enough charming moments for the storyline to be passable.
A few of my favorite exchanges (of which there were many):
Mohammed: "The Martian" has 92% on Rotten Tomatoes.
Elliot: That's because most critics have shitty taste.
Mohammed: What's a dictator?
Elliot: Like a really bad president.
Mohammed's incessant and downright nagging insistence on hanging out with Elliot all day effectively distracted the hacker from killing himself, though it's made pretty clear that Mohammed honestly had no idea what Elliot had planned. Rami perfectly portrayed Elliot's aggravation yet subtle willingness to allow this boy into his life, proving that our protagonist is still capable of and ready for redemption.
The action of this hour essentially had nothing to do with the larger plot. All it accomplished was to 1) convince Elliot not to kill himself and 2) give Elliot a renewed mission and purpose in life. That mission was revealed in the final moments, when Elliot saw the email Trenton mentioned her computer would auto-send if anything happened to her back on Mr. Robot Season 3 Episode 7.
Specifically, Trenton informed Elliot that the late Romero had installed a keylogger, allowing for the hack to be recorded – which means that the 5/9 Hack can be undone, if Elliot can get his hands on that information from the authorities who now have Romero's data.
On a subtler note, there was yet another Back to the Future reference, suggesting once again that the show is about to delve into the sort of time travel that Angela has been harping on about in veiled terms.
Whether the show actually intends to go there remains to be seen, but I sort of wish they'd stop teasing it out so much already – either go there or don't, you know?
Finally, there was the gorgeous final moment between Elliot and Angela, when he finally took Darlene's advice to go see his spiraling childhood friend. They had a one-sided heart-to-heart, where Elliot basically reassured Angela that everything would be fine from the other side of a closed door.
It was a sweet, incredibly emotional moment. But I was most struck by how visually perfect it was. The colors and the framing were simply gorgeous. I could hardly pay attention to what Elliot was actually saying.
Stray thoughts:
The Elliot/Darlene scene earlier in the hour felt a bit pointless to me. I feel like it could have easily been cut and had no impact.
Seeing Flipper never fails to make me happy. Nothing better happen to that dog – you got that, show?
At first, I assumed that Mohammed was simply another figment of Elliot's imagination. I was surprised when the hour ended and no such twist was revealed. Guess it really was as straightforward as it seemed!
As someone who is actually from Brooklyn and currently resides there, I couldn't stop laughing when Elliot and Mohammed went to the Alpine Cinema, of all places. Located in Bay Ridge, that place is truly the worst theater I've ever been to in my life. And it looks like the show actually filmed on location there!
The opening flashback, in which a young Elliot argued with his dad at a movie theater (shortly after the incident where Ed broke Elliot's arm pushing him out the window), was absolutely devastating. Even though we know, Ed dies, I still gasped when he collapsed suddenly, right after Elliot said he couldn't forgive him – and then again, when Elliot proceeded to take his unconscious dad's jacket and ostensibly birth his "Mr. Robot" delusion for the very first time. Spooky.
I was not a fan of the Hard Andy/Elliot drug buying scene. It just felt gratuitous and "off," in some way. Also, the dude's name was Hard Andy.
What did you think of "Don't Delete Me"?
Share your thoughts by commenting below, and don't forget that you can watch Mr. Robot online anytime here at TV Fanatic!
Caralynn Lippo is a staff writer for TV Fanatic. Follow her on Twitter.