The Big Bang Theory Season 10 Episode 21 Review: The Separation Agitation

Ashley Bissette Sumerel at . Updated at .
Howard and Bernadette's baby is one of the best things to happen to The Big Bang Theory in a long time.
On The Big Bang Theory Season 10 Episode 21 they (along with Stuart, of course) struggle with taking Halley to daycare, and Bernadette feels especially guilty for going back to work.
It's funny the way they all handle it.
A trip to the zoo that makes Bernadette overly emotional, Howard and Stuart getting Halley out of daycare on her first day so they can take her to the aquarium, and Bernadette getting upset when Halley is the only one who isn't crying over the change. 
But it's also important and real.
From the beginning of the pregnancy, Bernadette has struggled with the balance of wanting to be a mother and wanting to continue being successful in her career.
This is just another one of those hurdles. and I think it goes a long way in showing that those feelings?
They're normal. It's nice to see that on television.
Meanwhile, Bert is excited to introduce the gang to his new girlfriend, but she's not exactly the best choice. 
I have to say, I adore Bert. I'm sure I've said so before.
I'd be much happier with more Bert and less Stuart if we're really being honest.
Sheldon notices a parallel between Bert and Rebecca and Leonard and Penny right away.
She's younger and far more attractive than he is. Ha! They're copying you too.

Sheldon
Even though the focus of this show has broadened dramatically, that dynamic is the original premise, so it's funny to see it being mirrored -- sort of. 
The difference is that Rebecca is a straight up gold digger. Bert realizes this and decides to break up with her, but ultimately wants her back.
He'd rather have her around because she wants him for his money than not have her around at all. 
The logic isn't great, but to each his own, right?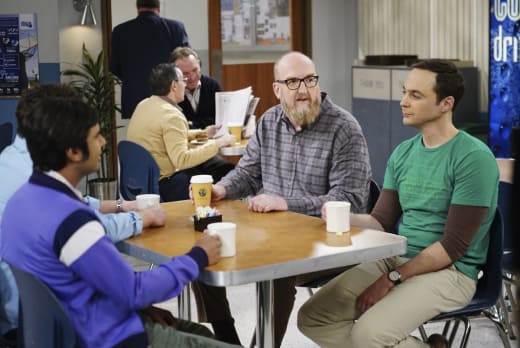 Sheldon and Amy, of course, steal the show even though the story isn't focused on them.
The Fun with Flags bit is pretty perfect, but what's even better is the way Amy is continuing to teach Sheldon how to act like he should around other people.
That includes more than one session timeout so he can think about what he said. 
As silly as that sounds, the fact is, Amy is having a pretty good effect on him when it comes to this sort of thing.
He may not always understand social cues or realize when he's being insulting, but he's trying. 
Other thoughts:
I wonder why Raj isn't involved in the trips or the daycare blues? He's spent a good bit of time helping with Halley as well.
It seems like Bert is a real fan of Fun with Flags.
Who would have ever thought Howard Wolowitz would be so adorable as a father?
Speaking of which, Howard makes a good point when Bernadette worries whether the baby will form stronger attachments to the people taking acre of her at daycare:
Bernadette: What if she likes the people who work there more than us?
Howard: She already likes soap bubbles more than us.
What did you think of this episode of The Big Bang Theory?
Be sure to share your thoughts with us in the comments below!
Need to catch up on past episodes?
You can always watch The Big Bang Theory online right here via TV Fanatic!
Watch online now!
Ashley Bissette Sumerel was a staff writer for TV Fanatic. She retired in September 2017. Follow her on Twitter and on Google+.