The Big Bang Theory Season 10 Episode 20 Review: The Recollection Dissipation

Ashley Bissette Sumerel at . Updated at .
Believe it or not, even someone like Sheldon Cooper can work himself too hard. 
On The Big Bang Theory Season 10 Episode 20, Sheldon tries to work on his project with Leonard and Wolowitz while also working with Amy, and he pushes himself to his breaking point.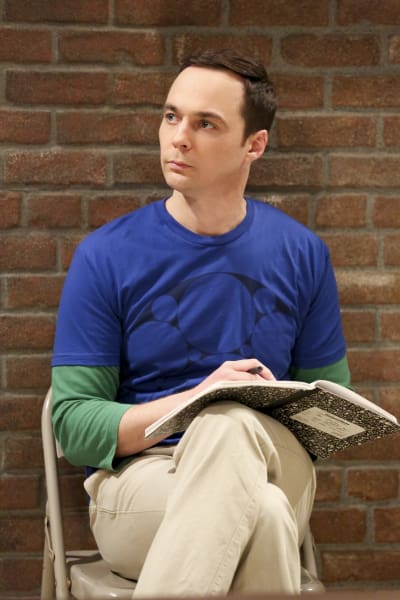 Sure, it seems like Sheldon has a handle on it to begin with.
He bounces back and forth between each project, always showing up just in time to solve a problem. He even has a special backpack filled with water and lentil soup.
This the kind of challenge that Sheldon lives for, and in fact, I think he spent more time developing the plan to do so and putting together that backpack than he did actually helping with either project.
But hey, details. 
There's one thing he doesn't consider with his plan, and that's how it will affect his immune system. It doesn't take long at all for him to get sick, and that's when things take a turn.
Oh Sheldon, don't you know better than to take cold medicine?
My pants are missing, I don't remember anything. Penny, this is your youth, what do I do?

Sheldon
It's a shame we don't see more of Sheldon's lost time than we do.
The premise is pretty hilarious, but it actually feels like a missed opportunity not to give more of those moments.
He loses an entire day, and we do see his flashbacks to the cowboy bar where the line dances and reveals classified information.
It's random, perhaps too much so, and it's somehow not as funny as it could be.
What's actually much funnier is the final scene with Amy's various versions of Soft Kitty, all played on her harp. Way to step it up, Amy.
Meanwhile, Bernadette is getting ready to return to work, and she's emotional about leaving Halley.
From the start, I've appreciated how realistic Bernadette's struggles with motherhood have been, especially when it comes to balancing that part of her life with her career.
Naturally, going back to work is going to be difficult, but it's also going to be something that makes her happy. 
Thankfully, she has a husband who seems to understand this sort of thing at every turn, and he assures Bernadette that she won't make the wrong choice. 
Howard may not always be the perfect guy, but at the end of the day, he's a good partner. 
Overall, I'm generally disappointed with "The Recollection Dissipation." It has its funny moments, but the missed opportunities overshadow them a little too much.
Other Thoughts:
Penny and Sheldon's laundry room scene is adorable. I love how close these two have gotten over the years.
Howard may be a good partner when it comes down to it, but forgetting that message, and then covering for himself with the birthday cards? Yikes.
I wonder if Sheldon will ever go back to the cowboy bar. He certainly made some good friends while he was there!
Sheldon isn't wrong. A spork is a pretty fantastic tool.
You know, I felt the same way about the spork. Solids and liquids handled by one utensil, that'll never work. Spoiler? Works.

Sheldon
What did you think of this episode of The Big Bang Theory? Be sure to share your thoughts with us in the comments below!
Need to catch up on past episodes? You can always watch The Big Bang Theory online right here via TV Fanatic! Watch online now!
Ashley Bissette Sumerel was a staff writer for TV Fanatic. She retired in September 2017. Follow her on Twitter and on Google+.