The Arrangement Season 1 Episode 1 Review: Pilot

Lisa Babick at .
Megan Morrison is proof that your life can change in an instant.
One minute Megan is a struggling actress waiting tables to survive and the next she's on her way to becoming the wife of superstar Kyle West. It sounds like a fairytale, but on The Arrangement Season 1 Episode 1, it's Megan's reality.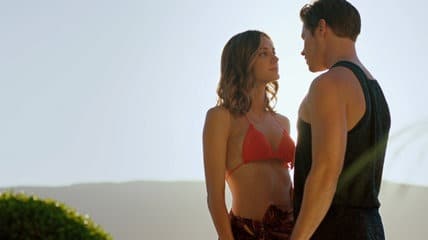 Hollywood is an enigma that is never meant to be solved. Yet, trying to figure out how it all works is an endless fascination.
What attracts people to this business? And what lengths will be people go to be successful?
Megan hasn't been having much success in her chosen profession or in her personal life, but that hasn't stopped her from pursuing the dream. She almost blows an opportunity to audition for Kyle's next film, but somehow squeaks in after showing up late. 
Then, as luck would have it, she gets a callback and her life changes forever. Like something out of a Hollywood movie.
Can you imagine being chased by a mega movie star after a read-through with him so he can tell you how amazing you were and then take you to lunch at a little hole-in-the-wall fish taco place before whisking you off to Mexico?
Yeah, neither can I, but it was awfully romantic to watch.
Especially considering how controlled Kyle's life is. The people who are handling him, Terence and his wife DeAnn, aren't too thrilled about his fascination with Megan.
Terence just doesn't get it. She's not what he envisioned for his premiere piece of property. DeAnn is more relaxed about it,  but Terence is the one pulling the strings. At least it seems that way.
How much power he has over Kyle isn't fully clear yet. What is clear is that Kyle holds Terence in high regard. He considers Terence his best friend and his opinions matter, but we never saw Terence express his displeasure in Kyle's choice other than a few looks that were less than thrilling.
Kyle attraction to Megan was almost instant. The moment he saw her on screen at Terence's place you could tell he was hooked. 
There is such a thing as love at first sight, but this is Hollywood we're talking about here. How much of this is real?
Obviously, we know by the end of the hour that this little romance isn't the first "arrangement" Terence has made for Kyle. The therapist was swiftly kicked out once Kyle decided he wanted Megan on his arm. I guess you can only have one arrangement at a time.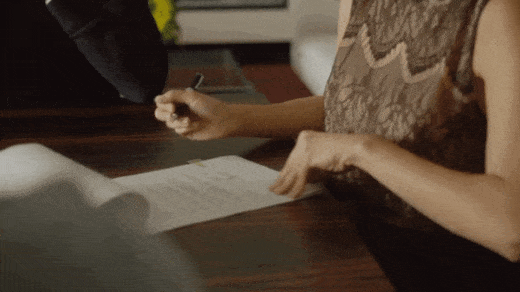 Still, Kyle's affection for Megan does seem genuine. He's been around the block and has worked with many actresses. It has got to be grating after a while to see fake after fake after fake.
Megan was like a breath of fresh air for him. And she was just being herself. I thought her answers to the three imperatives were rather clever. She wasn't just faking it, trying to make herself look good. Though I do think her maximum security prison answer is a clue to her past.
So by the time she came around for the read, he was already convinced she was the one no matter how forced her acting seemed. And it did seem like she was acting. Did anyone else hear how deep her voice got? 
But aside from that, Megan is the real deal and their chemistry seemed to be the real deal too.
I loved when she opened up and performed her high school talent show act for him. It was goofy, but real which is why he felt the need to kiss her after that.  
I can't imagine what it would be like to receive a contract offer to become someone's wife after only knowing them two days. But we're talking ten million dollars. And it's more money than Megan would probably ever see in her lifetime.
Hollywood is not an easy place to break into even if you did just spread your legs for one of the hottest actors in the business.
Although she seemed to be a little offended by the idea of it when Leslie first presented it to her, it didn't take her long to realize that this was probably the best move for her to make.
She just got offered the role of a lifetime, and she isn't going to have to fake it too much. She seems to like Kyle. And she's getting ten million. It's hard to say no to that.
Megan is living in a fantasy world if she thinks this arrangement is anything but. They've only known each other two days. Kyle can say all the romantic things he wants, and there's no doubt love at first sight does exist, but in this case, it seems too good to be true.
Maybe if Terence wasn't around, it might be easier to believe. But Terence is a lot more powerful than we're seeing right now. We also haven't been given the full picture of how the Institute fits into it all.
How "into" the Institute and its beliefs is Kyle and how will it influence his relationship with Megan? From what he described at lunch, he's pretty into it, so we know it's going to present a problem at some point. 
Besides what kind of drama would The Arrangement be if there wasn't some sort of drama to our little happy fantasy world?
Everything presented so far in The Arrangement has my attention. Even though it's not going to be a happy ending, it's hard to turn away.
How horrid will Terence and the Institute be for the happy couple? What kind of trouble will Anika bring? How will Megan's past come back to haunt her? 
Will Megan and Kyle survive? 
It's going to be interesting to see how the show answers these questions and others. I know I can't wait to find out what happens next.
What did you think of the series premiere of The Arrangement? Did Megan make the right decision? Will you be tuning in again?
If you missed anything, you can watch The Arrangement online right here via TV Fanatic!