When all else fails, find a way to distract to Sheldon.
The Big Bang Theory Season 10 Episode 15 takes a step away from the relationship drama to focus on something much more fun. 
Sheldon's love for trains.
Leonard, Howard, and Sheldon are nearly finished creating their navigational system, but Sheldon insists they could make one even smaller. His focus on doing that slows the process, and Leonard and Howard are just ready to get it finished.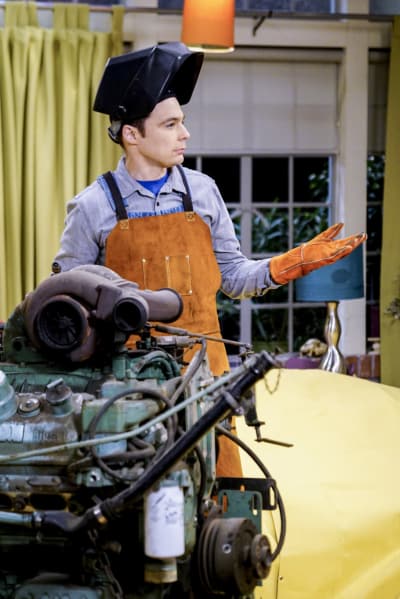 So naturally, Leonard pulls out the big guns. 
Somehow, it doesn't surprise me at all that Leonard has been holding on to a $4000 train trip for Sheldon to use at just the right time. 
I imagine he probably could have used that trip for a better reason, but that's beside the point, I suppose. 
Sheldon's excitement over the gift is a joy to watch.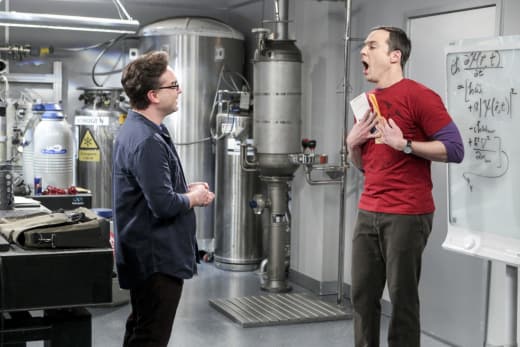 This doesn't happen very often, but here comes a hug. [pause] Oh dear, I have to tinkle again.

Sheldon
This is probably my favorite side of him, though you have to feel a little bad for Amy while he goes on. And on.
And on, and on.
Of course, just when it seems Leonard's plan has worked perfectly, the colonel returns, notices Sheldon's equations, and insists they build that version instead. 
Too bad they have no idea how to make that happen, and Sheldon is now otherwise occupied.
Despite the fact that Sheldon is so confident in himself as a scientist, it's worth noting that he's gone through something of a career-identity crisis more than once. He's changed the focus of his research altogether, and even questioned his own abilities earlier this season on The Big Bang Theory Season 10 Episode 3.
Now, he's experiencing something similar. He's seeing the value of another field and a different type of work. And he looks extremely happy.
Leonard, in the world of theoretical physics, you never finish. So much is unprovable. But when I was studying that railway guide, it was so tangible and so satisfying that something just clicked. Then it clacked. Then it clicked, then it clacked. Click, clack, and clickity clack, and here we are, woo woo!

Sheldon
Meanwhile, Bernadette continues to be exhausted by being a new mother. She's already working on pre-school applications, and she's overwhelmed now that Howard is back at work.
Amy: Is there anything we can do?
Bernadette: Sure. Open up a college fund, shop for life insurance, and in the laundry room there's a mountain of dirty laundry. Wash it or burn it. Your choice.
I appreciate how realistic this view of motherhood is, and honestly, Bernadette has become one of my favorite characters on the show. 
Penny and Amy decide to take Bernadette out for a much-needed girls' night, but that night takes a serious turn. It's hard for Bernadette to leave Halley at this point (especially considering who the babysitters are!) and the fact that she's a mother now has changed the group dynamic.
I've been wondering how long it would take us before Penny starting feeling some pressure to have a baby. Now, we have our answer. She points out that though she and Leonard are married now, their relationship hasn't evolved much. 
From where I'm standing, she's right about that. There are times when I adore Penny and Leonard together, but any time we've seen them deal with relationship problems it's been uncomfortable and unpleasant to watch. I'd love to see more focus on the two of them, but without the negativity. 
At least Sheldon and Amy are adorable these days.
Other Thoughts:
Raj and Stuart aren't terrible in this episode, and I think that's because they so genuinely want to help take care of the baby.
Sheldon "fixing" the equation for Leonard and Howard by finishing the Charlie Brown face made me literally laugh out loud. He really should have said "Bazinga" in that moment.
There are at least two other episodes with titles related to "locomotion." There is The Big Bang Theory Season 7 Episode 15, "The Locomotive Manipulation," and The Big Bang Theory Season 8 Episode 1, "The Locomotion Interruption."
The train jokes on this episode are pretty great. One of my favorite quotes from Sheldon is this one:
Howard: How'd you even get that up the stairs?
Sheldon: I said to myself, I think I can, I think I can. And then I couldn't.
What did you think of this episode of The Big Bang Theory? Share your thoughts with us in the comments below!
Need to catch up on past episodes?
You can always watch The Big Bang Theory online right here via TV Fanatic! Watch online now!
Ashley Bissette Sumerel was a staff writer for TV Fanatic. She retired in September 2017. Follow her on Twitter and on Google+.