Being Mary Jane Season 4 Episode 1 Review: Getting Nekkid

Carissa Pavlica at .
The biggest surprise came by way of a one-year time jump to start the season.
With everything that happened during Being Mary Jane Season 3, especially with Niecy and the tasering in the finale, I really thought there would be more of that story to come.
Yet after watching Being Mary Jane Season 4 Episode 1, I wouldn't have wanted the new season to begin in any other way.
It feels good not to have Mary Jane and Kara banging their against the same walls any longer. There are still walls, and they're still banging (in many different ways), but we won't be subjected to storylines the likes of Cece, and if all goes well, MJ won't be revisiting David again.
While MJ was led to some interesting moments of self-discovery due to her involvement with Cece, both the story and Loretta Devine deserved better overall. 
And MJ and David were never going to connect at the right time and place, so watching their hit or miss engagements time and again leading to so much pain was just as painful to watch. 
Niecy's tasering story could have gotten bogged down and turned into story without end. It could have taken a Cece type of turn, because there is so much ground that needs to be covered to do the story justice, that even wading into it is perilous.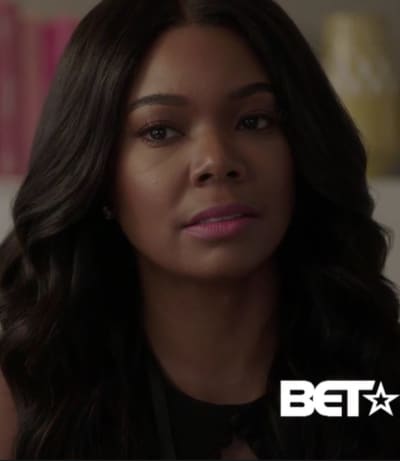 With the way it was handled, we discovered MJ did what we would expect. She went to bat for her family with every ounce of her being and all of her professional resources. In fact, it got her fired.
In the meantime, while the courts eventually sided with the family, the public gave them a very hard time, and it was Patrick who took the brunt of it as the ne'er do well father with a questionable past.
For the moment (and maybe forever), we can only guess the types of accusations that were laid at his feet, but given his history, it must have been ugly. 
By the time we catch up with them a year later, though, the family seems at peace. Niecy isn't her usual self, but who would be after something like that? It's a weight she has to carry forever, and she has to learn how to live with it day by day.
The press is still hounding the family, and with MJ gone, Patrick has taken over her duties in that regard. The legal side of things with restitution for Niecy seems to be coming to a close, and his statement on Niecy's behalf was beautiful.
He never wanted to think the family would have to go through something like that, let alone with a daughter of the family, but they were able to do it by coming together as a more loving and powerful familial unit than they ever had been before.
That's a pretty significant message to send to the community. You can let things break you, or you can stand together and remind those who want to tear you apart what really matters. And if the Pattersons can do it with as fractured as they were, there is hope for others.
All of that meant MJ was already feeling a little off when she got to New York. No doubt it influenced her decision to focus on family, namely one of her own...
MJ: I signed with a professional matchmaker.
Kara: A matchmaker? Is this one of your white friends' suggestions? It was Molly, wasn't it.
MJ: She caters to diverse, professional women like me.
Kara: How does that differ from a dating app?
NJ: It cost $20,000.
And it also made her very grateful to have a job at Great Day USA.
Did you notice how different MJ acted while making her way through the offices of Great Day USA? She's confident, but not overly so. She's eager and interested, but excited to work with her idol, Rhonda Sales.
That's why it's such a mess that her new producer, Garrett, has pitted the two women against each other straight away.
There are two ways I see this going. The new Mary Jane seems more willing to soak things in and was even open for earning her spot on the anchor's desk. At least she was until Garrett messed with her mind and Rhonda seemed kind of annoyed about it.
Rhonda knew Mary Jane was being hired to compete with her, but she still, initially, treated her kindly and offered to her use of her own private stylist. She didn't have to do that.
Rhonda may get a five-year contract. She may not. She's getting older. One thing is certain: that five-year contract will not be what she wanted it to be, or they would have already closed the deal.
She thought MJ was going to be a co-anchor. Others thought Rhonda was on her way out completely. No that they know they've been chosen to have an on and off-air rivalry, why not work together, just like MJ's family did, to prove Garrett wrong?
Rhonda has no lost love for the new and inexperienced producer. Maybe they can get him removed from the job. Maybe by working together, MJ and Rhonda can make Great Day USA really great instead of having to act like fellow toddlers in Garrett's sandbox?
That's what's going to work for me.
And no, I'm not forgetting London Lee. Thanks to him, MJ has her latest motto.
Make yourself at home, but don't get too comfortable.

MJ [on a Post-It]
The best thing about him is he's nice. At least so far. And he's very accommodating in bed.
It was hard not to laugh with poor MJ when she called Kara with info on what might happen now that she had taken a strange man to her bed, after carefully walking him past the cameras in the lobby, of course.
It would be tricky dating a comedian in the off chance he wasn't funny, but other than that, this guy is lining up just right so far. And he doesn't cost $20,000. 
I'll never understand the allure of a matchmaker for women who have no problem attracting men. MJ's only problem is not obsessing and choosing a man who cares for her instead of "challenges" her in a dickish way.
That stuff is for kids. She's a woman now.
And can we talk about that bit with the rubber band? How sexy was that? But to see it lead to her wanting him to say, "I love you," in bed was just precious. She's such an enigma.
This was a great start to the season. Being Mary Jane Season 4 is bold and sexy with a lot of new opportunities to keep the show fresh and exciting. I can't wait for more!
If you need to catch up, you can watch Being Mary Jane online right here via TV Fanatic!
Carissa Pavlica is the managing editor and a staff writer and critic for TV Fanatic. She's a member of the Critic's Choice Association, enjoys mentoring writers, conversing with cats, and passionately discussing the nuances of television and film with anyone who will listen. Follow her on Twitter and email her here at TV Fanatic.