With the way Election 2016 is going, it's been next to impossible for writers to come up with storylines that stranger than reality.
Madam Secretary Season 3 Episode 1 certainly gave it the old college try though. After Dalton lost the nomination (a fate suffered by only one elected president in history), Elizabeth suggested that he run as an independent. The least crazy part of this story was framing the climate change debate as an issue of national security!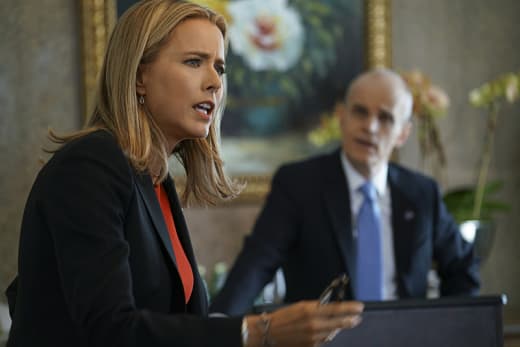 While the election maneuverings may be slightly fantastical, what struck me as even more bizarre was how domestically focused everything was. Sure, Elizabeth spoke to the foreign minister of Tunisia, but what role did he play beyond providing a little bit of global shade?
Climate change is a serious issue, and an even bigger problem is how the U.S. government has it's hands tied by Congress and state legislatures when it comes to the issue. I'll resist the temptation to stand on my soap box and rant about the many, many examples of this.
But it's also not sexy. Or dramatic. Or actively compelling in a way suited to the medium of television. Madam Secretary tried it's best, but honestly, the (brief) scene at the naval base was merely "eh" and there was not even an attempt to connect us to the injured ensign.
I seriously don't even understand how what he was doing when he fell in the water was helping to save lives. 
Elizabeth: Yes, Matt, my question was largely rhetorical. But I appreciate you being at the ready with your political ire.
Matt: Well, I'm always here for you, ma'am.
While the setup was weak, I did love the outcome. Sure, the writing team still managed to avoid identifying which party Dalton belongs to – and further obfuscated the matter by assigning contrary positions to his opponents – but I've given up on that beef. 
Now that he's running as an independent (and presumably he'll succeed where Teddy Roosevelt failed), they'll have a little more freedom in ascribing the platforms of his foreign and domestic agendas.What's "right" and what's "left" doesn't matter when you're on the z axis after all. It's a whole new dimension.
I'm a little disappointed that the move is keeping Elizabeth from taking up an office in the EEOB, but that could always change. Besides, the fact that Dalton – and RUSSELL – actually listened to her, with little to no fight, shows that her power within the administration is secured, regardless of her title. 
Daisy: You were a huge hit at the fair, ma'am. Your pig remark is trending.
Elizabeth: Wow, take that Lincoln and your Gettysburg Address. *I'm* going to be known for the pig remark.
Elizabeth really proved her mettle, in large part by just being her self and staying true to her values. Well, that, and it seems like she got around to reading Lean In recently. If only it were actually as easy in real life. 
I'm making fun a little bit, but I really, really loved her impassioned speech to Dalton and Russell. Tea Leoni  and Keith Carridine both brought it to that scene, and their passion was what redeemed an otherwise unimpressive hour of television. Honestly, I'd forgotten how good he could be, turning on a dime like that.
Her interview with Jane Pauley (who I would love even if she wasn't a fellow alumnae), was candid in a way that the electorate says it yearns for. I just hope Elizabeth continues to have flaws and weaknesses – Mary Sue characters are dull as dirt. 
One quick side note about the interview scene: How much did I love, love, LOVE that Elizabeth wore the eagle brooch from Secretary Albright? It was only improved by the fact that she wore a jacket that fit. 
Jane Pauley: Are you breaking rank with the President and the party on this?
Elizabeth: Well, I-I've never been an official member of any political party. I'm not a partisan politician. I'm a public servant.
While we're one excellent guest stars, Morgan Freeman's cameo as Chief Justice was short, insignificant, and perfect. Can we please, please get a spin-off with him? Seriously, a show about the inner workings of the Supreme Court is something I would watch, especially with Freeman. 
As for the non-election related story lines, I was disinterested at first by the whole laptop spying issue, but it's taking a turn I wasn't expecting. Now I'm worried that this arc will go to far and end up jumping the shark. Hopefully no one is actually after the kids and instead is just interested in sensitive intelligence.
Henry's possible arc with Murphy Black Dog Station seems more than a like a basic repetition of last season, which leaves me wary. Still, it's got to be hard to find a way to keep him involved in the story as more than a husband without falling into Scandal-esque insanity, so I'll reserve judgment.
Henry: I dare you to yell out "capital gains tax." See what happens.
Elizabeth: Be safer to yell "fire."
For now, it's probably a good thing that Elizabeth got bumped from the ticket. It really doesn't look like she'll have any free time to go out on the campaign trail. Madame Secretary Season 3 Episode 2 ("The Linchpin," airing October 16th) will see her attempting to negotiate a regime change in Algeria; not an easy undertaking by any means. 
And her back burner is already full too, what with those creepy stalker photos of her kids. Hopefully we get some leads on that soon, I don't think I can handle it being drawn out for very long, and Stevie will be pissed if it interferes with her summer plans.
Miss the season three premiere? No worries, you can always watch Madam Secretary online! Just remember to check back in and share your thoughts on "Sea Change" once you've finished. 
Elizabeth Harlow was a staff writer for TV Fanatic. She left the organization in October 2018.