Agents of S.H.I.E.L.D. Season 4 Episode 5 Review: Lockup

Lee Jutton at .
Prison riots, blackmail and vengeance – oh my! The latest installment of S.H.I.E.L.D.'s shenanigans with Ghost Rider was definitely the best so far this season. Not only was it packed with action as per usual, but many of the show's storylines actually moved forward!
On Agents of S.H.I.E.L.D. Season 4 Episode 5, the majority of the S.H.I.E.L.D. team is preoccupied with a mission at the secure prison where Robbie's Uncle Eli is being kept. Since the mission involves a member of his own family, Robbie insists on coming along -- though some members of the team, primarily Mack, are not enthusiastic about the idea.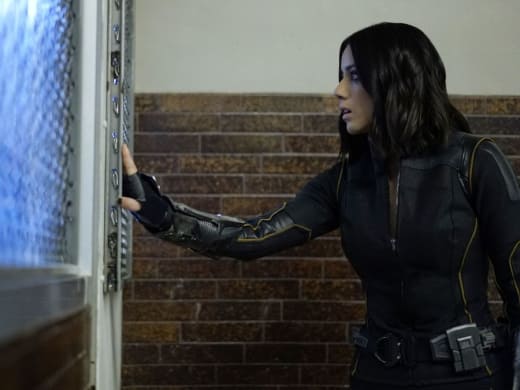 Pretty much the entire episode takes place in the prison, which means we're treated to an awesome prison riot scene straight of out an old-school grindhouse movie...if grindhouse movies had to abide by network television's rules and regulations for violence.
That being said, while the show doesn't have total freedom from standards and practices, moving to 10:00 pm EST has definitely led Agents of S.H.I.E.L.D. to up its action quotient, for which I am grateful. (The hour of sleep I'm losing, well, that's another story.)
You said if you needed some ghost bustin...

Robbie [to Mack]
Watching Daisy suicidally take on a whole fleet of furious Watchdogs was pretty fierce, though I'm already growing tired of her self-flagellation. I know she's been through a lot, but she needs to stop beating herself up over everything that happened with Lincoln and move on. Either that, or the writers need to come up with some new ways for her to express this distress.
May's speech to Daisy at the end of the episode, about how Daisy can't choose whether or not they care about her, was incredibly touching – got to love the tough love from May! I hope it ends up being a turning point for Daisy. We need the old team back, ASAP. 
Coulson: You had a near death experience.
May: It was a death experience. And I'm over it.
Coulson Well, I'm not over mine.
Even though I find her storyline a bit boring, I do love watching Chloe Bennet kick butt every week. She's becoming a more skilled onscreen fighter as the show goes on. It would be great to see her take a role in a big-budget action movie during one of the show's breaks from shooting. (Or, you know, they could just introduce the agents of S.H.I.E.L.D. to the Avengers...)
There were several other standout moments in this episode. The big reveal of Director Mace's Inhuman status on live television was definitely one of them, though I have to say, I loved that George Stephanopoulos was roped into conducting the interview even more than the interview itself.
I promise you, I am the man for this job. Because I'm not just a man. I'm an Inhuman.

Director Mace
Watching Stephanopoulos keep a straight face while describing Director Mace as a "patriot" and moderating a debate featuring the word "Terrigenesis" was pretty hilarious. I have never been more appreciative of ABC's attempts at brand synergy,
Senator Nadeer, as played by the badass Parminder Nagra, continues to look like a formidable foe. I can't wait to find out what she's demanding from Director Mace in exchange for her silence about S.H.I.E.L.D. secretly working with Robbie. 
The addition of Jason O'Mara as Director Mace has proven to be another bit of excellent casting. He's capable of seesawing from corporate cheerleader to sinister suit so smoothly that one can't help but remain somewhat distrustful of him – especially after Simmons confronted him about lying. 
Simmons momentarily shocking the administrator of the S.H.I.E.L.D. lie detector test by telling him that yes, she had in fact worked for Hydra (undercover) was pretty hilarious, and a pleasant reminder of one of Simmons' finest hours. Watching her refuse to take any more of these tests definitely ranks up there as well. 
Trust must be earned with random, non-invasive testing.

Director Mace
I'm disappointed that Robbie succumbed to his desire for vengeance on the Fifth Street Locos, but I can't say I'm surprised, or that I didn't enjoy watching all of the prisoners stop rioting and step back in awe as Ghost Rider's flaming skull strode down the hall. It was also nice to get that extra insight into Robbie's backstory. 
Like the aforementioned Nagra and O'Mara, the casting of Gabriel Luna as Robbie Reyes has only been good for the show. Luna portrays the darkness of the character without veering into angst-ridden caricature; the pain that Robbie feels is etched deeply into his face, and inspires empathy even when he's doing dumb things like abandoning his uncle to get vengeance on an old gangbanger. 
You said if you needed some ghost bustin...
The Darkhold is a cheesy-as-hell looking prop – it looks like that lettering was printed out onto form board and glued onto an old yearbook – but I like the magical and fantastical path it is leading S.H.I.E.L.D. down. Lucy is a pretty freaky villain and I can't wait to see what she makes Eli do with the book. Hopefully it lives up to all of the creepy foreshadowing. 
Well, what did you think of this episode? What do you think Senator Nagra wants from Director Mace? Has the show affected your desire to see Doctor Strange next weekend? How many more episodes until Life Model Decoy Grant Ward shows up?
Remember, you can watch Agents of S.H.I.E.L.D. online via TV Fanatic.
Lee Jutton was a staff writer for TV Fanatic. She went into retirement in July of 2017. Follow her on Twitter.