Agents of S.H.I.E.L.D. Season 4 Episode 3 Review: Uprising

Lee Jutton at . Updated at .
Nothing like a power outage to ruin a good party, am I right? 
On Agents of S.H.I.E.L.D. Season 4 Episode 3, titled "Uprising," a series of blackouts caused by EMPs made cities around the world vulnerable to vigilantes trying to hunt down Inhumans.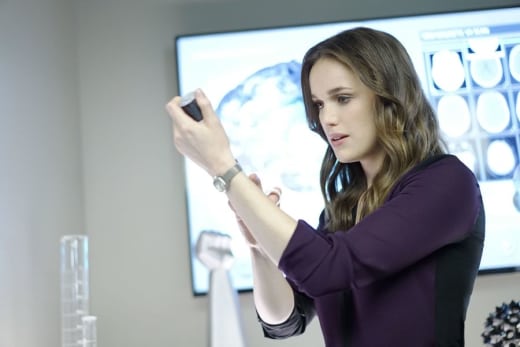 The downside to this was that all of the awesome fight sequences in this episode took place in the dark. This led to some cool use of light and show to illuminate movement (reminiscent of how Roger Deakins' killer cinematography illuminated James Bond's adventures in Skyfall), but mostly a lot of me squinting. 
However, the upside was that one of the blackouts took place in Miami, where Elena "Yo-Yo" Rodriguez was attending a bachelorette party. And I am always in favor of more scenes with Yo-Yo.
Yo-Yo's dry, sarcastic wit never fails to bring a smile to my face, and her sizzling chemistry with Mack means that they're literally the only couple I have ever shipped on this show. 
So many people looking for an excuse to hate.

Yo-Yo
During the show's vice-presidential debate-induced hiatus, the showrunners revealed that the new Director of S.H.I.E.L.D. introduced in Agents of S.H.I.E.L.D. Season 4 Episode 2 is in fact Jeffrey Mace, alias Patriot. His last name is revealed over the course of this episode, not that his identity necessarily means that much to the average Agents of S.H.I.E.L.D. fan like myself. 
Considering I had never heard of Patriot until I heard the rumors about his inclusion in Agents of S.H.I.E.L.D., I don't have any emotional investment in the character's canon. So, I'm looking forward to seeing how the show reinvents this character from the Greatest Generation as a modern Inhuman.
I need a win, Phil. Capital W.

Jeffrey [to Coulson]
My initial feelings of wariness about Jeffrey are already starting to wear off. He might be a shiny stuffed suit, but I don't think he's an evil one. (Though, as someone who works in public relations – Jeffrey's favorite buzzword – I may be more sympathetic to his cause than I should be!)
Jeffrey has different priorities than Coulson and the rest of the team. This is guaranteed to keep causing friction throughout the season, but I don't see him as a full-out villain – at least, not yet. 
A team divided is a team defeated. Right?

Jeffrey
Instead, in this episode we got a good look at another villain – Senator Rota Nadeer, the anti-Inhuman talking head featured in numerous television broadcasts surrounding the blackouts. Played by Parminder Nagra, a thin layer of ice coats every hateful word that comes out of her mouth.
Hearing Senator Nadeer talk about Inhumans is like listening to Donald Trump talk about Muslims – all fear mongering and absolutely no empathy. Her paranoid messaging wouldn't be out of place on Fox News. 
It's worth noting (though in an ideal world, it wouldn't be) that the addition of Nagra adds another actress of color to one of the most diverse casts on television. It's also a bit of a twist to see a person of color playing a character persecuting others for being different. 
Senator Nadeer is clearly covering up some secrets of her own, as we saw in the last scene of this episode, and I can't wait to discover more about what drives her actions.
The scenes with Simmons and Radcliffe killing and "rebooting" May felt weird to me. It seemed as though the writers realized that they needed to being May back ASAP and remind us that Radcliffe was a character on the show, so they killed two birds with one Simmons-shaped stone. I wasn't really invested in these scenes because I knew there was no way May was going to die. 
I did enjoy the moment when Radcliffe addressed the myth of humans only using ten percent of their brains as just that: a myth. It is used as a crutch in so much science-fiction, from Lucy to Limitless and beyond, so it was refreshing to see a show like Agents of S.H.I.E.L.D. debunk it. 
Daisy: Was that...it?
Robbie: No, that was me.
Speaking of Radcliffe and his secret gal-pal, Aida: How many more episodes do you think we will have to wait before Life Model Decoy Grant Ward shows up somehow? Goodness knows, the show seems unable to quit Brett Dalton. 
While part of me worries that bringing Dalton back again in some form would lead S.H.I.E.L.D. into the same trap of repetitiveness Zachary Quinto's villainous Sylar led Heroes, I can't help but wonder what the Life Model Decoy version of him would be like.
Perhaps this version might actually be a good guy! But, I'm not holding my breath. (For Grant Ward to be a good guy. Not for him to come back. That is practically guaranteed.) 
And, to touch on the storyline from which this season has taken its name: Daisy helped Robbie beat up some guys who wanted to steal Gabe's wheelchair – and they did it in broad daylight so we could bask in their badassery! Visible fight choreography for the win! 
I like to vet my vengeance demons before I hop in a car with them.

Daisy [to Robbie]
I really admired the way Gabe insisted he was the one who cared for Robbie, as opposed to the other way around, and the way he quickly deduced that Daisy was Quake. However, by forcing Daisy to abandon his brother, he just set the plot back too many steps.
We need Daisy and Robbie to start solving the mysteries of Momentum Labs. If the show is going to hang its hat on Ghost Rider this season, they need to give us more reasons to be invested in that storyline. Things besides long conversations – however well written – need to start happening. And soon. 
Yet something tells me the Ghost Rider/Momentum Labs storyline won't gain any...well, momentum, until after Doctor Strange is released. It's one of those things that makes you curse the interconnectedness (what little of it there is) of the Marvel Cinematic Universe. 
So, what did you think of this episode? How do you think Daisy and Robbie will inevitably be brought back together? Will Yo-Yo and Mack ever hook up? And what is Senator Nadeer's end game?
Remember, you can watch Agents of S.H.I.E.L.D. online via TV Fanatic. 
Lee Jutton was a staff writer for TV Fanatic. She went into retirement in July of 2017. Follow her on Twitter.