The Fosters Season 4 Episode 4 Review: Now for Then

Jasmine Blu at .
Nick is back! 
Well, he's technically in a facility getting the help that he needs, but Mariana did go to see him. After the suspenseful Nick conclusion on The Fosters Season 4 Episode 2, and the phone call Mariana received on The Fosters Season 4 Episode 3,  now we have Mariana confronting Nick.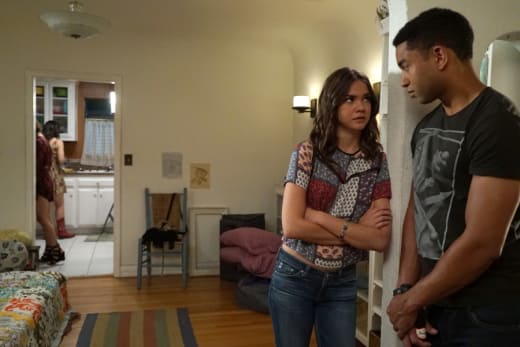 What a confrontation it was! The events with Nick have taken a psychological toll on Mariana. She was even sleeping in Stef and Lena's bed. Something she fortunately weaned herself off of by the end of The Fosters Season 4 Episode 4. After all, that would have put a damper on celebrating their wedding anniversary. 
Nick still haunted her. Her decision to go visit him was a great way to free herself from the hold he had on her. Unfortunately, it probably did more damage than good. The last thing Mariana needed was to feel like the the only thing keeping him alive.
Thank you for coming to see me.

Nick
It slipped my mind that Nick was still under the impression that he and Mariana were still together and possibly would be when he got out. The fact that he is holding her to it makes their relationship more toxic than it was before. She should not have to be burdened with appeasing him just to keep him alive.
Mariana attempting to face her fears and regain control of her life was fantastic. Watching her robbed of the chance to speak freely and help herself heal, on the other hand, was not fantastic. The Nick arc is proving to be an interesting one, and the character growth in Mariana is already a highlight of the season. 
You have no idea how sorry I am. Sorry we ever brought you into this house and allowed you to destroy our lives. My son is not a rapist or a thief, but his life is in ruins, and so is mine and my husband's. So take your pictures of a house that is no longer a home because of you.

Liam's mom
Oh Callie! Callie's path of self-discovery and making peace with her past is long overdue. It's the story arc that she needed the most, but it kept getting side tracked and put on the back-burner for frivolous things like forbidden love and love triangles. She's such a multi-faceted character. 
How awful was that scene with Liam's mom? Callie's maturity during that scene was admirable. Liam's mother is in denial and in need of therapy. Her marriage and home life didn't fall apart because of Callie. It fell apart because her son is a rapist. 
Sheila was a breath of fresh air in comparison. It was sad when she told the story about Kyle. The honest and realistic exploration of the foster care system is one of the best things about the show. There is never enough time dedicated to it. 
I know you're Super Callie, but this business with Kyle is not your problem. I just want you to take care of yourself.

AJ
The dust from the Justina issue has barely settled and Super-Callie has already jumped on another crusade. Justice for Kyle. Callie is a compassionate and sweet person, and it's part of her charm. AJ hit the nail on the head, though. Callie throws herself into saving everyone else so that she doesn't have to focus on her own issues. 
Kyle definitely deserves to at least have his case reevaluated. It's just that we've gone down this road before. Why can't there be a season where Callie just works on Callie? It feels like something else to detract from her Senior project and the personal journey she's taking. 
Don't you...don't you ever get lonely?

Jesus
Thank God they finally got back to the Gabe storyline! I might be in the minority on this, but I like Gabe and the arc with Jesus. Gabe initially came across as a loner who didn't want anything to do with anyone. Now, he's another honorary member of the Foster clan. There is no age limit on the strays they take in. 
The scene with Gabe breaking down was one of the most heart-wrenching moments of the season so far. I was concerned that he really would have to leave or go back to prison. That would have been terrible because the Gabe/Jesus storyline was one of the best story arcs for Jesus. 
Brandon is committed to his terrible decision of "playing house" with Courtney and Mason. I'm committed to despising every second of it. Stef is committed to objecting to it every chance she gets. Team Stef!
There is something odd about an adult woman carting her boyfriend to and from high school. There is also something odd about said boyfriend "parenting" her and and her kid. Courtney's ex-husband agrees. Brandon is just not mature enough for any of this. 
Comments are like freshly baked chocolate chip cookies. They're good for the soul! What did you guys think about "Now for Then?" Do you think Mariana will ever feel comfortable being honest with Nick? Are you Team Stef or Team Brandon?
Weigh in below! Don't forget you can watch The Fosters online anytime! 
Jasmine Blu is a senior staff writer for TV Fanatic. Follow her on Twitter.