Orange is the New Black Season 4 Episode 12 Review: The Animals

Amanda Steinmetz at .
Stunned, sadness, anger... these are just a few of the emotions I felt after finishing up Orange is the New Black Season 4 Episode 12.
Instead of the race war I thought was bound to happen, the different prison factions joined forces to take down Piscatella. Unfortunately, one inmate lost her life in what was supposed to be a peaceful protest.
Major spoilers ahead if you are not caught up!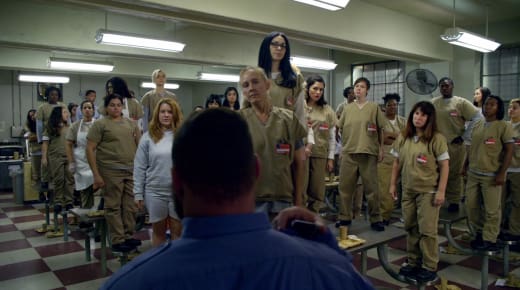 Poussey's sudden and horrifying death is both shocking and yet, somewhat inevitable. I'm sure many will say that Poussey's character could have been swapped out with any of the other characters, and they are right.
However, Poussey represents a specific type of prisoner. She's petite, non-violent, intelligent, and tries to keep a low profile. It won't surprise me if the MCC tries to spin this story and turn Poussey's narrative so that she's painted as the violent, black inmate. 
It won't matter that Poussey was a kind person. It won't matter that she had friends. It won't matter that she found love. It won't matter that she was a daughter. If there's one thing we can take away from learning more about the MCC and getting to know these CO's, it's that prisoners aren't people to them. 
Since day one of Piscatella's arrival, he has seen these women as nothing but, well... animals. Poussey was in prison for a non-violent crime, but that doesn't matter to someone like Piscatella.
It seems that, somewhere along the way, everyone around here forgot the only thing that matters. You're criminals, and you deserve nothing. And if I have to make an example out of each and every one of you to get this place back in order... well, that will be my pleasure.

Piscatella
Poussey's fictional death can easily be connected to the very real death of Eric Garner in 2014. Eric Garner was forced to the ground by an officer and was placed in a chokehold until he died from suffocation. Poussey may have not been in a chokehold, but she uttered the same haunting words that Garner spoke, "I can't breathe."
The prison is going to be shaken to the core after this. If Caputo and the MCC spin this narrative so it looks like her death was warranted, I highly doubt the inmates are going to go along with that. 
As viewers, it would be all to easy to blame CO Bayley for Poussey's death. However, Bayley didn't know what he was doing. The scene was chaotic. You had Bayley unknowingly putting more pressure on Poussey's back as he tried to get control of Suzanne while CO McCullough was also trying to get ahold of Suzanne. 
I think it was smart to have Bayley's back story explored throughout this episode. He's always been a good person, but adrift and never focused. He's the guy to fall victim to peer pressure and finds it difficult to stand up to authority. 
Bayley is one of the nice guards. He means no harm, but lacks the spine to stand up against people like Humphrey or Piscatella.
The important personality trait that he does possess is his conscious. Even in the flashback, we saw the look of guilt come over his face when he heard Frieda yell that she was a human being after he hit her with eggs. 
Two lives were destroyed in this episode: Poussey's and Bayley's. The realization that he killed Poussey will probably destroy Bayley. I don't foresee someone like him ever being able to come to terms with it. 
Poussey was my favorite character, and as a viewer, I am heartbroken over death, but I can't blame Bayley for it. The writers were incredibly smart to have Bayley be the CO to have killed Poussey. He's not a one note villain like Humphrey or a menacing authority figure like Piscatella. Bayley was the guy following orders.
It's horrible that Caputo couldn't have told Bayley sooner what prison does to a person. It doesn't matter if you're the prisoner or the guard, prison changes a person and there's no going back.
Caputo: Listen to me. This isn't for someone like you. This place crushes anything good. It's like a monster that's grown too big for its stubby little legs, and now it's stumbling around crushing whole cities. You can't survive it Bayley.
Bayley: Are you the city or the monster, sir?
Caputo: Neither. Both, I... Even if you're the city now, one day you'll be the monster. Working here changes who you are.
Speaking of Caputo, he has lost all credibility with me over this season. He finally learned the ugly truth of what his prison has become, and what did he do? He went over to Fig's house to "talk".
He should have stayed at the prison. He left those women at the feet of Piscatella, and he is equally if not more responsible for the shit show that is Litchfield has become.
I wanted to scream at Caputo when he let Piscatella talk down to him, and tell him what to do. Sure, Piscatella could have left and taken all the CO's with him, but at least the women would be safer without them there.
I'm sure in hindsight Caputo will see that, but it will be too late. He has the MCC's puppeteering hand so far up his ass, that he may just do whatever they tell him to do now. 
We've had characters die before, but no one like Poussey. This is uncharted territory for the show, and I hope they spend the finale thoughtfully exploring what her death means, not just for the prison, but for everyone who knew her, cared for her, and loved her. 
I also want to see how her death will change Bayley. Where does he go from here? How does he move forward after taking a life. Can he ever be the same and should he?
Extra Thoughts and Questions
I was happy to see the different "families" get over the differences and stand up against Piscatella. They will need to remain united.
Gloria helping Sophia feel like herself again warmed by heart.
Big Boo slapping Coates was definitely earned, but I hope she can be there for Doggett going forward. She may not like that Doggett forgave him, but that's what her friend needed to do in order to move on.
I'm glad Soso and Poussey got to make up non-verbally across the room before she died.
I can't tell if Judy would have actually helped Poussey get a job, or if she was just putting on a nice face for her.
Healy checking himself into a clinic is the smartest thing that man could have ever done.
We've finally made it to the end of the season, so please stay tuned for TV Fanatic Elizabeth Harlow's review of Orange is the New Black Season 4 Episode 13!
What are your thoughts on Poussey's unexpected death? Let us know in the comments below, and don't forget you can always watch Orange is the New Black online if you are behind or want to re-binge. 
Amanda Steinmetz was a staff writer for TV Fanatic. She went into retirement in June of 2027. Follow her on Twitter.