Dead of Summer Season 1 Episode 4 Review: Modern Love

Jay Ruymann at . Updated at .
Bravo, Zelda Williams. Bravo.
Dead of Summer Season 1 Episode 4 met Drew with painful memories of a time long forgotten, while he and Jessie started to butt heads, and Amy dealt with the aftermath of being struck by lightning.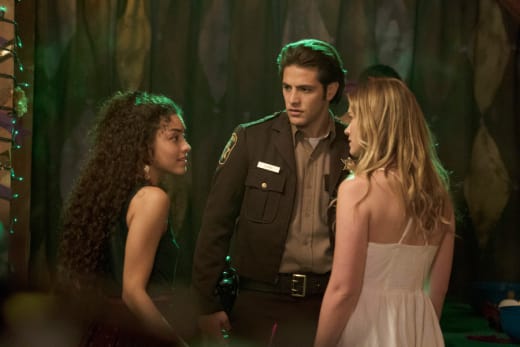 Amy: What are these crazy people trying to do?
Garrett: Best that I can put together... They're trying to awaken some demon.
Amy is like a cat, isn't she? Nine lives. Struck by lightning and probably ingested enough lake water to drown, but she's back at Stillwater after a day. One day.
As if her life wasn't bad enough, she's now undergoing some sort of demon possession, and is potentially in danger of being the sacrifice for the lake demon whose creepy hand almost dragged her underwater.
Hey guys, I'm not going into that lake anymore. Look what I found! This place is a dump!

Kid
If Amy is the one, does her dying restore the demon to its full glory? Why Amy? What's so special about the blonde girl? Oh yeah, it's Freeform.
Is the tall man just the martyred face that the demon is projecting to trick the humans, or is there a connection there?
There are just too many questions for which we don't know answers, and the look inside of Deb's box was about as unhelpful as any Pretty Little Liars clue.
All that was in there, which was probably a fake-out to get the counselors off of her back, was a book. A damn book.
And then some weird hookup happened between Joel and Deb, but I don't even want to begin talking about that age difference. Not to mention that Deb is creepy as hell. How are y'all campers and parents okay with that?
Now to the star of the episode/show/network, Drew (Zelda Williams).
What an outstanding performance.
I've never been as touched and hurt by a character's background in my entire life, yet this was only one episode.
Jessie: Are you threatening me, Andrea?
Drew: Just making it clear we both have a secret. You keep mine, I'll keep yours... And it's Drew.
From a rocky start with Jessie, who found out that Drew's transgender and used to go to Camp Stillwater as Andrea, they potentially could've blackmailed each other as Drew gained knowledge of what Jessie is hiding.
But surprisingly, they formed a friendship. Perhaps it's because Jessie realized she's just a mean bitch to everyone, or because they actually do have something in common, but I actually began to like Jessie as a character.
After all Drew has been through, and with Blair rejecting him (exactly like I'd called weeks ago, thank you very much), at least he has one friend to confide in.
His mother, though. Parent of the year. Bitch of the lifetime. She should be the lake monster's sacrifice.
Their relationship looked to be headed in the right direction when his mother finally accepted that he was Drew, and being Drew made him happier than she'd ever seen him.
But then she packed up their entire house and left. Just left. Left her child behind, homeless.
She couldn't accept that her "little girl" was gone, so she clearly missed the entire point that Drew and the therapist tried to make to her. That little girl was never there.
I wanted to root for them, I wanted her to accept her child, but like parents often are, she was a disappointment.
Poor Drew. It's no wonder he doesn't allow himself to be close to anyone.
His mother rejected him his entire life, forcing him to be someone else, and then just left him behind and pretended he never existed.
Then, he thought he'd found someone in Blair, but Blair made the ignorant move I knew he was going to, and ran off, unapologetically, after Drew revealed who he truly is.
Drew needs to be protected from all of the ignorant fools, so maybe it's a good thing he made friends with the Queen Bitch of Camp Stillwater. If no one messes with Jessie, no one will mess with Drew.
Who hurt these writers? Why do all of these characters have such tragic backstories? Why can't one of them feel actual love from someone in their life?
What if something in the lake is making us see these things?

Amy
Now, all of the counselors are seeing visions of weird things except Jessie, Joel, and Blair, but it won't be long until their past and present starts to haunt them, too.
How can they ever possibly stop a demon that resides in a lake? They're just teenagers. There's no "Chosen One." This isn't Harry Potter.
You can watch Dead of Summer online right here at TV Fanatic!
Be sure to check out my interview with star Ronen Rubinstein, who plays Alex Powell! He teases what the season may bring for these campers, and if death is coming to Camp Stillwater!
Jay Ruymann was a staff writer for TV Fanatic. He retired in January 2018.