I've never been a big fan of the "documentary format" installments of my favorite shows because it's something that rarely works but Bones Season 11 Episode 18 came closest to getting it right.
I can't say that this was the best episode of Bones Season 11 but it actually had a lot going for it, even though I cringed in certain places.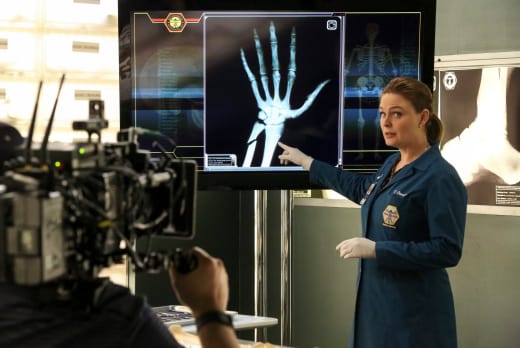 Because all of these type of episodes tend to have the same issues. They all have the character who either tries to avoid the camera or tries to hide something from it, in this case that was Cam. There's also usually they guy who loves having the camera follow him and here, that's Hodgins.
But this hour was at its strongest when it used the interviews to pull out what everyone was thinking and feeling and in doing so it gave us some great moments.
Such as Hodgins remembering Zack…
I think working here around all the death and murder, it was a little too much.

Hodgins
With the series coming to a close next year, I've been wondering if they will revisit Zack's story. It's obvious that what happened to Zack still weighs heavily on Hodgins and I hope we get to see more of this in the near future. 
The episode remembered Vincent Nigel Murray who was gunned down in the Jeffersonian and we even got a siting of Hodgins and Angela's son, Michael Vincent!
It was also nice to hear Booth and Brennan discuss Sweets and his role in getting them together. I think they would have become a couple with or without his help but there's no doubt he was rooting for these two from the beginning. 
Brennan doing a career day presentation for Christine's class took us down roads I hadn't expected but perhaps should have. Even I couldn't believe it when Brennan pulled up the picture of the decomposing body but considering her own daughter sees such things at home, I suppose that for Brennan it was no big deal…
Brennan: I'm just trying to prepare her.
Booth: For what, therapy?

I loved that Booth wanted his daughter to play in the NHL. Watching the two of them play hockey in the living room was adorable. 
The best moment was when Brennan not only came to terms with the fact that her daughter may not want to follow her into a career in science, but that she would be Christine's biggest cheerleader, even if she chose to sell cars for a living. 
I appreciated how Booth related to the father of the murder victim because he was also a gambling addict. 
Booth gave my favorite Bones quote when he said…
At the end of the day I want to be someone who's given more than they've taken.


Booth
That says so much about who he is and how he goes about his job and his personal life.
Speaking of personal lives, Cam fought so hard to keep hers off camera, only to jump in and propose to Arastoo with the cameras rolling…
I love you. I love the way your protect me and I love the way you fight for me and I...want to spend the rest of my life with you.


Cam
I wasn't sure which way I wanted this couple to go after their previous breakup but now I realize that I'm just relieved to see Cam happy. She deserves it. 
In the end, "The Movie in the Making" managed to move our characters emotional storylines forward and that's more than I could have hoped for when I first saw those cameras on screen.
Check back on Monday for our Bones round table and if you can't wait until then, you can watch Bones online here at TV Fanatic. 
C. Orlando is a TV Fanatic Staff Writer. Follow her on Twitter.