The Blacklist Season 3 Episode 21 Review: Susan Hargrave

Sean McKenna at .
After a cat-and-mouse game with the newly introduced Susan "Scottie" Hargrave on The Blacklist Season 3 Episode 21, Red finally got an answer to who was behind the attack on the church.
But just who is Alexander Kirk? And why did he want to capture Liz and kill Red?
There definitely seems to be a past between Red and Alexander… and obviously more questions to go along with it.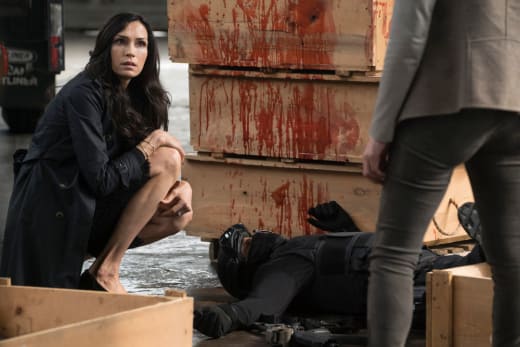 What if Alexander is actually Liz's father?
I've been so caught up in Katarina being the one coming after Liz that I didn't really stop to think it could be someone else who is blood-related.
Liz supposedly shot her biological father and then there was the fire, but what if he survived? What if that past history of Alexander involves Katarina and Liz and the complicated connection to Red?
If we got a solid enough answer, including a DNA test for that extra definitive proof, it could eliminate the theory that Red is Liz's father while revealing so much of the hidden truth involving their relationship and Liz's past.
We just need the rest of the puzzle pieces!
It was interesting though that Scottie wound up being a stepping stone rather than the big adversary. I figured she'd be a powerful force, but not one working for an ever bigger force.
Granted, having Famke Jensen on the show is a huge plus, and she played a great adversary to Red. There was a certain danger and efficiency to her character. She got things done, and she wasn't afraid to go toe to toe with Red.
She certainly held her own for the most part, until Red got to play his "double jump."
I really did think that Scottie had managed to get the better of Red, but I should have known better. It's rare that Red isn't 10 moves ahead, and this version of Red was determined, persistent and out for revenge. Of course he was going to be ready.
Red also has been perfectly capable of crossing lines, but he seemed even more eager to do so during the hour. The body count definitely seemed to stack up around him.
I was pleased that Red decided to go for a team up with Scottie instead of just killing her. Two powerhouse players should make them an unstoppable force, right?
Though, the introduction of her team and company, Halcyon, does make me curious just how the potential spinoff would go seeing as Scottie is supposed to star in it. And how would Tom play into that considering he's slated to join that spinoff as well?
There definitely was some setup for that deviation into a new series, but I'd still need to see more before I'm sold on following those new adventures.
However, it was great to see Tom get a bit more front and center again. I like that version of Tom, doing his spy work, working his marks.
I was worried for a moment that he was going to take it too far and sleep with the girl. It could have been easy for him to do so, but I liked that once his mission was done, he got out.
Tom could have totally just hooked up, but you could tell he still loves Liz. Even in adding part of his backstory, he incorporated part of his real life by talking about Liz and his daughter.
At the same time, I liked seeing Tom have some rapport with Aram, even trying to convince him to make a move with Samar. Like he said, who knows what could happen?
Maybe Aram and Samar could plan out a "Fast and Furious" heist together on a first date. The possibilities are endless, and I hope he decides to give it a shot and just ask her out.
This was another engaging hour and a great way to lead into the final two episodes of The Blacklist Season 3. With Red on a determined war path and a specific foe to target, I'm looking forward to a showdown.
I can even just taste some potential answers that should (hopefully) be served up before the finale concludes.
What did you think of Scottie? Would you want to see a spinoff? Who is Alexander Kirk? Sound off below, and watch The Blacklist online for your Red fix.
NOTE: The Blacklist Season 3 Episode 22, "Alexander Kirk," airs May 12 at 9 p.m.
Sean McKenna was a TV Fanatic Staff Writer. He retired in May of 2017. Follow him on Twitter.