Jane the Virgin Season 2 Episode 20 Review: Chapter Forty-Two

Amanda Steinmetz at . Updated at .
When watching a telenovela, it's important to remember to never trust the mysterious, long lost twin. 
On Jane the Virgin Season 2 Episode 20, Jane and Petra found themselves at odds on a day that should have been nothing but special and happy: Mother's Day.
Sadly, these two mothers have been pulled in opposite directions by Anezka, whom we discovered is not quite what she seems.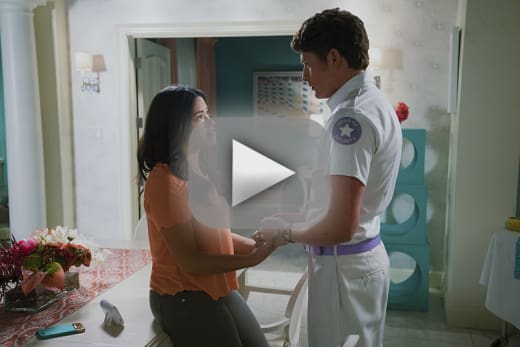 Jane is usually not one for confrontation, but I'm glad she didn't back down when accusing Anezka of trying to sabotage her. It's unfortunate that Petra chose to side with Anezka even though she admitted to being the one behind the ad. 
The friendship between Jane and Petra always seems to take one step forward and then two steps backward. Petra tends to always be on the outside looking in, so it makes sense for her to stick up for her sister, even though she barely knows the woman. 
Petra has done a lot of bad things, but Anezka could be shaping up to be even more cunning than her sister. She easily shifted accents and body language to impersonate Petra to the nannies. 
Clearly her meek personality is all a front, but I'm not sure which accent is real (Czech or American). If her crush on Rafael is genuine, I'm almost certain she will pretend to be Petra in order to seduce him.
The evil siblings storylines between Petra/Anezka and Rafael/Derek is a bit too much. If I had to pick one storyline to go, the choice is clearly for Derek to get the axe. He's just not compelling to watch. 
Jane: Ricardo has a twin brother?
Narrator: Don't act so surprised Jane. It's a well-worn trope of a genre.
Xo: I did not see that coming.
Narrator: But it still works every time.
The saving grace of the these bad sibling/evil twin storylines is that the writers know how ridiculous and repetitive they are. If the Narrator hadn't commented on this overused trope, I'd be frustrated. Thankfully, the show is self aware and always knows what the audience is thinking. 
Petra's Mother's Day gathering provided the Narrator with some brilliant commentary on all the awkwardness. I think every show should have a built in drinking game like this sequence had. 
Michael: This feel a little weird to you?
Rafael: Wait until Father's Day.
The video made for Jane was sweet, but all I could think about was poor Petra sitting off to the side. Jane is a good person who deserves all the wonderful things that were said, but Petra should get some love too. Obviously not from Jane's family, but certainly from Rafael. 
Rafael confides in Jane because of her level head, but he really should have been honest and gone to Petra with Derek's blackmail. If there's anyone who can help get Rafael out of the mess he's made, it's Petra. 
Elsewhere in the episode we saw Rogelio try to impress Dina's friends at her birthday. While I want Rogelio and Xo to be together, I do love watching him try so hard to get this woman's attention. 
He may have looked pretty damn fine in those glasses, but Rogelio should stick to who he is. He may not be an intellectual, but he has a lot of heart to make up for it. 
Sadly, Xo slept with the worst person possible after seeing how much Rogelio was beginning to care for Dina. Esteban is Rogelio's enemy, and his head will surely explode when he finds out Xo had sex with him.
Extra Thoughts and Questions
It was finally revealed Derek had been working with his mother this entire time. Are we supposed to be shocked by this development?
While Michael definitely needs to get back to police work, his time as a technical advisor was hilarious. Anything that puts Brett Dier and Jaime Camil in the same scene makes me happy.
Will Jane be able to salvage her T.A. job at the university?
So over to you guys! What did you think of the episode? How long will it take before Petra figures out her sister is up to no good? Should Xo come clean about her night with Esteban? What are your predictions for Jane the Virgin Season 2 Episode 21?
Sound off below, and don't forget you can catch up with any missed episodes when you watch Jane the Virgin online via TV Fanatic!
Amanda Steinmetz was a staff writer for TV Fanatic. She went into retirement in June of 2027. Follow her on Twitter.