Chase's life hung in the balance, Ciara finally had a session with Marlena, and Jennifer had a mystical visitor for her past on Days of Our Lives.
Our TV Fanatics Jack Ori and Christine Orlando are joined by Tony and Vanessa from MyHourglass a Days of Our Lives fan forum to debate whether Chase should survive, Ciara and Theo's breakup and if the one storyline format works.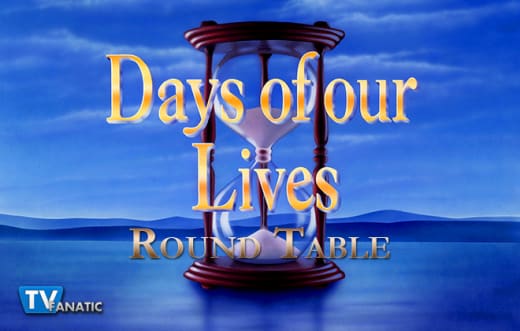 Do you hope that Chase survives and if he does, do you hope he gets out of jail?
Jack: Yes, and yes. I don't want to see any more deaths. I'd really like to see Aiden and Chase redeem themselves, and in any case I think it will be more dramatic if Chase lives and is out of jail.
Tony: I hope he survives, but I hope he waits in jail for a while. Whether he's sorry or not, he still did commit a crime. 
Vanessa: What Chase did in raping Ciara was disgusting and there's no forgiving it, so I hope he doesn't make it.
Christine: Although I abhor what Chase did, I hope he survives and I hope Aiden is able to get him the help that he needs. I'm not making excuses for him raping Ciara and he needs to pay for that but he's also a messed up teenager with deep psychological issues stemming back to his mother's death. I'd love it if the show would deal with that. 
Is there any reason for Eduardo to take issue with Gabi and JJ's relationship?
Jack: Absolutely not. If they aren't right for each other they'll figure it out on their own. Besides, JJ was willing to sacrifice his life for Gabi -- that counts more than any nonsense from his past or other reason Eduardo could have come up with.
Tony: I don't think so. Eduardo doesn't have great experience with relationships and I don't think he's gotten to know J.J. well enough to judge him. 
Vanessa: I don't think so, I mean yes, he's her father but Gabi's smart, so I say let her live her life.
Christine: Gabi's a adult who is capable of making her own decisions about whom she dates. I think Eduardo is overcompensating for not having been a part of her life and where as I generally like his character, I find his behavior in this instance particularly annoying.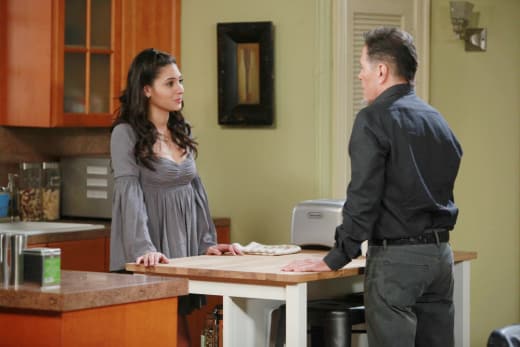 Do you enjoy when entire episodes cover just one storyline/character? (Ex. Aidan's return, Jennifer's addiction)
Jack: I love them! In many cases they're more enjoyable than the regular show. I especially loved Jennifer's story.
Tony: Yes! They are a very refreshing change of pace! 
Vanessa: For me, It depends on the story and the character, personally I don't care about Aiden, he's still a little shady in my head, with Jennifer's addiction the episode was good by the story sucked. We hear Chad say he wanted to take her to the hospital when she was slurring at the square but we never saw it, so that throws the story off for me.
Christine: I agree with Vanessa in that it depends upon the story. I hated the Aiden-centric hour because it felt as though we'd just watched Bo being held in a similar situation and I hated that too. With Jennifer, the format worked better but there was so much more to this storyline that we never saw on screen that it felt like they were trying too hard to make up for it. 
Was breaking up with Theo the right thing for Ciara to do?
Jack: Yes, but not for the reasons she did it. She's doing it because she wants to push everyone away who loves her and because she is dreaming of Chad. The reason for a breakup is simply that she is not ready for a relationship with anyone and stringing Theo along is unfair.
Tony: It's hard to tell. If she's not interested in him, then yes. If she is, but she's just pushing him away, then no. 
Vanessa: I feel sorry for Theo, but Ciara does not need a guy, period, right now. She needs help and her mother. Unfortunately I'm terrified we're going to watch her go after Chad.
Christine: Ciara needs to concentrate on herself and not a relationship with anyone…and I'm with Vanessa. Ciara fantasizing about Chad makes me ill. 
Was there anything that disappointed you this week in Salem?
Jack: Marlena's total incompetence in her session with Ciara, and Roman's obnoxious abusive behavior towards JJ. JJ worked undercover for months -- don't give me this BS about how he doesn't know how to interrogate people. I'm starting to think Roman resents the fact that JJ is far smarter than him.
Tony: While I loved Jenn's story, there was no real build up to it. It would have been nice to see it as an actual story arc.
Vanessa: Ciara acting like only she can take care of Thomas and Chad.
Christine: I'm so glad I wasn't the only one annoyed with Marlena's session with Ciara. The girl was talking about wanting to hurt someone and thinking she'd be safer with older men and Marlena said nothing! What's up with that?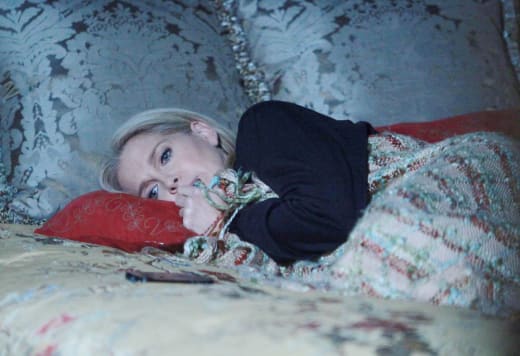 What was your favorite quote, scene or story line from the week?
Jack: Jack's visit to Jennifer! I loved their conversation. Runner up is dream-JJ confronting Jennifer about abandoning him in that boarding school after his father died. It's beyond time that was addressed.
Tony: Everything with Jack! Especially when he showed up at the AA Meeting! I'm just so glad to have him back!!
Vanessa: I liked seeing the Hortons rally around Jennifer.
Christine: Jack! I love Jack and was a huge fan of Jack and Jennifer. I adored seeing those flashbacks and thought that Jack's journalism metaphors were spot on. Everyone else in Salem comes back from the dead, why can't Jack?
Want to read more about the happenings in Salem? Then check out Jack Ori's Days of Our Lives recap and review here at TV Fanatic.
C. Orlando is a TV Fanatic Staff Writer. Follow her on Twitter.