Cassie's creepy black eyes reveal slightly spoiled the mystery of the hour.
While the explanation was much more intricate than your typical "possession," we knew going into 12 Monkeys Season 2 Episode 7 that The Witness had somehow taken hold of Dr. Railly. Just how powerful is this individual?
I enjoyed this episode, but I'm bummed by the loss of Dr. Eckland.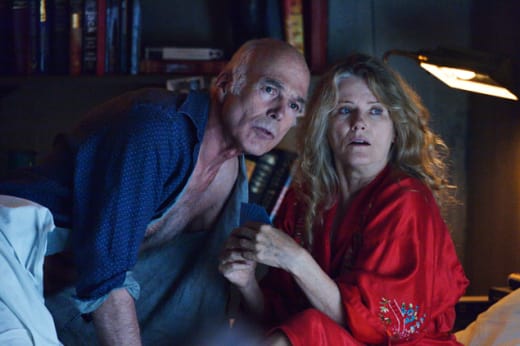 Kicking things off in 1959 threw me for a moment. Wasn't the opening music great though? Of course, it wasn't long before we realized this was Raritan Laboratory (AKA The Temporal Facility) in the 50s.
Knowing this episode dealt with a "meltdown," I was fairly certain that group of army guys would splinter to the future to wreak havoc.
Back in 2016, Cassie was still a bit freaked out about her little run in with The Witness. Before she splintered, did you catch the masked intruder standing behind the door?
If The Witness is "just a man," as Kyle Slade claimed why does he/she seem to have supernatural abilities? You know what I mean?
Jones and Eckland bonding was sweet, but I instantly felt fear for Michael Hogan's character. I mean, this is 12 Monkeys and no one is ever happy for too long. I've really enjoyed Hogan's time on the show and wasn't ready to say goodbye.
The fact Sam had more lines this week than ever before, was also a red flag. I was convinced we'd either lose Eckland or Sam before the end of the hour. Was it just me, or were you feeling the same way?
Of course, Cassie's return meant trouble as she spied The Witness right away.
Cassie: It was The Witness. I'm sure of it.
Jones: How do you know for sure?
Cassie: I could feel it.
Deacon: Hold on. The Witness?
Dr. Eckland: He appeared in the form of Aaron Marker, your ex. Are you sure you didn't just imagine...
Cassie: It wasn't a hallucination. He chose to appear as Aaron. And no, I'm not crazy. It happened.
Jones explained the red forest tea allows the mind to drift outside time, but I want to know how The Witness has such control? Anyone else absolutely dying to know who this person is?
Either way, "mental time travel" is some seriously trippy shit. The voices and moving shadows made for quite a spooky episode. This was very much our haunted Raritan installment, and I dug it.
Wasn't Cole's attempt at a "time" joke cute? Don't you just love the way they talk about time travel as if it were jet lag?
It did bug me that Cassie shut down, not sharing with Cole the fact she was seeing The Witness. Then again, we learned later that she had little to no control of mind throughout the installment. The black eyes clearly meant The Witness had taken control of Cassie, but the idea of a phantom tether was fascinating. It was no real shock that she caused the meltdown.
How nasty were those inside/out guys? Gross! I confess, I had been waiting since 12 Monkeys Season 1 for one of Jones' "early volunteers" to come back and haunt her. It's safe to say this episode delivered on that, though the poor sap didn't last long.
It was a bit convenient that no one put two and two together. I mean, Cassie had been mentioning The Witness ever since she returned. Someone should have locked her up as a precaution. No?
Cassie: The Witness is here. I thought it was in my head, but...
Cole: What did you see?
Cassie: In the corridor I saw a man in a kind of plague doctor mask. It was him, I know it.
The minute Dr. Eckland stepped up and put himself in harm's way, my heart sank. Well, that was that for Hogan's time on the show.
Of course, 12 Monkeys has been known to reboot itself with alternate timelines... So there was still hope.
The brief team up between Deacon and Eckland was a trip. It's crazy how much more interesting Deacon's become this year. Jones bandaged Dr. Eckland up, and it looked like he might just survive. Clearly, Terry and company were messing with us.
Then I saw Cassie with Sam and knew my hunch had been right all along. Though she was clearly under The Witnesses control, watching the events unfold was totally kick ass.
Sadly, Dr. Eckland was once again in danger when he stepped into the chamber to replace the array... No!!! Damn you, writers! What a grand heroic gesture, giving his life to save Jones.
Logically, Eckland's point of view made sense, but emotionally I just wasn't ready for it. I hope he comes back, somehow.
Man, Jones' frakkin' words stung...
Jones: I don't love you.
Dr. Eckland: You did once and that can't be erased.
Watching Eckland disintegrate was heartbreaking. That was probably one of the most tragic sequences so far this year, and yes I teared up.
When Sam splintered away, it didn't have nearly the same impact. Where do you think Ramse's son ended up? Could he be The Witness?
I thought Cassie locked inside the little pine house was terrific, but what was Titan? The symbol below the word was the same one from the monkey pendants and it's also Olivia's tattoo. What does it all mean?
All we know for sure, is The Witness is pretty damn powerful. I'm ready to learn more about our antagonist. Does Titan hold the answers?
Cole managed to break The Witnesses hold over Cassie, but once again Ramse got screwed in the process. The guy just can't catch a break, but where did he run off to this time? That storm is getting bad too. One step forward, two steps back.
That's it for me, guys. What did you think of "Meltdown"? Did you know Cassie was causing all the damage? Who was waiting for Sam in the past? Was that 1090? What the heck is Titan? You're up, sound off in the comments below and share your thoughts with us.
As always, you can watch 12 Monkeys online via TV Fanatic if you need to catch  up.
NOTE: 12 Monkeys Season 2 Episode 8 is titled "Lullaby" and airs on June 6.