With Danny and Baez dealing with multiple confessions and Nicky getting a cold dose of reality, Blue Bloods Season 6 Episode 14 was easily the best installment so far this season. 
As Baez said, Pablo was one of the most unsympathetic murder victims they'd ever dealt with. He conned young women into believing he'd help them find a better life and then forced them into prostitution. I wasn't feeling particularly sorry for the man who lay with multiple bullet holes in his body either.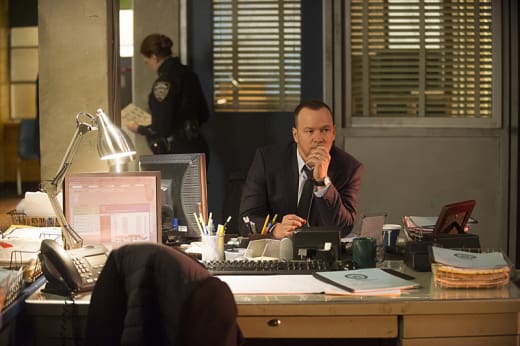 But that didn't mean it wasn't Danny and Baez' job to find the killer, even when all of the prostitutes were raising their hands to take the blame. 
The best moment was watching Danny try to talk Martina off of that ledge. I appreciated the continuity when Danny mentioned having watched another man plunge to his death in a similar situation. No matter how tough of a cop Danny is, that type of event must still haunt him. He showed true compassion for Martina and then did everything he could to make certain that Erin gave her the best deal possible. 
It's nice to see Danny play good cop for a change. 
At church, Frank had a discussion with Father Quinn about misguided mercy. Was the Father's desire to help Mason simply enabling his decline. As Sid said in this Blue Bloods quote…
If somebody's headed to the bottom they're going to get there no matter how many times you put out a net.


Gormley
But it's a priest job to show mercy and a cop's job to arrest criminals and let's face it, Mason, no matter what the circumstances, had turned into a criminal. 
Father Quinn was most likely right about one thing…good intentions most likely pave the roads to both heaven and hell.
Which leads us to Nicky.
I like Nicky but she frequently annoys the heck out of me in a way that only an idealistic college student can. She tries to distance herself from the Reagan name because she doesn't want to catch flack from her friends for being part of a law enforcement family and yet she's been loved and protected by that same family her entire life. 
I get it; that kind of peer pressure can be very difficult to deal with but Nicky's not a child any longer and I was a little surprised at how naive she was about the felony drug charges. One of my favorite moments was when Erin decided to put her daughter in holding for the night…
I'll be damned if I'm going to let her sit in the Captain's office sipping hot cocoa while she's being charged with a felony for protecting her friends.

Erin
Erin was right. I believe Frank would have made the same call with one of his kids given similar circumstance. I also think Erin was right when she pointed out to her father that a fifth of tequila and two grams of cocaine are very different indiscretions. 
Nicky was more concerned over being seen as a snitch than being angry with a supposed friend for putting her and the others in a position to go to prison for their crime. I really think that despite her reluctance to use the Reagan name, she still believed it would save her. She also seemed shocked to find out that the University suspended her and her friends until the case was resolved. For as smart as Nicky is, it seems she's still very naive about the consequences of the real world.
In the end, it wasn't her last name that saved her as much as savvy advice from a veteran police officer. Frank still stood 500 feet back, as Erin had requested. He just had Lt. Gormley offer the advice instead. 
Check back next week for our review of Blue Bloods Season 6 Episode 15 and if you can't wait to see more of the Reagans, you can watch Blue Bloods online here at TV Fanatic. 
C. Orlando is a TV Fanatic Staff Writer. Follow her on Twitter.