The road not taken was plaguing Alicia in The Good Wife Season 7 Episode 11 after Eli's confession rocked her perception of the past and her vision of the future.
Alicia's immediate reaction was somehow both more dramatic and more subdued than I expected. One moment she's telling him to get out, the next she's calmly sorting through the casual and fine china before throwing what I can only assume was the cheaper stuff at him.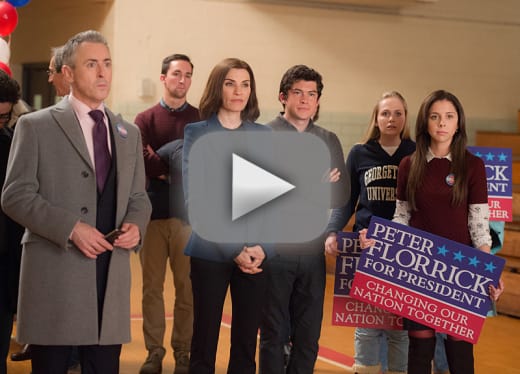 From packing for Iowa to breaking down to packing once again, Alicia's emotions were all over the place, but in the end she did what she always does when her world falls apart: what she thinks she is supposed to do. 
I was so hoping that Jason would see the broken dishes littering the floor and push Alicia for answers. That could have been an unexpectedly moving moment between the two characters, but it wasn't meant to be. 
Are Jason and Alicia meant to have a future? I wish they would. I find them truly interesting together, but it appears as though that isn't going to happen, at least not any time soon.
Much like Alicia's off the cuff comment, Iowa was a bit of a nightmare, no offense to anyone who lives there because I've actually never been. But a full day bus ride interspersed with strange crowds and loose meat sandwiches does not sound like a fun day.
The entire time, Alicia acted like she was drugged, or perhaps she was just that depressed. Would she have gone to Will if she had heard that voicemail?
Would it have changed her fate? We'll truly never know and with Will dead; there is no going back. So what was the point of Eli telling her now? 
As Ruth said in this The Good Wife quote…
When you realize you don't know what life's about, that's truth.

Ruth
Back in Chicago, Lockart, Agos, & Lee found themselves facing a discriminatory hiring investigation and goodness knows they deserved it.
The best part was when Cary turned the tables and used it all to try and get Howard out of the firm. Impressive but I don't doubt that Howard will find a way to retaliate.
Oddly enough, Jackie and Howard were kind of sweet together. Jackie didn't seem to be going after Howard's money when she wanted his power of attorney as it honestly appeared that she was trying to protect him and their future. 
Did you ever think that Howard Lyman and Jackie Florrick would be the closest thing we'd see to a romantic couple on this show?
Check back in later this week to see what our The Good Wife Round Table team has to say about this installment. If you just can't wait until then, you can watch The Good Wife online here at TV Fanatic.
C. Orlando is a TV Fanatic Staff Writer. Follow her on Twitter.