Wedding bells are ringing! Well, sort of.
On The Big Bang Theory Season 9 Episode 1, Penny and Leonard get married in Vegas, but it seems as though they've made a hasty decision. Meanwhile, Sheldon and Amy deal with a change in their relationship, as well.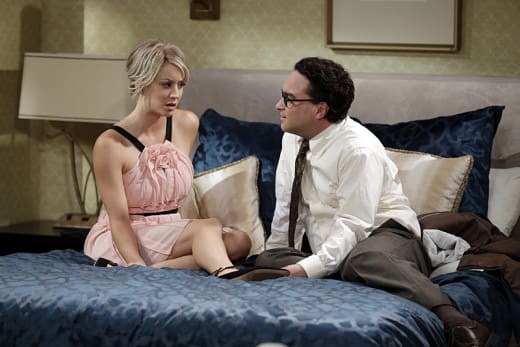 After following the story of Penny and Leonard for eight seasons, you would imagine that when we finally got to see their wedding, it would be done incredibly well. You wouldn't, however, imagine that it would be glossed over quickly only to be diminished by a fight they have shortly afterward.
I'm holding out hope that this isn't going to be THE wedding. Not that THE wedding necessarily has to be big and flashy. It can be done well in the smallest of ways, as long as it's significant to the couple, and more importantly, as long as the audience gets to see the whole thing.
The Vegas wedding heads in the right direction. The vows are perfect, with Leonard's scientific analogy and Penny quoting the lyrics from a Toy Story song. It's also quirky in the way that they actually do include their friends. I mean, it makes complete sense that Penny and Leonard's wedding would be online for the others to watch on television. I buy that. I don't buy that we, the audience, don't get to see the full ceremony.
Well, maybe we can stream it online, too.
And I especially don't buy that after getting married, they manage to find themselves in a fight so quickly. I'd much rather see them enjoy their life as newlyweds.
Then there's Sheldon and Amy. My heart is broken for Sheldon, then he only proves further why Amy made the right decision. The best part of this, though, is seeing Sheldon come to terms with a whole new set of feelings.
Some important new information has come to light. Women are the worst. I thought it was paper cuts, but I was wrong. No piece of paper ever cut me this deep.

Sheldon
For a rather serious season premiere, "The Matrimonial Momentum" is still a lot of fun. This is a contrast that The Big Bang Theory continues to handle well.
Other Thoughts:
I could do without Stuart's creepiness when it comes to women. This was just a little too much.
Any appearance from Sheldon's mother makes me happy. Their scene is a great one.
I love that Sheldon and Penny have the chance to talk about their problems with each other, despite the fact that Sheldon is upset when he leaves her apartment.
What did you think of the season premiere of The Big Bang Theory? Share your thoughts in the comments below!
Need to catch up on past episodes? You can always watch The Big Bang Theory online right here via TV Fanatic!
Ashley Bissette Sumerel was a staff writer for TV Fanatic. She retired in September 2017. Follow her on Twitter and on Google+.