Hannibal Season 3 Episode 13 Review: The Wrath of the Lamb
Robin Harry at . Updated at .
Well, there we have it, folks. This was the series finale, Hannibal Season 3 Episode 13. It was a good episode, but I wanted it to be great.
Earlier during the week, I had been in correspondence with a friend of mine who watches the show, and I said to her, "I'm half expecting Will to break Hannibal out of jail and run away together." I'm not taking any pleasure in being right. I wasn't really surprised by much, and that disappointed me.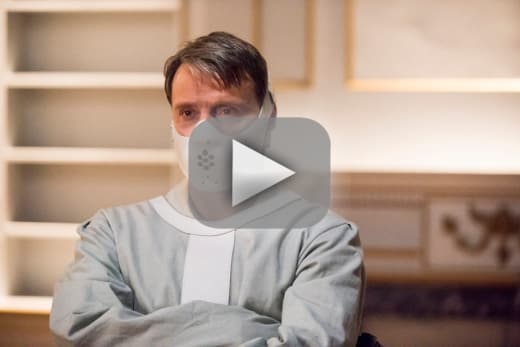 Let's set aside for a moment the fact that this was a series finale, or even a season finale. On its own, this would have been a decent episode of Hannibal, but not a great one. Apart from the final few seconds with Bedelia, the whole episode was predictable, and not just because I knew the book.
I found myself wondering why characters were making certain choices. Why on earth would Jack and Alana trust that everything would have gone according to plan, especially after knowing how Will had 'inadvertently' set Chilton up? Knowing Will's history with Hannibal? How was there not a contingency plan?
Even the story between Will and Hannibal was entirely predictable. The burning stag in Dolarhyde's house was some serious foreshadowing of Hannibal's death.
When Will said goodbye, I knew he'd be back. They were practically seducing each other during the episode: Hannibal telling Will to think of him, Will saying please and telling Hannibal he needed him, Hannibal pulling over with a playful "Going my way?" after the breakout.
When Will put the plan in motion, I knew Hannibal would actually escape. When they looked romantically at the cliff as Hannibal reminisced about all the now-dead people he had brought there, I figured that cliff would be their end. Honestly, I just wanted to be surprised. I wanted to be at the edge of my seat.
More than that though, I wanted to believe that, somehow, we'd find out Will Graham was a better and stronger person than the creature of dependency that Hannibal molded him into. I wasn't expecting Will to be a big damn hero. I wasn't even expecting him to be able to go home.
However, after everything he'd been through at the hands of Hannibal, as a victim, I wanted to know that he at least had the strength to do something better. I had hoped that whatever small light he had, whatever tiny beacon that anchored him to do right, would have been triumphant over Hannibal's manipulation.
Will once said that killing someone was "the ugliest thing in the world." However, here he was, having a grand time, killing the hell out of Francis Dolarhyde with his murder husband Hannibal. Which, by the way, was an absolutely stunning scene, and one I will rewatch for a long time.
Hannibal: See, this is all I ever wanted for you Will. For both of us.
Will: It's beautiful.
I suppose taking Hannibal over the cliff with him was Will's final act of righteousness. It also seems that the cliff dive was the only way Will knew to end both his dependency and Hannibal's cruelty. Those both make sense for who his character was, and I do really like the finality of this ending as well.
Honestly though, part of me would have preferred if he had just taken a gun from one of the prison transport guards and shot Hannibal in the head. Crude, but effective.
The MVP of this episode was Bedelia Du Maurier, whose loss of composure and poise was almost palpable when she heard Will's plan. She knew her days were marked if Hannibal escaped.
Will: I'd pack my bags if I were you, Bedelia. Meat's back on the menu.
Bedelia: You righteous, reckless, twitchy little man. You might as well cut all of our throats and be done with it.
Will: Ready or not, here he comes.
The only thing that surprised me was that she was left alive, and only lost a limb. Did Will talk his murder husband down from completely killing her to just amputating a leg? Was Hannibal planning on coming back to have that meal?
The Red Dragon scenes were all pretty fantastic, and Richard Armitage delivered as he always does. I quite enjoyed his pow-wow with Will and his last scenes with Reba. He convinced me every single time he was on screen. I could have used a little more Dragon.
Also, Lecter's speech to Alana was absolutely chilling. He made no light of the fact that he wanted to kill her and that he was going to do so. Part of me kind of wanted to see how he would have made that happen if he had gotten the chance to.
I also quite enjoyed Frederick Chilton's appearance. I liked that he called Alana out on her bad decisions and on her self-preservation, and I liked how bloodthirsty he was for Hannibal's death, wanting to wear his skin. All of Hannibal's disfigured victims literally want a piece of him.
One of the things that was spot on was the humor of the episode. This may have been one of the funniest episodes there was this season. The forensics team was hilarious (and I really wish we had gotten more of them this year), and Hannibal had some impressive one-liners.
This may seem like a harsh review, but it's really not. I do actually think it was a good episode. I like the finality of the ending, I liked the humor, stunning visuals as always.  The story, though predictable, was told well.
It just wasn't a GREAT episode, and that's what I was hoping for. It seems even less so when considering that this is the last episode of the show we will ever see. Last season's Mizumono gave us a season finale that left us on the edge of our seat, with surprises and twists. This series finale barely raised my heart rate.
Other notes:
Hannibal Lecter has worn some interesting suits, but that one in the first church scene? That was definitely not my favorite.
The visual of the night would be Dolarhyde's blood forming The Dragon's wings. Given the duality of the character, it was fitting that both would be seen in his death.
Here we are, folks, the final favorite quote. The cannibalism joke Will made with Bedelia was close, but the final quote of the week goes to the titular character, Hannibal Lecter.
Hannibal: You didn't just say goodbye. That little extra bit at the end, what was it you said?
Will: You'd never have turned yourself in unless I rejected you.
Hannibal: Yes, that extra bit. I believe that's what they call a 'mic drop.' You dropped the mic, Will.
So there we have it. The final episode of Hannibal. What did you guys think of the ending? Did you think it was a great episode?
Remember you can relive this series finale as often as you like when you watch Hannibal online.