Alicia thought she had a future with Finn, at least a professional one. Kalinda made one last goodbye and Peter considered running for President of the United States in The Good Wife Season 6 Episode 22. 
TV Fanatic Christine Orlando is joined by The Good Wife Twitter fans @Donnamour1969, @SarahTJLM, and @SambaJulianna to debate Alicia and Kalinda's final scene, Alicia's possible partners and whether the Florrick's should end their marriage after "Wanna Partner?"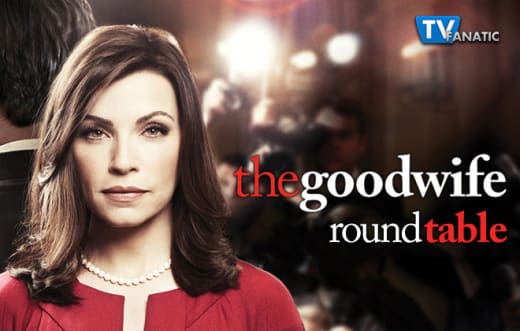 Should Peter and Alicia officially end their marriage? 
@Donnamour1969: Part of me wishes they would, so they could both be free to stop hurting each other. But then again, it's that tie that keeps them together, makes things interesting dramatically whenever they're onscreen together. She really is doing him a huge favor by remaining his wife. I don't know if I would be so kind.
@SarahTJLM: YES! Even though I don't hate Peter, I think he has Alicia tied to him and won't let her go because he still loves her. I think they're better off as friends and co-parents rather than a fake married couple who has to pretend in front of everyone for good publicity. I think it's clear that there isn't any more mutual love in their marriage. 
@SambaJulianna: Yes. I think Grace's question about them pretending they are married is a sign they should end the marriage. If Peter decides to run, is there a possibility of a divorce? God, everything about The Good Wife Season 7 is a total mystery for me, different from the past seasons. I have no idea about what is coming.
Christine: I wish they'd divorce because despite all that Peter has done, Alicia moving on with someone else makes her a cheater if they are still married. Plus, it limits any future relationship she may have. I just don't see her being happy while still married to Peter. 
Do you think Peter will run for President?
@Donnamour1969: I love politics, so on a personal note, I hope he does. Then again, how many ways can they go through an election process?  Let's get back to court cases, which I equally adore.
@SarahTJLM: When I heard Peter say he wanted to run for president, at first I was dying of laughter. With that said, if Alicia and Peter end their marriage, yes because I think Alicia has made it very clear that she doesn't want anything to do with politics after her humiliation. If they stayed "married" then no, because he'd be dragging Alicia as well as Zach and Grace, and despite all the bad he's done, he still loves them all and would put his kids first.
@SambaJulianna: I do, even with Alicia saying she doesn't approve of that decision and knowing Grace doesn't like the idea. I think he will and it could be interesting. The developments, with Grace asking them and Alicia saying the truth about the marriage, it could be an interesting twist.
Christine: I do, but if so, Alicia and Peter should divorce. I think keeping up appearances through a National election would be incredibly stressful and almost impossible. But seeing Alicia deal with being the ex-wife of a candidate could be a lot of fun. 
Who would you rather Alicia partner with, Finn, Canning, or someone else?
@Donnamour1969: I want her to be with Finn for romantic possibilities, but I love to hate Canning, and Michael J. Fox is amazing in this role. Canning could certainly bring Alicia a lot of business, but she would be back to selling her soul, and I'm not sure she wants to be back there again. Still, the dramatic possibilities are tantalizing. The actors and writers would do it justice, I'm sure.
@SarahTJLM: It kind of broke my heart when Finn said he couldn't partner with her because there were so many feelings between them. When I saw Canning at her door I didn't know what to think. It could be good for Alicia because Canning's always seen her potential. They could accomplish a lot together, but Canning is seeking revenge against Diane, Cary, and David Lee. So this partnership could drive an even bigger wedge between Alicia and Diane and Cary. I still think Diane and Alicia should just go and start their own firm! Right now I think they have similar morals and goals, professionally. 
@SambaJulianna: God, I don't know. I don't like Finn very much, but Canning is not my favorite character, either, so that's a complicated question. I don't want to see Alicia fighting with Diane and Cary again with Canning as her partner. I want to see Alicia come back to Lockhart & Agos and try to fix the mess.
Christine: Ugh. Partnering with Canning means going back to the scheming that she was trying to get away from and will put her at odds with Diane and Cary. I hate the idea. I liked the idea of partnering with Finn. I wish it had gone that way. 
Was the scene between Alicia and Kalinda a satisfying goodbye?
@Donnamour1969: I really wanted Alicia to hug her, and it looks like she might have regretted it a bit after Kalinda left. I was always sorry the writers ruined that friendship. Alicia really needs a female friend.
@SarahTJLM: I was happy to see them in a bar again. It was like Kalinda got the closure she needed in order to really disappear. For Alicia however, I think she wanted to mend her relationship but it never happened because she always had her affair with Peter hanging over her head but now that she's really gone, Alicia will definitely miss Kalinda.
@SambaJulianna: I liked the scene because I liked the dialogue, I liked what Alicia and Kalinda said to each other, and for me that was honest and really beautiful. I wasn't expecting a hug or something like that, and I know how people were disappointed for the CGI, but for what I was expecting, I liked what I saw.
Christine: The whole scene felt off to me and now I know why. The actors didn't film it together. They each filmed their segments separately and it was edited together. In a way, it added to the distance I felt between these characters. I didn't feel the emotional connection between two supposedly former friends. Overall, I found it disappointing, even before I knew the truth about how it was filmed. 
Was there anything that disappointed you in "Wanna Partner?"
@Donnamour1969: I wish Kalinda would have gone to see Cary. I really think he loves her, and while it would have been painful, it's the scene I would most have liked to see. I'll miss Kalinda a lot.
@SarahTJLM: The fact that Finn kept looking at Alicia with this look of "I wish we could be together," but at the end he even ended their professional relationship. It was like all chances of her happiness went down the drain.
@SambaJulianna: Well, I have to say I didn't like the plot about Canning's wife suddenly working in the firm. I know it happened because they needed a reason for Canning behind the door, but I didn't like it. Too sudden for me.
Christine: I really wanted to know exactly what Kalinda wrote in that note to Alicia, and now it appears we'll never know. 
What was your favorite quote or scene from the The Good Wife Season 6 finale?
@Donnamour1969: When Canning showed up at the very end. What a great shocker/cliffhanger! Can't wait for next season!
@SarahTJLM: When Alicia called out Peter's family morals and said they didn't matter as much as his political agenda. It showed that their love or "marriage" was really done and they can't mend that broken relationship.
@SambaJulianna: The Florrick's scene. I liked how surprised I was when Grace asked them about the marriage and Alicia's answer to her. Kalinda last scene was really good for me, too. I cried seeing her leaving and that was a real "Kalinda's goodbye."
Christine: I loved all of the scenes of Alicia and Finn working together. They have some really nice chemistry, even when they're keeping it professional. I'm disappointed that it looks like that is over. 
Check back next week for our The Good Wife Season 6 Report Card and if you can't wait for more, you can watch The Good Wife online here at TV Fanatic.
C. Orlando is a TV Fanatic Staff Writer. Follow her on Twitter.