The Good Wife Season 6 Episode 22 Review: Wanna Partner?

Christine Orlando at . Updated at .
Alicia claimed it was nice not to care any more but there were several things she cared about in The Good Wife Season 6 Episode 22.
She cared about the law, she cared whether Peter was going to run for President and she cared about her new partner, whomever that should turn out to be. 
The story about the secret police facility was truly scary, even more so because it was recently in the news that such things really exist in Chicago. It was horrifying to witness how many hoops Alicia and Finn had to jump through to get to see their own client, not to mention the lack of recrimination the police faced for making so many "mistakes" when it came to Jacob's supposed arrest. 
But as interesting as that case was, there was so much more going on in this episode.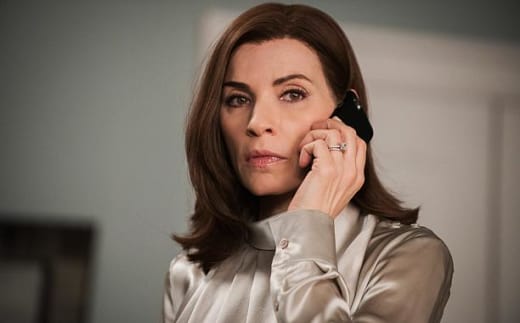 Peter had been asked to run for President and I loved how Alicia laughed when she first found out. The family's reactions were no surprise. Zack was thrilled, speaking of which, did he get his bedroom back?
Grace was apprehensive and good for her for coming out and asking the tough question. Will Peter and Alicia continue to pretend they are married? 
Peter was quick to feed Grace the party line about them still being married. Yes, legally perhaps, but they live completely separate lives and their farce of a marriage won't hold up under the type of scrutiny a national election will bring. 
If Peter does run, which, much like Alicia I'm betting he will, then they will either have to start living under the same roof or end the marriage completely. I don't think this murky, gray area will work. 
Mr. Charles Lester showed up like the devil at Alicia's door. I loved it when she told him she'd hit the panic button in the kitchen. I was really hoping to see the security detail escort him away, especially after the barely veiled threat against her family. 
But his prodding did bring Kalinda back and I have to ask, what is she still doing in the country? I expected her to be long gone by now. 
I had a lot of thoughts during the Alicia/Kalinda moment. It's been such a long time since they've shared a scene together that wasn't a phone call, just watching them felt strange. It almost felt as if both sides of their conversation were filmed separately and edited together. Maybe I'm just paranoid or maybe it's the huge emotional gulf between these charactersm but when Kalinda told Alicia in this The Good Wife quote…
My time with you, as your friend was the best I ever had. I'm sorry. I'm really sorry that things got messed up.

Kalinda
It simply didn't ring true to me. The emotional connection was somehow lacking. I honestly would have preferred to see Kalinda share one more scene with Cary or simply have known what was in the note she wrote Alicia before she left the first time. 
Finally, there was Simone Canning. I really wondered if those were crocodile tears as she cried to Diane about the loss of her job, but considering Louis's reaction, I'd now say they were real. 
I had been looking forward to Alicia and Finn working together. They two have nice chemistry, whether it be as colleagues or more. Louis Canning has never been one of my favorite characters so the thought of him and Alicia becoming partners does not make me long to see The Good Wife Season 7. 
Who will end up as Alicia's partner? Is Kalinda gone for good? And will Peter run for President? Check back in later in the week for our The Good Wife round table and if you can't wait for more, you can watch The Good Wife online here at TV Fanatic. 
C. Orlando is a TV Fanatic Staff Writer. Follow her on Twitter.