Archie Panjabi Confirms Edited Kalinda-Alicia Scene on The Good Wife Finale
Matt Richenthal at .
It would have earned our Season Finale Award for Most Clearly Edited and Disappointed Scene of the Spring... except there were no other contenders.
Indeed, Archie Panjabi has come out and confirmed the worst kept secret on television:
She and Julianna Margulies did not actually scene that final Kalinda and Alicia sit-down on The Good Wife Season 6 Episode 22.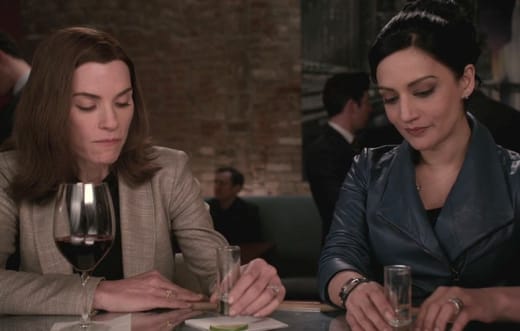 Asked about the controversial few moments on the CBS drama's recent finale, Panjabi told E! News this week at the premiere of her new movie, San Andreas:
"All I can say is this: the decision making process is not something I'm privy to."
It's been rumored for years that Margulies and Panjabi do not get along.
Their characters have not shared a screen in many seasons - and something clearly seemed off in their concluding meeting on "Wanna Partner?," considering each actress remained squarely on her side of the screen.
Fans are understandably upset, wondering what possibly could stop two VERY well-paid stars from sucking up whatever personal problems they have in order to at the very least film some closure for long-time viewers.
Panjabi certainly seems to be pointing the finger here at Margulies, while also telling E! that Kalinda is very much a goner.
"I don't think so," she said when asked if a return would ever be possible. "She came in as a mystery and left as a mystery."
Matt Richenthal is the Editor in Chief of TV Fanatic. Follow him on Twitter and on Google+.