If you are going to wear a short skirt without underwear, remember not to bend over. 
On New Girl Season 4 Episode 20, Jess is determined to get new computers for her school and even goes as far as competing in a golf tournament with Fawn; though Jess fails to mention she doesn't know how to golf. It was another classic episode of New Girl and there was even a small mention of Winston's beloved cat, Ferguson. 
Lets dive right in and discuss tonight's comical episode.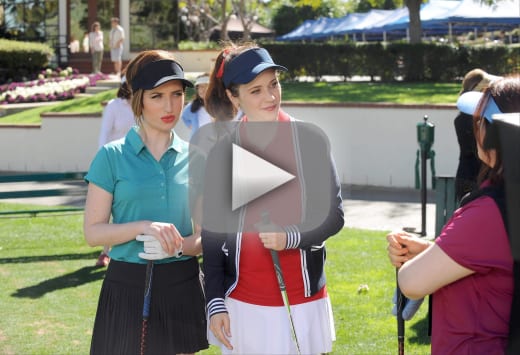 I know some people don't like Fawn, but she's hilarious. It's not entirely shocking to learn Fawn puts together the pros and cons of Schmidt's love making.
The whole back and fourth between Fawn and Cece was equally as entertaining and I could probably watch these two go at it for an entire episode – can you imagine the insults they could throw at each other?
Winston's mom needs to make an appearance because his childhood always sounds so colorful. I can't help but question how Winston has been able to make it this far in life without his mom being right by his side. Just a reminder, this is a man who's in charge of protecting and serving the city of Los Angeles – the city is doomed.
Winston's method of flirting is by far the most bizarre thing. Even though I love Winston's personality, I hate how insecure they make him. When he first came on the show he wasn't this insecure, but as the series progressed they not only made him kind of a moron, but they also took away his self worth. He may be an odd guy with a quirky sense of humor, but he's also a decent guy who deserves a good woman in his life.
Nick and Winston could easily create a wonderful play about their life. I always forget they grew up together and they have been through some rather interesting situations – they could easily structure an installment to revolve around the life of Winston and Nick. 
Of course Schmidt would want Cece to rub bronzer all over his body. Has he forgotten Cece is his ex girlfriend and maybe it wouldn't be the smartest thing in the world to ask her? I'm not sure why Cece would think an emergency with Schmidt would constitute a real emergency like it would to most normal people.
Speaking of Schmidt, was anyone surprised he accidentally bought bronzer with glitter in it? Cece trying to fix Schmidt's glitter disaster by adding white face powder to his face was brilliant; though they could have easily just scrubbed the bronzer off with a loofa and avoided the powder all together. 
The way Jess approached golfing is essentially the same way I'd approach golfing. Fawn and Jess together was extremely amusing and Fawn giving advice on how to network with the ladies was entertaining to watch. Fawn may be completely unethical, but damn she's a lot of fun.
The ending was actually kind of cute with Winston stripping for Casey and being brutally honest about himself. Unfortunately there was a total lack of Coach and Nick which made the episode a little less fun; though my biggest complaint is mentioning Ferguson and not seeing him – I miss Winston's cat.
What did you think of "Par 5"? What do you think of Fawn and Schmidt? Do you miss Ferguson?
Don't be left behind! Go watch New Girl online now via TV Fanatic and come back to let us know what you think.
Samantha McAllister was a staff writer for TV Fanatic. She retired in November 2018.