Justified Season 6 Episode 9 Review: Burned

Sean McKenna at .
"I ain't saying we're in the end zone doing the Ickey shuffle, but we are definitely in the red zone." – Raylan
Football references aside, Raylan knows they are close to getting to Boyd, and Justified Season 6 knows it is drawing closer to its conclusion.
There's a much greater feeling of urgency from all the characters as each looks to be ready to make their final moves that will hopefully propel them beyond the last scene of the finale.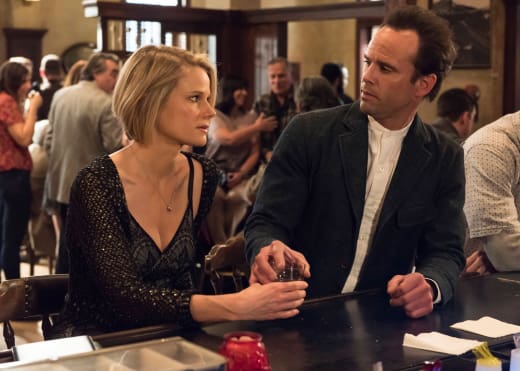 The big reveal of Justified Season 6 Episode 9 had to be that Wynn Duffy was the snitch, and I love how matter of fact his confession was to Raylan and Art. Katherine will surely be pissed if and when she finds out, after all, just see what she did to the guy she barely knew. And she ruined her purse in the process, so she would have no qualms killing Wynn.
Duffy has survived this long by looking out for himself, and I wonder if him choosing to help Raylan in these final hours will keep him breathing long after. It's certainly a risky move, and one that Boyd would not appreciate either, especially after getting betrayed by Zachariah.
There were a few moments as Boyd desperately tried to break his chain and escape the explosion that I thought, "Is this it? Might Justified pull a fast one here?"
At the same time, you just know he has to be in the finale to face Raylan, and his death during this hour wouldn't have been a satisfying one. But his fail at getting the money has only made him more hungry to get at it. Perhaps that will be his downfall.
What's interesting is his team-up with Loretta, who has fast proven just how much of a force she can be, never mind her age. She was willing to step up in public and call out Avery, even after getting his new man to threaten her.
And per usual, Justified introduced another fascinating character. This new gunslinger played by actor Jonathan Tucker is just the right touch of creepy, quirky, and dangerous. His chat with Raylan at the pizza place has me excited to see those two face off in some type of showdown.
It's funny to think that both Raylan and Boyd could walk away with something of a happy ending, each being alive and getting to be with their loves.
Yet, both are persistent in their missions that could ultimately lead to their demise. Boyd on his run for the money (when he could easily make plenty with Loretta, and he already got that $100,000) and Raylan on his run for Boyd (when he could simply let it go).
However, true to their characters, and fantastic for viewers, we will see them play down to the wire, each hoping to make their final touchdown that will seal the deal.
This was an intense hour that kicked things into final gear bringing everything you love about Justified and readying viewers and its characters for the remaining, and hopefully exhilarating, episodes.
I'm ready to do the Ickey shuffle.
Will Boyd get the money? Will Raylan get Boyd? Make sure you're all caught up on the final season and watch Justified online right now!
Sean McKenna was a TV Fanatic Staff Writer. He retired in May of 2017. Follow him on Twitter.