Justified Season 6 Episode 10 Review: Trust

Sean McKenna at . Updated at .
Well, I guess we now know which side Ava chose.
With all the push and pull from Raylan and Boyd, the connections would eventually have to snap. And the indication from Raylan that Ava was considered no longer useful to the U.S. Marshals, probably helped solidify her decision.
Ava placed all her faith on herself.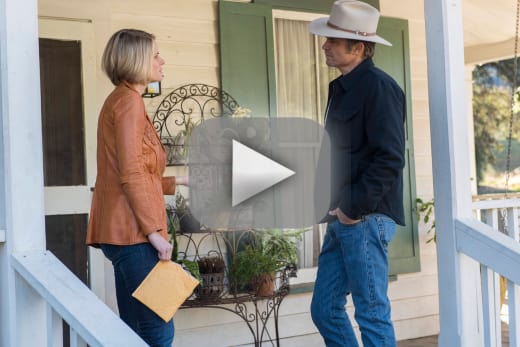 The fear of returning to prison would probably do that to her, but it was definitely the true shock of the hour when she shot Boyd and stole all the money from him that he just stole from Avery.
She easily could have run off with Boyd, who seemed to have finally pulled off the big task that would have gotten him to leave Harlan County with her. And she could have probably, maybe, convinced Boyd to confess to killing Dewy for Raylan to get him.
So she technically could have swung either way that would have been beneficial for her. But who knows if Boyd would have confessed. Who knows if she wouldn't go back to jail. Who knows if Boyd wouldn't wind up killing her later.
But with Ava running away, she's going to have a lot of people on her tail. This definitely changes the game.
Justified Season 6 Episode 10 was certainly about the characters trusting other characters, and the betrayal for many that followed.
Ava's was obviously the biggest one, but Wynn found himself at the mercy of his compatriot Mikey. I kept waiting for Mikey to do something about Wynn after discovering Wynn had been a rat not just once but multiple times. So it wasn't truly a surprise but more of a matter of time before Mikey made his move.
Though I'm sure that means Mikey is going to wind up dead in the end.
I love that Avery, who did everything Boyd said in trying to rescue fiancee Katherine, finally learned the truth that she set him up from the very beginning.
It was definitely a shock for him, but both now know he was never the rat.
Will he kill her, though? I'm just not so sure that's the direction he's going to take.
Boon certainly seems to be loyal to Avery, but he's being paid to do so. He's definitely a creepy character, and each scene he is in, you can only assume someone is going to die by his hand. The hat scene alone built up enough tension around it.
I'm definitely ready for Raylan and him to battle it out, even though Raylan has bigger priorities now.
I did enjoy that despite the whole set up and the nudging of moves by Raylan to get the money moving, he knew that Boyd knew the plan. It's like two master chess players always steps ahead.
Though, clearly, neither counted on Ava to step in and flip the board.
"Trust" was another solid episode on the final ride of Justified, and while I have no clue how this whole series is going to end, I'm excited to see it all go down. And I certainly trust it to keep being that satisfying ride to the end.
Were you surprised by Ava's decision? Any predictions on how it will all end? Sound off below, and see this entertaining episode again when you watch Justified online.
Sean McKenna was a TV Fanatic Staff Writer. He retired in May of 2017. Follow him on Twitter.