Can someone pass the tissues? We still haven't gotten over the final episode of The Mentalist.
For those of us who have watched from the beginning, it was one Hell of a ride, as the team took down one last serial killer before Jane and Lisbon embarked on a bright new future. 
Below TV Fanatics Robin Harry and Christine Orlando are joined by The Mentalist fans from Twitter, @Nerwen_Aldarion, @EntwifeIncognit, Grace @pinkishk1ss and @emilynthephoto to debate the happy ending, discuss a possible spinoff and talk about Jane and Lisbon's future after The Mentalist Season 7 Episode 13...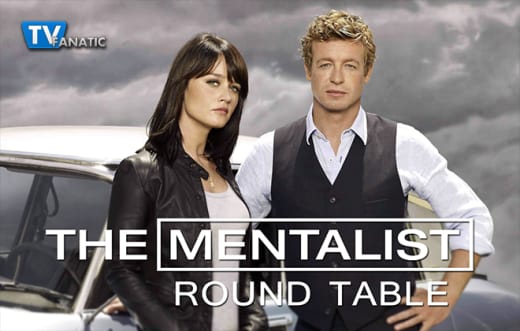 Were you happy with the way the series wrapped up? 
Robin: Yes. I have absolutely no problems with a happily-ever-after ending, and I believe that these characters deserved that. I also loved how it came full circle. The series started with a serial killer that targeted Jane because of his fake psychic act, with Jane and Lisbon working together to find them. However, their working together was dysfunctional because Jane was constantly dishonest and Lisbon couldn't count on him.
The series ends with a serial killer who was also targeting "psychic" Jane. However, this time, Jane and Lisbon catch the guy because they are completely in sync and honest with each other, and therefore much more effective as a team. I'm glad that Patrick and Teresa are happy, I'm glad they're starting a family, and I'm glad that Patrick found a way to enjoy his life and his job. I'm satisfied.
@Nerwen_Aldarion:  I was very happy with the ending, it was a true love letter to the fans and the shippers.
@EntwifeIncognit:  Loved the whole finale! Suspenseful case, and the wedding preparations worked in well. All the kisses we've been waiting for with Jane and Lisbon finally looking like a normal couple in love. And the romantic comedy parts were very funny. I never dreamed that Simon Baker would write the perfect pregnancy scene!
Grace @pinkishk1ss:  I think it was the perfect wrap up in the sense that it has accomplished a full circle for the characters from both their professional and personal life aspect. Jane was once a family man who came into the show losing his wife and child, circling within the darkness with no life purpose other than vengeance. He left the show with a wife and child, again become the family man who has found light and a purpose to live. Lisbon was once a happy child (see young Teresa's graffiti) until her family tragedy, but in the end she somewhat gets the happy ending almost like her graffiti drawing. A complete circle for both - I am immensely happy.
@emilynthephoto:  Yes, I think, like many, I had a vision of how I wanted it to be. I wanted it to end with a flash forward, but I think I loved this even better because it left it open for the fans to interpret or for maybe a reunion movie in the future. 
Christine:  Loved it. These character came from such a dark place and lived through so much emotional torture and angst. It was wonderful to see them not only survive all of that but also finally get their own happy ending. It's a message about never giving up, no matter how dark things seem.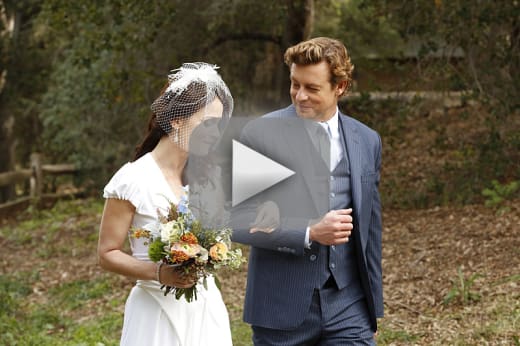 Would you watch a spinoff from The Mentalist and, if so, what character(s) would you like to see on it? 
Robin: As much as I would love to see the adventures in family life of Jane and Lisbon, I think I could only watch that in the context of the show as it is. I don't think I could watch a spinoff. I think what made The Mentalist great was the sum of its parts, and I don't think a spinoff would be quite as dynamic or fascinating to watch. 
@Nerwen_Aldarion:  I definitely would! I'd love to see one with Cho and Wiley getting into trouble LOL!
@EntwifeIncognit:  A spin-off would be hard to imagine. With Cho and Wylie I'd give it a try. But it would sink or swim on its own merits because my loyalties are with Patrick Jane, not the other characters.
Grace @pinkishk1ss:  Lisbon has been very good at reading people these days and I totally picture her to continue working in law enforcement catching bad guys. Seeing Lisyschic has truly been a delight for me and I thought her character being the Female Mentalist generates a very unique sense of humor. Besides, she has the perfect coach at home who can back her up anytime, even if that means distracting him from his house-husband duty. So, The Mentalisbon for my spinoff.
@emilynthephoto:  I think I would if it was done right. Obviously, I'd love it to be Jane and Lisbon and it would be like a modern day The Thin Man, but I think that's highly unlikely. I think the Lisbon family should have their own show. They have captivated me from the very start and it is perfectly cast. 
Christine:  Kimball Cho is such an original character. I'd love to see Cho and his team continue their work. I think he's got a great working relationship with Wiley and I'd definitely watch if that continued. 
Other than Jane and Lisbon, who was your favorite pair on the show (platonic or romantic)? 
Robin:  If we're talking in this episode, it would be Cho and Wiley - their handshake at the occult shop was hilarious, and the slap Cho gave Wiley later on killed me.  In the entire run of the show, it would be Cho and Rigsby. Those two had such contrasting personalities, but such a good bromance, and it brought out the best in Cho's sardonic one-liners. 
@Nerwen_Aldarion:  The bromances between Cho and Rigsby then Cho and Wiley for sure. And of course the fascinating relationship between Jane and Red John
@EntwifeIncognit:  The Lisbon brothers, hands down! I felt sorry for them, hurt from feeling they weren't wanted at the wedding. They were so rowdy and funny and so embarrassing to their big sister, just like they should be. I loved that they were fighting like cavemen over the contents of the mini-bar. I could totally see it. And Jimmy's loud new fiancee, just classic. 
Grace @pinkishk1ss:  Can I say that other than Jane and Lisbon I have a multidirectional ship with the rest? I literally ship everyone with everyone but okay my most heartwarming one is Cho and Lisbon. They knew each other the longest and stuck with one another from day 1 until the end. Both characters have gradually evolved throughout 7 seasons and those elements translate directly into their dynamic. It was truly heart-melting to watch the two's unique, subtle bond, especially the Chisbon moment at this finale. Not to mention their role reversal feels so natural.
@emilynthephoto:  Chigsby. There's your spin-off. A comedy buddy cop show. I'd watch it. I ship it. 
Christine:  I loved Abbott and Jane. They had such respect for one another that I found all of their interactions this season a delight to watch. 
Did you have a favorite story line or episode from the entire run of the show? 
Robin:  My favorite episode ever would be The Mentalist Season 5 Episode 2, "Devil's Cherry" It was a fantastic episode because it was simultaneously fun and tragic.  It was one of the best insights we got into Patrick Jane's character, because through his hallucinations of his daughter, we saw how incredibly conflicted he was, and what he thought of himself. We saw the struggle between his drive to catch Red John and his doubts and disappointments about his quest. Back then it was also the best and clearest glimpse of how he felt about Lisbon.
@Nerwen_Aldarion:  I had favorite episodes like The Mentalist Season 3 Episode 23, "Strawberries & Cream" but mostly I loved the series as a whole. A long beautiful tale of revenge then redemption.
@EntwifeIncognit:  Leaving the growth of Jisbon aside, I'd choose an episode, "Devil's Cherry" from season five. I loved trying to figure out what Jane's hallucinations really meant. The relationship with his young adult daughter was touching and so real, poignant, funny, painful. Getting an inside view of Jane as a father made him all the more lovable and tragic.
Grace @pinkishk1ss:  There's a lot but I really love the Lisbon's family backstory. It really opens up who she was and what makes the current strong woman Teresa Lisbon is. Her equally complex character and background tell us that she was just as broken as Jane and that gave us better insights on to how/why this two became soulmates and is perfectly made for each other. And just the idea of seeing a different side of her was truly a gift.
@emilynthephoto:  I've enjoyed every episode and every storyline, but The Mentalist Season 6 Episode 9,  "My Blue Heaven" is special to me because it meant that the show wasn't over and it also gave the opportunity for Jane to find redemption, peace, and love. It was the catalyst for every good thing we saw happen for him afterward. I think we all hope that we can be released from the ills inside us. 
Christine:  There was so much to love but the one episode that left quite an impression was The Mentalist Season 4 Episode 7, "Blinking Red Light" where Jane literally set up one serial killer to take out another serial killer. When Jane realized they couldn't stop Panzer, he got Panzer to arrogantly taunt Red John on live TV, much the same way Jane did himself years before. Back then, the result was the death of Jane's own family. This time, it was the one sure way to stop Panzer. 
If you could write Jane and Lisbon's future, how do you see it play out? 
Robin: I see Jane and Lisbon being fantastic parents. Jane, already knowing that he doesn't want to work at the FBI his whole life, chooses to be a stay-at-home dad for the first few years while Lisbon returns to the FBI. However, when their child gets old enough to go to school, Patrick gets bored and goes back to doing part-time consultation for the bureau. I also see Patrick teaching the kid tons of tricks that drive Teresa nuts.
@Nerwen_Aldarion:  They prepare for the baby together with Lisbon taking a little time off. Then Jane scales back his time at the FBI to take care of the baby but still works occasionally. They grow old happy together.
@EntwifeIncognit:  I would have the Janes leave law enforcement, grow their family in that idyllic, pastoral setting that Jane is making. When not vacationing on Jane's stashed wealth, they'd spend lots of time under starlight on that upholstered log, developing a nimble and acrobatic side to their lovemaking.
Grace @pinkishk1ss:  First, I would write them going for a short honeymoon around the world - just Jane showing Lisbon what the world with infinite possibilities look like. A world of sailboats and all the adventures she's been missing in life. Then she would come back to the FBI with a different eye and a rejuvenated soul. They would both raise their kid with unlimited wisdom and continue making a difference for the world.
@emilynthephoto:  I would like to see them have a son, build a life at their little rustic shack. They would probably scale back from the FBI, Jane more so than Lisbon at first, but then eventually sort become a private/freelance detective team a la Nick and Nora Charles. 
Christine:  I'm with Robin. I see Patrick cutting back to part-time consultant, only coming back to work on key cases as his main job is now stay-at-home dad. Lisbon, after takings some time off after the baby, goes back to work to continue to take down the bad guys. And they live happily ever after.
Was there anything that disappointed you about the two-hour finale? 
Robin: The only thing that disappointed me about the two-hour finale is that it was, in fact, a finale.  This season was solid, and I'm going to miss this show terribly.
@Nerwen_Aldarion:  It ended, I never wanted the show to leave.
@EntwifeIncognit:  Yes, a little. We didn't hear Lisbon call Jane, Patrick, in their private, romantic world. We didn't get to see them dance at their wedding. That was hard. And, it was unclear at the end what they would each do about working in law enforcement. 
Grace @pinkishk1ss: I was expecting them to have personalized wedding vows where they both deliver a heart to heart speech for one another, just on top of the conventional "I do". But heck, all other things were truly magical that my craving for this doesn't even matter anymore!
@emilynthephoto: NO!! Actually, the only thing disappointing was the void that set in when the lights went dim. And I might be a teensy bit bitter that Virgil Minelli wasn't even given a shout out. I love that man to pieces. But, I'm over it. 
Christine:  Honestly, I really enjoyed it from beginning to end. We got serial killer suspense, Jane in his "psychic" role once again and a romantic happy ending for all. 
What was your favorite scene from The Mentalist finale? 
Robin: Oh my gosh, this is an impossible question. I think I'll go with everything after they said their vows and were man & wife. The constant grins on their faces, and the random moments where Patrick would embrace Teresa and lift her up - it was so heartwarming to see how happy he was, after knowing how broken he had been. Then the look on Patrick's face when he realizes Lisbon was pregnant - beautiful.  
@Nerwen_Aldarion:  Cho and Lisbon picking out wedding dresses and then the last five minutes with Lisbon holding a gun in her gown and the wedding, then the final surprise.
@EntwifeIncognit:  The proposal scene. Jane's already taken off his ring because, matter-of-factly, "I'm not married." Such a Jane thing to say and do once he'd decided. Lisbon's reaction: From no clue, to what? are you?, to astonishment to joy. Beautifully played. Close second, Cho wedding dress shopping with Lisbon. He could make a good living and provide such needed relief to brides-to-be.
Grace @pinkishk1ss:  The last scene definitely, thanks to Simon for writing this. Lisbon giving Jane the last piece to complete his full circle of life - which is a child. The scene was very fragile, tender, heart melting, tear jerking all at once. Bravo to Simon and Robin, they both glow like the happiest fairy tale characters ever existed in history of fictions. It was a truly satiating moment. My favorite scene of all time of all shows.
@emilynthephoto:  The final scene. They could have done it in a way that I originally needed the final image to be, but that's been done before so many times. They took this sort of cliche moment, played with the dialogue, performed it perfectly to the characters, made it quiet and put it at the end of a series. That is how you make smart television. Thank you Simon Baker. 
Christine:  The end. Everyone just looked so darn happy and the baby was just the icing on the wedding cake. I couldn't stop smiling. 
Don't forget to check back later this week for our The Mentalist Season 7 Report Card!
And if you're already missing the show, you can watch The Mentalist online here at TV Fanatic. 
C. Orlando is a TV Fanatic Staff Writer. Follow her on Twitter.