Justified Season 6 Episode 5 Review: Sounding

Sean McKenna at . Updated at .
I'm shocked Ava didn't try and run sooner.
I've been saying it since she got out of prison, but Ava's predicament – caught between Boyd and Raylan – has been a tough one. Add the fact that Katherine suspects something fishy with her release, and Ava's in an even more dangerous one than before.
Hopefully, she can manage to keep herself just enough ahead to stay out of prison, or worse, to avoid getting killed.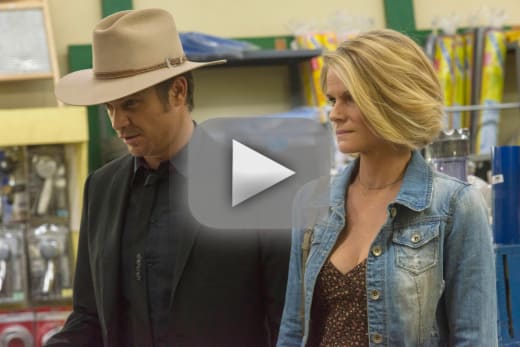 While it was fun to see some familiar faces return for Justified Season 6 Episode 5, the hour didn't feel like a ton of major movement on the story.
Boyd's already begun his new war with Avery, stealing up the locations that Avery has been trying to get. At the same time, he brought in one of Ava's uncles to aid him, and that meant another explosion, though, far less body parts everywhere.
That wrench in Avery's plan of course wasn't without retaliation, but Avery hasn't figured out the who and the why yet.
With the way Choo Choo hits (like an Amtrak), they definitely aren't getting the info from the sleazy real estate guy. Man, does Choo Choo know how to punch.
But I did think it was interesting that the U.S. Marshals were able to get to the prison guard before Wynn Duffy and Mikey (who had a fantastic game of scrabble going on). I really expected him to tell the truth but, luckily and, especially for the story, Ava is still in the clear. For now.
I enjoyed the return of Constable Bob (with his Star Wars references), even stepping up to help Raylan all by himself. The guy can definitely use a Taser, though I'm sure when Limehouse's guy wakes up, he is not going to be happy.
It was also neat to see Limehouse again (much like many of the other faces from the past popping in), but I wonder with Ava returning home, if that's the last of him.
The episode was certainly entertaining, but nowhere near as intense as the other episodes of Justified Season 6.
That said, who was surprised by Ava kissing Raylan? Is she playing him or is it something else? Things are looking to get a lot more interesting in the Raylan, Boyd and Ava triangle.
What did you think of the episode? Who else do you want to see return for the final season? Sound off below, and make sure to catch up before the series finale and watch Justified online at TV Fanatic.
Sean McKenna was a TV Fanatic Staff Writer. He retired in May of 2017. Follow him on Twitter.