Justified Season 6 Episode 4 Review: The Trash and the Snake

Sean McKenna at . Updated at .
Raylan Givens is certainly taking up a much bigger battle for Justified Season 6 as he prepares to take down both Boyd Crowder and Avery Markham.
It was certainly inevitable, but I'm still not so sure Raylan will make it out of this war alive.
I'd like him to, of course, especially if he can take down the bad guys and walk off into the sunset to be with his family. But that might just not be in the cards and, once again, Art seemed to point out just what Raylan was getting himself into.
I think we can all hope that Raylan doesn't wind up bit.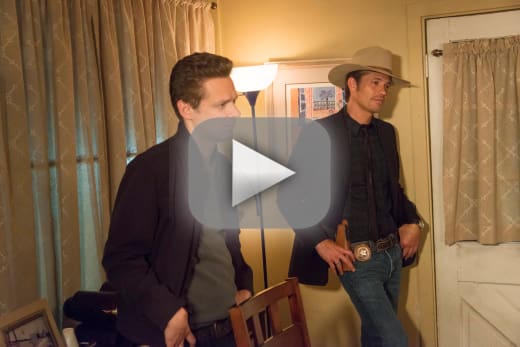 As much as Raylan is leading the charge, I'm glad that we've gotten a lot more Tim to help him out. Having them trying to figure everything going on in Harlan in Justified Season 6 Episode 4 from the truth behind Avery's land-buying scheme to the death of Raylan's old school teacher, all mixed with some fun banter between the two, was a plus for the hour. Tim doesn't have to say much but, when he does, it hits the mark pretty much every time.
It's also good that Raylan isn't taking everything on his own. For him to walk into situations like dealing with Loretta or the sit-down with Avery, Raylan does have that back-up he can count on.
Much like Boyd's encounter with Avery, Raylan's back and forth was just as engaging. Perhaps with the law on his side, Raylan didn't have to shrink back from Avery, but when things start getting personal, I'm sure it ups the ante for him taking out whoever is trying to cause mayhem in his neck of the woods.
It is interesting to see his care and concern for Loretta, even though she isn't his kin.
I actually like the concept that Avery is following in the hopes that marijuana does become legal in the state of Kentucky, and he'll be all set to get business booming. But might Boyd be able to do the same in addition to stealing Avery's money?
Boyd's definitely giving himself a tall order to complete.
That said, his and Wynn's mission to get the safecracker couldn't have ended better or in more of a shocking way. I was not at all expecting to see their newfound help blow up right in front of them. Plus, what a great reaction shot of the two covered in blood, etc.
Those small surprises were really fun for this episode, including Dickie Bennett's return only to painfully discover that his land went to Loretta. Just the look on his face after he thought he was playing ball with Raylan and Tim to learn the truth was hilarious.
But I'm still really curious as to Ava's play in this final batch of episodes.
Yes, she slept with Boyd, and maybe she does feel something for him, but she quickly called Raylan to give up some information. Though, it was more about Avery than Boyd.
At the same time, with Katherine (who is super creepy in her over-pleasantness) tossing out information about Ava's release, I keep feeling for Ava. She's so trapped no matter which direction she chooses. She's doing everything she can to stay afloat, but maybe if all those warring powers eventually take each other out, she might be able to escape.
I have a hard time believing that everyone is going to come out unscathed. With Raylan letting Avery know he's coming after him, things are sure to heat up.
Justified, even if things aren't moving at break-neck pace, finds a way to be entertaining, including with its massive collection of characters. A little more clarity was revealed to Avery's plan, but I feel like the coils of tension are about to be released and that downward slide towards the finish is about to begin.
Will Raylan come out of this battle alive? Does Katherine know the truth about Ava? Sound off below, and since this is the last season, make sure you're all caught up and watch Justified online right here on TV Fanatic.
Sean McKenna was a TV Fanatic Staff Writer. He retired in May of 2017. Follow him on Twitter.