Bob's Burgers Season 5 Episode 8 Review: Midday Run

Alex Greb at . Updated at .
The halls are alive, with the sound of mischief!
Bob's Burgers Season 5 Episode 8 was a timeless tale of ambition told in the halls of Wagstaff Middle School. It was a fine half hour with our favorite awkward adolescent. It was a damn good episode.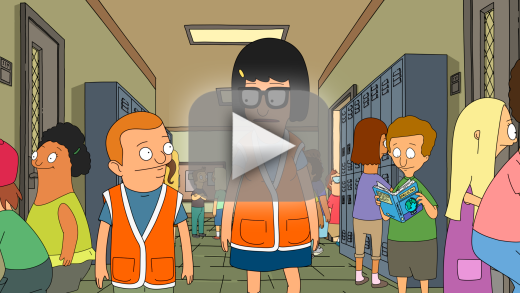 Tina, Wagstaff's strictest and most effective hall monitor, is up for a promotion to become the Hall Manatee, the highest position in the hierarchy of hall monitors. Mr. Frond asks Tina to escort Zeke to the principal's office to be suspended after he was caught breaking into the gym coach's office. However, Zeke, telling Tina he needs a bathroom break, escapes from her and is on the run. Tina enlists the help of Gene and Louise in order to find him and secure her promotion.
Back at the restaurant, Linda begins hanging napkin art from the customers in the restaurant. Bob wants to hang some drawings himself, but Linda doesn't like his drawings. Seeing right through her attempts to sugarcoat it, Bob goes on a mission to learn how to draw.
Tonight's episode got right what Bob's Burgers Season 5 Episode 7 got wrong. "Tina Tailor Soldier Spy" barely made any use of Tina, despite her being the main character, and made Louise more active, so she carried the weight of what was supposed to be Tina's story. Thank the TV gods (and of course the writers) that was not the case tonight.
The moment of the night, without a doubt, is where Tina grabs Jimmy Jr. and interrogates him. Considering the nasty taste the previous episode left in my mouth, as well as the fact that Louise was along for the ride, I thought she was going to do the dirty work yet again. I was flabbergasted when Tina ended up being the one to do it. Even her siblings were shocked.
Another way "Midday Run" improved was with its subplot about Bob learning how to draw. It was not only funny (especially Bob's disgusted reactions to Edith's naked body), but it was given the right amount of screen time. It didn't take away from the main story, but it was also entertaining in its own right.
What did you think of this week's installment?
Were you ever a hall monitor? Can you draw? Would you want to draw a naked Edith?
Don't forget that you can watch Bob's Burgers online right here and right now via TV Fanatic!
Bob's Burgers Season 5 Episode 9 will be titled "Speakeasy Rider" and air January 11.