Bob's Burgers Season 5 Episode 3 Review: Friends With Burger-fits

Alex Greb at . Updated at .
ARE YOU READY TO RUMBLE!? 
Bob's Burgers Season 5 Episode 3 asks us this and other questions, such as; how far are we willing to go to help one of our friends? Who do you consider a friend? Is making an ice wrestling rink in your freezer a good idea?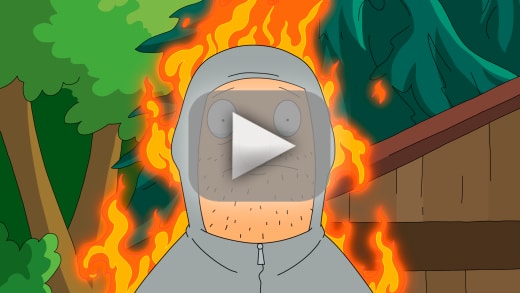 The episode starts off with Bob growing increasingly guilty after Teddy's check up reveals that his high cholesterol is being caused by Bob's burgers (yes, I giggled when I put the title of the show into the review like this. Don't judge me.)
Bob tries several things in order to keep Teddy healthy, like sneaking him a veggie burger and even going as far as the cut Teddy off from his burgers entirely, both of which fail miserably. 
Bob eventually decides to exercise with Teddy, leading them to join a "stuntman boot camp," where members perform movie stunts in order to lose weight. Teddy decides to quit when he overhears Bob refer to him as a customer rather than a friend. This leads Teddy to another burger joint where he defiantly orders the restaurant's biggest burger. Bob, hearing this, races to save Teddy. 
Meanwhile, Linda and the kids decide to turn their freezer into an ice wrestling rink, where they hold a tournament for "ice pushing."
While the previous two episodes' main stories were lead by the series' breakout characters, this episode's main story was lead by Bob. Bob, being the straight man of the series, doesn't usually get the show's most memorable material as compared to the rest of his crazy family. Whereas the other characters tend to get the funnier storylines, Bob's character, being the glue that holds the family together, works best in the sweeter storylines, and this week proved that point.
While Bob's storyline wasn't particularly hilarious, it was genuinely sweet to see him worry about Teddy so much. Speaking of which, the pattern of seeing different shades to the characters continued this week with Teddy getting pretty scary when Bob tried to cut him off from his burgers. I wonder if this is a deliberate pattern with how this season will play out. Whether it is or not, keep it coming, writers!
The subplot for this week features Linda and the kids (always a winning combination) starting an ice wrestling tournament in their freezer. This was my personal favorite of the two storylines because it showed just how incredible the writing on this show really is. As completely crazy as the the idea of an ice rink in the freezer is, the way it's written allows you to feel real emotion no matter how crazy it gets.
I was actually rooting for Louise to beat the competition and when she was facing her brother on the ice, there was a moment of actual tension when both of them almost fell on the ice. When you can make an audience not only buy a concept as crazy as this, but actually FEEL something during it, that's when you know you can write.
Another side note, Linda should be a superstar. Seriously, her best friend song was the moment of the night.
How far would you go to help a friend? Would you create an ice rink in your freezer? Would you capture farts in a jar? 
Don't forget that you can watch Bob's Burgers online right here at TV Fanatic!