The Real Housewives of New Jersey Season 6 Episode 14 Review: Judgement Day

Christine Orlando at . Updated at .
It was the The Real Housewives of New Jersey Season 6 Episode 14 season finale and so much has changed since this series began. 
For one, Teresa Guidice kept her cool while being accosted at a charity event. Plus 22. That's something we don't see very often. 
I actually had to agree with Tre on this one. If the twins had wanted to talk to her and get to the bottom of the rumor about Rino and their mother, they would have called Teresa by now to hash things out. Instead they waited for Dina's charity event because they wanted an audience. Minus 15. 
It was a blatant play for attention when the twins hunted Teresa down at the event to have their chat in front of a room full of people and camera. You'd think that considering the topic of conversation was their mother having a fling with one of their husbands that they would have preferred a more private setting for this conversation...but no. I guess if retelling their family's dirty laundry in public is what it takes to stay on the show, that's what they'll do. Minus 40.
To be honest, the twins are lucky that Teresa had so much else on her plate. As Dina pointed out, the Teresa from just a year or two ago would have "flipped a bitch" on these girls, not to mention a couple of tables for good measure. As ridiculous as it was, I almost miss those days. 
But things are much more serious now. Teresa and Joe Giudice were facing their sentencing hearings and it was easy to see who their friends were...and weren't. 
Teresa Aprea was so angry at Tre for supposedly spreading rumors about her family that she seemed almost gleeful about her good friend having to face jail time. All grace and compassion flew out the window and what was left was not a pretty sight. Minus 27.
When the sentences came down, Joe Giudice was going to do 41 months in Federal prison and Teresa was sentenced to 15 months. And although there might be the possibility of early release for good behavior, the Federal prison system does not offer parole. 
Teresa's time will begin in January and she'll be able to spend the holidays with her kids. Plus 12 for small favors but those are going to be some tough days ahead. While Tre's serving her time, Joe will be home with the kids, something that sounds a bit disturbing considering Teresa said he's drinking quite a bit more in recent days. 
Once Teresa is released then Joe will go in and do his time. Whether or not you feel sympathy for the Giudices or not, I feel sorry for their kids. I certainly hope that Joe and Melissa Gorga meant it when they said they'd be there to help. Those children are going to need it. 
Watching everyone's reaction to the news was a bit stomach turning. From the twins fake concern to Jacqueline whining about how Teresa hasn't texted her back, they made normall over the top Amber seem real. Minus 33.
So TV Fanatics, what did you think about Joe and Teresa's sentence and should the show go on hiatus until Teresa is once again available?
Episode Total = -81!  Seaosn Total = -742!
If you missed a moment of the drama, you can watch The Real Housewives of New Jersey online here at TV Fanatic.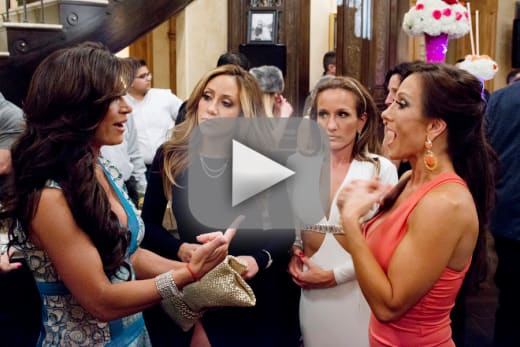 C. Orlando is a TV Fanatic Staff Writer. Follow her on Twitter.