The Real Housewives of New Jersey Season 6 Episode 13 Review: Sorry, Not Sorry

Christine Orlando at . Updated at .
Has everyone calmed down since they left Florida or is the next confrontation just brewing onThe Real Housewives of New Jersey Season 6 Episode 13? We recap the snarky comments in our +/- review.
Melissa Gorga asks Amber Marchese out for drinks upon their return to Jersey to make sure everything is OK. Jim and Amber were not on the same page in Florida.
As Amber put it herself, "Amber was trying to be kumbaya and Jim was going for scorched earth." Maybe that's why Melissa refers to him as Jim MarCrazy. Plus 10 because we can't say she's wrong. He was one angry, bitter little man in Boca Raton.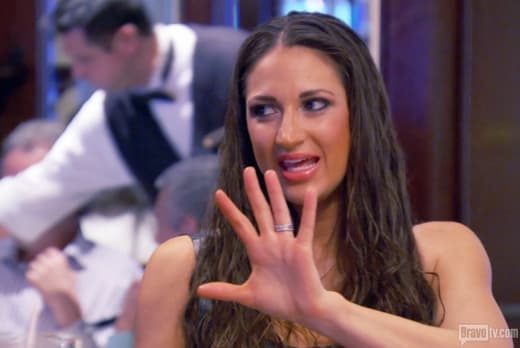 But Amber was looking to move on...in front of the cameras, with her shirt off. Yes, it's been five years that she's been cancer free so she decided to show off the new breasts and the scars in a topless photo shoot. It's not how I think I'd celebrate but plus 33 to Amber for doing it her way.
We even have to throw out a plus 25 to Jim for the romantic gesture of renting out the art gallery to display the photos and surprising Amber with a romantic dinner. I may not like the guy but it was a beautiful sentiment on his part. 
Unfortunately, that's probably where the pluses end. Nicole visited with Kathy and Richie Wakile and met Jacqueline Laurita whom she'd already heard was a troublemaker. At least the two women were able to bond over her kids...which was surprising since I didn't eve realize that Nicole had kids!
What was Nicole thinking when she shared the rumor about Rino sleeping with her mother? She was all upset about Teresa and Amber spreading this supposed lie but wasn't she doing the exact same thing? Minus 18.
I was waiting for someone to say it and it was little surprise the world came out of Rosie's mouth."The whole word mother-f**ker has a whole new meaning."
Just when I thought it couldn't get any worse, Jacqueline and Nicole call Victoria Gotti a dirty vagina. Minus 27. Leaving Jacqueline to wonder."Am I going to get murdered? Is there going to be a hit out on me?" Perhaps she should have thought about that a little sooner.
Teresa Giudice turned out to have very few friends in this episode as Richie made fun of her legal issues by calling Tre's Fabelini brand, Felonini. Minus 11. Even Rosie seemed quick to turn on Teresa by intimating to Nicole that she couldn't be trusted. 
But really, Teresa told one person that horrible rumor, her best friend Dina and she did it in the hopes that Dina could keep Amber in line. Well, that backfired spectacularly. 
In the end I think I felt the worst for Gia. Why would anyone start a conversation with their 13-year-old about birth control on camera?!? Minus 41
It's an important conversation to have...but in private!
So, will Dina Manzo's Lady Bug fundraiser get squashed by the feuding Housewives?
Episode total = -29!  Season total = -661!
And to keep up with all the drama, you can watch The Real Housewives of New Jersey online here at TV Fanatic. 
C. Orlando is a TV Fanatic Staff Writer. Follow her on Twitter.