Bob's Burgers Season 5 Episode 1 Review: Work Hard or Die Trying Girl

Alex Greb at . Updated at .
I have to confess: I haven't seen either "Die Hard" or "Working Girl" prior to this review. I haven't even caught up with the entire series of Bob's Burgers so far (though I absolutely adore what I have seen). 
Despite this, I love 80's movies and I also love musical theatre. Lucky for me, as well as the television viewing public, those worlds are one in this weeks season premiere of Bob's Burgers.
Bob's Burgers Season 5 Episode 1 stars Gene, the Belcher's (sort of) musically inclined middle child. The time has come for Wagstaff Middle School's fall musical and Gene decides to audition his magnum opus, "Die Hard - The Musical."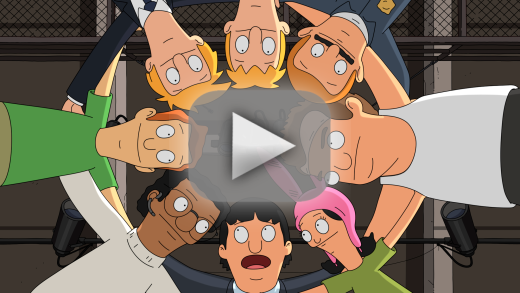 When Gene denies his ex-girlfriend, Courtney, a part in the play, she auditions her own musical, adapted from the film, "Working Girl," which gets picked, devastating Gene. Louise, always the schemer, and convinces Gene to hold his musical anyway, on the same night that "Working Girl" premieres. Shenanigans ensue, this time with music.
Apart from Tina (who disappointedly wasn't greatly featured in the episode) Gene is one of my favorite characters on the show. He's an unabashedly optimistic drama queen and I can't help but love that.
Seeing his creative spark in full force, as odd as it can be, is sort of inspiring. He might not be Andrew Lloyd Webber (yet), but he loves what he does and you cant help but admire his efforts.
However, I feel like there was a wasted opportunity to make his quest to one-up "Working Girl" consume him and drive him Salieri style crazy. That would still be funny to watch, while showing a different side to Gene.
That being said, I thought it was sweet that Gene was willing to let Courtney finish her musical and vice versa. Not only did everything work out, but a new musical was born: "Work Hard Or Die Trying, Girl."
The end result was clearly too good to have been put together in 20 minutes, but it was so good that frankly, I didn't give a damn. Personally, I think Fox should release a "Work Hard Or Die Trying, Girl" album, like what NBC did for Smash when they released "Bombshell."  
At the very least, I want, "I'm Hans Gruber and I'm Grubin'" to be released as a single on iTunes!!
Seeing Gene's Hans Gruber and Courtney's Tess McGill together as a couple was like seeing fan fiction on stage. Perhaps we could continue this trend with Sterek: The Musical. 
Did you enjoy this weeks musical mash up? Do you want to see Sterek: The Musical? What 80's movies turned musicals would YOU want to see?
Don't forget that you can watch Bob's Burger online right here on TV Fanatic!