The Real Housewives of New York City Review: Karma's a B*tch!

Christine Orlando at . Updated at .
Let's be clear: No one deserves to have their spouse cheat on them but when it comes to TThe Real Housewives of New York City Season 6 Episode 22, we have to side with LuAnn. Karma's a bitch!
There seems to be a theme for each sofa during this reunion. There's the normal side and then there's the side filled with denial and delusions. It's a scary place to be.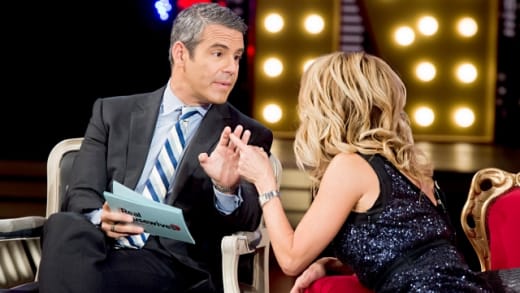 We'll start with Ramona. She and husband Mario have been making tabloid headlines for months. Rumor has it his long-term mistress was even pregnant with his child. Supposedly the Singers were headed for divorce court but have somehow reconciled. So it was no shock when Andy Cohen asked for details about the state of Ramona's marriage. The last thing anyone expected was for her to tell him to Shut. It. Down. Minus 50.
If Ramona didn't want to answer questions about her personal life she should really hand her check back to Bravo. No one forced her to put her life on display for our entertainment. It's time to pay the piper. 
I'm only disappointed that Andy didn't push harder. Minus 21.
Plus 35 to LuAnn who wasn't kidding when she said karma's a b*tch. In past seasons Ramona was nothing but gleeful to spread the news about LuAnn's disintegrating marriage and rumors of cheating. Now that the shoe's on the other foot she claims the allegations about Mario shouldn't be discussed because they have a daughter.
Apparently LuAnn's children didn't deserve the same courtesy. Minus 43.  We've got one word for Ramona. Hypocrite.
Moving down the line on the sofa of denial and delusion we get to Sonja and the homeless teenager in Ireland who is running her blog. What?!?  That deserves a plus 37 for sheer creativity…or pure craziness. 
Sonja spews so much ridiculous nonsense that it makes my head spin. And will someone please audit the schools that are handing out college credits to Sonja's interns? Sonja says sometimes it takes her a whole semester to teach one of them how to use a Mac to keep a schedule. Seriously? My four-year-old can use a Mac. I'm guessing we won't be seeing any of Sonja's interns behind the Genius Bar anytime soon. Minus 22.
From the delusional to the deranged, we get to Aviva Drescher. I'll just say it. This woman scares me. As Carole put it, she is bat-sh*t crazy. 
Apparently Aviva is so well versed in literary rumors that she can say that Harper Lee didn't write To Kill a Mockingbird (one of my favorite books) and using the word "weird" is somehow worthy of Carole being mocked. Minus 15.
Where Ramona's hypocritical and Sonja's just wacky, Aviva is one nasty piece of work. I wouldn't sit on that sofa even if Andy paid me…OK maybe but there'd be some serious negotiation about my fee. 
The other sofa was way less tense. Plus 44 to Kristen for admitting that her marriage needed help and that the show held a mirror up for her and Josh to see their issues more clearly. She could have tried to sugar coat it but she didn't. As a couple they needed help. Hopefully they got it. 
Carole was still reeling from her row with Aviva and Heather defended the Berkeshires to Ramona who said most people there can't afford the Hamptons. Probably true. Plus 10.
Why is everyone so impressed that Aviva only has one nanny for her four children. Most women in the world don't have nannies at all. They're called mothers. 
But the biggest revelation of the night…Jacques was stealing LuAnn's hairstyle. Minus 18. That's so wrong.
Make the madness stop!…Until next week.
Episode total = -43! Season total = -579!
What do you think, TV Fanatics? Should Andy have pushed Ramona harder for answers about her marriage?
C. Orlando is a TV Fanatic Staff Writer. Follow her on Twitter.