The Real Housewives of New York City Review: Leg-endary Finale

Christine Orlando at . Updated at .
Usually it's insults that get tossed around on The Real Housewives of New York City Season 6 Episode 20 - but Aviva threw out a leg. Her own! On the dinner table no less.
We attempt to make sense of the nonsense in our +/- review...
Leave it to Aviva Drescher, the queen of fake drama to throw out her fake leg but could someone tell her that this is The Real Housewives of New York City and not Crazyville?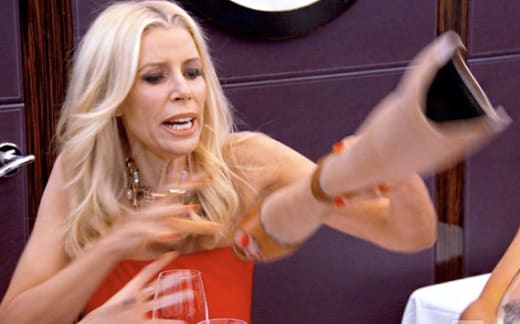 Let's face it. Aviva's always been a little off. There are all the phobias and the illnesses. One moment she's gushing over Carole's work and the next she's accusing her of not having written it. Minus 40. Last season Ramona and Sonja were white trash, this season she wants them to be her best pals. The pendulum swings from one end of the crazy scale to the other. 
But the leg toss may be her best event in the psycho Olympics. Plus 33 for dramatic effect but minus 15 for delivery. That speech sounded a little too well rehearsed. She must have been gripping that leg under the table for quite a while just waiting for her moment to throw.
Of course we'll give her a plus 10 for style points. The leg was wearing a heel when it was thrown. 
Plus 53 to LuAnn for not being able to stop laughing at the absurdity of it all.
The ramp up to the big event was almost more disturbing with Aviva waving around an x-ray and telling everyone her doctor lied to her. 
Was she trying to be funny? Minus 22. If so she really needs to work on her sense of humor. And who carries around x-rays? Aviva came with one heck of a prop bag to this party. 
It was the Team Sonja Party and has anyone figured out why Sonja is Aviva's biggest champion these days? I'm still lost on that. Minus 12.
Sonja had other issues. After a dramatic ankle twist while chasing Harry's cab, she broke up with him the next day. Plus 16. Something tells us Harry will get over it. We wonder who he'll be giving that promise ring to next. 
LuAnn insists nothing happened with Harry, "Don't point your dagger at me, honey because you're pointing him in the wrong direction," but she agrees that Harry is untrainable. 
Elsewhere, Kristen looked completely hot during that photo shoot. Plus 45. Hopefully it gave Josh a wake up call to see how lucky he really is. 
Heather and Carole were simply window dressing for Aviva's final show. It was as though Aviva was simply looking to pick a fight with someone in order to throw out her leg, giving her the final leg-endary moment of The Real Housewives of New York City.
Episode total = +68! Season total = -447!
What do you think, TV Fanatics? Did Aviva plan the leg toss before the party even began?
C. Orlando is a TV Fanatic Staff Writer. Follow her on Twitter.