The Real Housewives of New York City Review: Ramona's Melting

Christine Orlando at . Updated at .
It was "Bon Voyage Ramona" and I think everyone on The Real Housewives of New York City Season 6 Episode 10 was grateful to watch her go.
We recap the tears, fears and a mediocre acting job in our +/- review...
But, first, let's face it, it takes a lot of effort to keep Ramona's hair looking like this…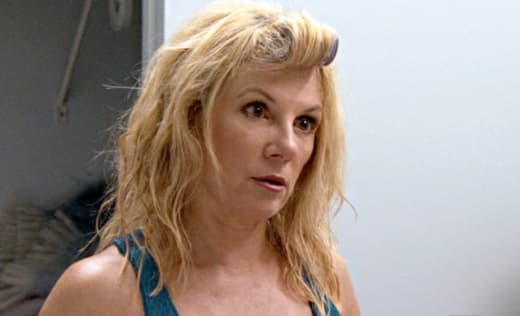 So when someone splashes her, assault with a wine glass is the appropriate response…in Ramona world! Minus 25. It's like Bizarro World with lots of Pinot.  
But as Carole put it, "Don't f**k with her blow-dry." Plus 12.
Newsflash Ramona, if you're going out on a lake in a canoe, expect to get wet. 
When Heather tried to point out that Ramona split Kristen's lip, Ramona shot back with she once split her lip on the recoil of a shotgun. What?!? Minus 10. 
Ramona flips out when Kristen won't accept her apology…only it would have helped if Ramona had actually apologized. Minus 27. 
The next thing you know, Ramona is screaming in Kristen's face, "Don't throw water at me!" What is she, the wicked witch of west?  I think Ms. Singer left her Xanax at home. 
When Heather comes to dinner and tells the ladies, "That's enough about the f*cking splashing" I had to laugh. Plus 30. Thank you Heather for saying what everyone else was thinking. But the only thing that could get these ladies off topic was an Elvis impersonator. 
I like Elvis but I find the impersonators kind of weird so minus 15. 
And as much as I was on Kristen's side, the whining had to stop. Enough with the pity party over a split lip. 
Heather getting the ladies to hug trees in the woods was kind of funny and a big plus 40 to Luann for being the grammar police. "Provoke" is a verb, not an adjective. That would have bugged me all night if she hadn't said something. 
Ramona's meltdown was well choreographed. I'm not trying to downplay the abuse she dealt with as a child but it was amusing that she had her bag packed and a plane on standby long before the trees in the forest caused her to have a flashback so powerful it sent her running home. Minus 33.
Or should we say flying to the Hamptons. 
Poor Sonja. I almost felt sorry for her. Well, first for her ridiculous behavior with 20-year-old Austin. The poor boy must have scratch marks from those cougar claws. Minus 13. 
But what really garnered my sympathy was the fact that she shed tears for Ramona. She defended Ramona to everyone and then her supposed "good friend" ditched her without a goodbye and headed off to a better party. 
At least her hair did look better in the Hamptons. 
Episode total = -41! Season total = -221!
Your turn, TV Fanatics. Do you think Ramona staged her breakdown to head off to a better party?
C. Orlando is a TV Fanatic Staff Writer. Follow her on Twitter.