In order to truly catch a killer, do you have to become one?
Will Graham is finding out the answer to this question on Hannibal Season 2 Episode 10 as he finds his own design as Hannibal's very own protégé.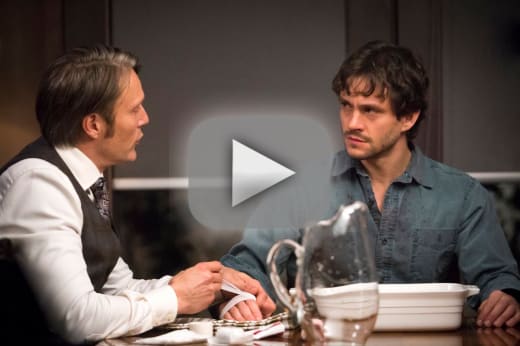 Will succumbs to his own darkness even further as Freddie digs deeper into his life and finds a jaw, probably Randall's, and attempts to flee.
There's a bit of symbolism in this scene as Will acts very much like Hannibal does with Beverly. The difference is the conclusion does not fade to black. There's little chance Freddie is enjoying some tea and writing up her story in a remote location.
Will takes her life. Anyone digging that deeply into Hannibal's life gets the axe, it's standard operating procedure at this point; the difference is this: has Will done this act because he wants to catch Hannibal or because he's beginning to like being like Hannibal? 
No more is said with Jack. It gives the illusions that although both Will and Hannibal are the main suspects, Freddie has so many enemies that it's not implausible to find that she is murdered for other reasons. 
The imagery with the stag continues to make appearances. The stag is now an image of Hannibal and Will dreams of killing the stag, to enact his wish of truly killing Hannibal.
It's the only real clue there is to go off of to see how far Will is when it comes to Hannibal, but Will continues to kill the stag. Will's clearly crossing the line to get to Hannibal. He's even willing to pull a Hannibal on Freddie's body to get where he needs to go with him. 
Alana sleeping with Hannibal continues to just be sickening. The entire scene as she sleeps with him is absolutely unappealing.
Alana only begins to grow suspicious of the Hannibal and Will after Freddie comes to question her and she shows up dead later on. It takes Freddie to spark something inside of her that Will and Hannibal's relationship is not right, yet she's willing to defend it one breath prior.
The saddest part of the entire situation is Alana has a big hand in Will's deterioration, thus making her partly responsible for this course of action he has taken. 
Mason Verger's introduction makes one hope that Hannibal will be killing him off quickly, so he must be doing something right. Margot's downright fear of him is palpable in every scene they share and he makes use of it every chance he has. 
Is Will still becoming Hannibal to catch him... or does Will now want to be like him?