Damon Salvatore, we feel your pain.
Remember that part where Markos was explaining to you the long, complicated history of Travelers and Witches? And it was really random and convoluted? And it even struck down past storylines on which numerous episodes were built? That whole true love, prophecy thing?
And you yawned a giant yawn because you were bored?
Yeah. That's how we felt throughout The Vampire Diaries Season 5 Episode 18.
There's no way to sugar coat the truth: This was a horrid hour of television.
We'll start with the dreams. It doesn't get more desperate and, quite frankly, more lame for a show to rely on visions as a storytelling device. Why? BECAUSE WHAT WE'RE SEEING ISN'T REAL.
It's just filler. It's just Stelena trolling. It's a sign that you have no story to tell in this reality, so you create an alternate one.
It was somehow meant to draw the final Doppleganers to 4620 Walnut Lane because... Elena would clearly think that's where Markos is residing simply because she saw the address in some fantasy?
Numerous leaps of logic were needed to make this work. It's as if we could see the writers typing out the script and moving characters from one place to the next. There's no coherence to the storytelling at this point, there's no natural flow from one week to the next and no building of excitement toward The Vampire Diaries Season 5 finale.
Perhaps most depressingly, the stakes feel tiny. When was the last time TVD placed you on the edge of your seat? When was the last time viewers were truly afraid for a character? When was the last time the show simply took you by surprise?
We learned at the end that Stefan and Elena will always love each other. Thank goodness, huh?!? This was definitely a point viewers needed to be driven home for the umpteenth time.
And then we learned that Damon can't be friends with Elena, which was meant to be a significant plot point, except for two things:
That's pretty normal. How many exes want to be real friends with the person they love?
This love triangle has been murdered more times at this point than Matt Donovan. Does anyone on either side, Delena or Stelena, even care anymore who Elena chooses?
And speaking of sides... there's Grams! And Kol! And Vicki! Who maybe, sort of, somehow died again!
Yes, we got our first glimpse of The Other Side this week and something is seriously wrong there. Markos escaping has apparently thrown the entire system for a loop, which at least made good use of Matt for a change.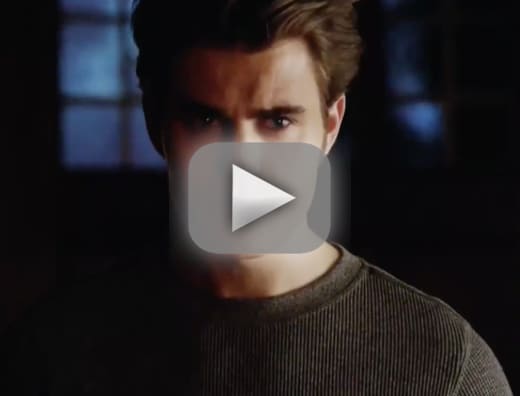 Overall, very little happened. We discovered that Markos does want the Travelers to take over Mystic Falls; that Jeremy has to be better at communicating with his girlfriend; that Paul Wesley is a strong director; that Ezno is BY FAR the best part of TVD at this point; and that Tyler has been taken over by a Passenger.
But around and around we go with the Elena/Damon/Stefan nonsense. When the characters themselves are bored, doesn't that pretty much say it all?
Debate. Ponder. Comment. And check out the first trailer for The Vampire Diaries Season 5 Episode 19, "Man on Fire."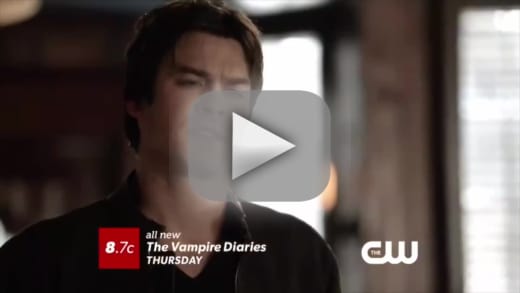 Matt Richenthal is the Editor in Chief of TV Fanatic. Follow him on Twitter and on Google+.