The Originals Season 1 Episode 20 gave us all a shock we certainly weren't expecting. Two of them actually.
Mikael is back! (Well, sort of.)
HAYLIJAH! (YESSSSSSSS!!!!!!)
Klaus is plagued by dreams of Mikael and eventually learns that Elijah has been dreaming of their father, too. The two suspect a witch is responsible and turn to Genevieve for answers, but she doesn't have any to give. Klaus learns that the other side is falling apart thanks to "a Bennett witch" and that's how Mikael is able to influence their dreams.
When Monique curses Hayley, Genevieve undoes the magic and saves Hayley's life, earning herself some favor with Elijah but losing favor with the ancestors. 
Saving Hayley's life leads to an epic Haylijah moment, and you'll want to watch The Originals online to see it!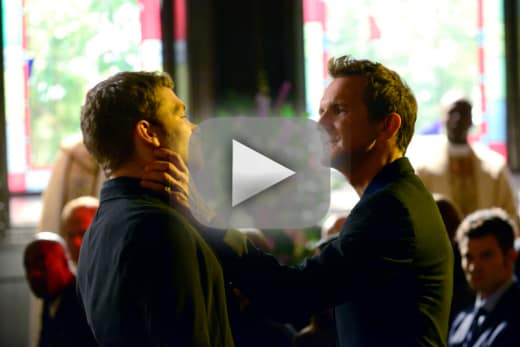 Miranda Wicker is a Staff Writer for TV Fanatic. Follow her on Twitter.