Zelena finally found a way to capture Regina's resilient heart in Once Upon a Time Season 3 Episode 18 as she had the Dark One threaten Robin Hood's son.
Am I the only one tired of hearing Zelena lament about how Regina got everything and she got nothing? I know it's her reason for becoming the Wicked Witch, but she's beginning to sound like a whiny little brat.
However, Zelena believes she can make it all better by going back in time and killing Ava. 
Who knew that Snow's mother was once such a brat herself. She was positively gleeful as she watched Leopold have Cora kicked out of the kingdom. Leopold was nothing but a fancy jewel coveted by two spoilt little girls. 
Unfortunately, Zelena was the victim in the mess and she didn't have to be, if only her mother had kept her. But being better than a miller's daughter was more important to Cora than her own child. How very sad.
One of the things this episode highlighted was how much Regina has grown. Not only has she stopped battling Emma for Henry's affections, she and Snow have begun to bond as they better understand their mother's pasts. Heck, they can even joke about their present predicament. 
Regina: I'm not looking for a heart to heart.
Snow: I'm not sure that's physically possible.
When it came to Regina losing her heart to Zelena, she readily forgave Robin and told him nothing; not even her own heart was worth the loss of a child. 
Regina was even concerned for Snow and her child as she questioned whether Snow should be on bed rest but as Snow replied in this Once Upon a Time quote...
Apparently the human body has a surprising tolerance for ghost possession.

Snow
Overall, I really enjoyed the bond that has formed between these two. I don't feel that it has diminished Regina's powers at all. If anything, her growth as a person has made her more complicated and more interesting.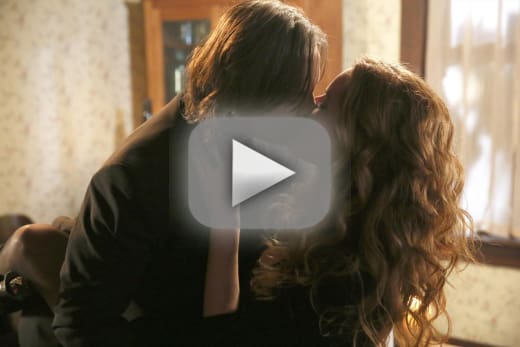 Best of all was when Snow encouraged her that her resilient heart had the capacity to find happiness, for once Regina found her own courage and took a chance. She went out and found the man destined to be her true love and kissed him.
Robin Hood certainly seemed to appreciate the moment too.
So, TV Fanatics, are you enjoying Regina's transformation or would you prefer the Evil Queen of the past?
C. Orlando is a TV Fanatic Staff Writer. Follow her on Twitter.