Welcome to a new edition of The Vampire Diaries Round Table.
This week, panelists Miranda Wicker, Leigh Raines and Steve Marsi tackle such topics as Damon's dark side, Matt's love of shoes and the possibiliy of Staroline.
Should it finally happen? Gather around now and weigh in with your take on the following topics related to The Vampire Diaries Season 5 Episode 12...
-------------------------------------
What was your favorite scene or quote from the episode?
Miranda: I loved Damon's speech to Elena-Katherine when he apologized for breaking up with her. But the magical hot vampire sex reunion I was hoping for didn't happen because Katherine. Ugh. Katherine.
Leigh: Stefan popping Tyler in the mouth. Klaus deserves the hate from Tyler, but Tyler is selfish too and broke Caroline's heart. I also loved Stefan standing up for Caroline.
Steve: Damon and Enzo at the end. Good to see that bromance back in effect, albeit at the expense of Aaron's jugular.
Seriously, should Caroline and Stefan hook up or what?!?
Miranda: I used to really want that to happen but now I think no. I like them better as friends.
Leigh: As I said above, I loved Stefan standing up for Caroline. But I loved it because I loved their loyal friendship. These two demonstrate that you can be close with someone of the opposite sex without hooking up. Let's keep it that way.
Steve: Agree with my fellow Round Tablers. Why mess with this good thing unless it's going to be a lasting relationship, which we all know it wouldn't be? Friends with no benefits (other than giving us something to contemplate every episode) it is..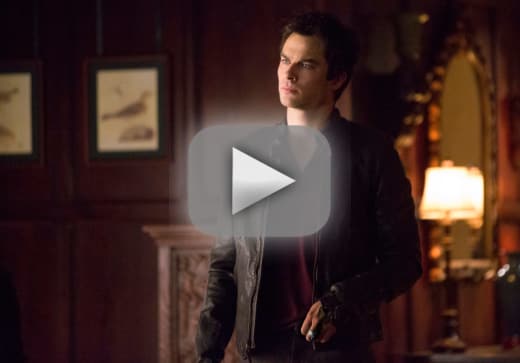 Most surprising Matt fact: he knows what kind of shoes Elena wears, he can throw that big of a party on one day's notice or he hasn't moved to New Orleans to spend every waking second with Rebekah?
Miranda: Well, over on The Originals reviews I keep ranting about the fact that Rebekah can't seem to find the right guy. Because that guy is bro hugging his best friend in Mystic Falls. Come on, Matt! The Big Easy is calling for you! (And by Big Easy, I mean New Orleans, not Rebekah...)
Leigh: I don't know, none of these are particularly shocking. Matt's a down to earth, homebody, loyal friend kind of dude. He probably knows everyone in Mystic Falls, he's known Elena forever and I don't see him leaving his hometown. That said, he's definitely a little bored so maybe he should be mixing it up with Beks in New Orleans!
Steve: Come on you two. There's no way he has given one waking millisecond of thought to Elena's footwear. None.
Stefan is The Ripper. Come up with a name for Damon's dark side.
Miranda: Damon.
Leigh: The Dick? Remember the spinoff we wished for, Ric and the Dick? Otherwise something to do with the fact that he tricks people by acting like a corpse or victim.)
Steve: The Dick, as Leigh says, is always an option (and would've made for a great vampire buddy comedy spinoff with Alaric). That's sort of Damon all the time, though. If we're going for nicknames that reflect him being bad, even by Damon standards, I like something along the lines of Darkside. One word. "Oh, s--t, Darkside's on the prowl tonight." Just sounds foreboding and ominous, as well as catchy ... and likely to earn a lawsuit from Lucasfilm/Disney.
But that's neither here nor there. Another option could be Dark Horse, as he's always been the underdog in the perpetual love triangle. The UNIVERSE is on Team Stefan, TV Fanatics! Also, the slow-building "Dark Horse" by Katy Perry would make for a great soundtrack the next time he and Elena/Katherine hook up. Envision that scene now and tell me I'm wrong.
Favorite Katherine move of the night: axing the red streak, outing Klaroline, breaking Damon's heart of choosing to stick around Mystic Falls?
Miranda: Axing the red streak. It's time for an ombré.
Leigh: Amen on that Miranda. However, I'm gonna pick "choosing to stick around Mystic Falls." Things are just more interesting when Kat's around. However, can we ditch Nadia?!?
Steve: I don't know if any were my favorite, but in terms of acting ability, she was pretty darn smooth and convincing as Elena while breaking Damon's heart. If we're talking about pulling a typical ass move, Katherine Pierce style? Outing Caroline and Klaus was just necessary and harsh ... so I guess that wins.
Matt Richenthal is the Editor in Chief of TV Fanatic. Follow him on Twitter and on Google+.