Sleepy Hollow Season Finale Review: Horsemen 2, Witnesses 0

Carissa Pavlica at . Updated at .
The Sleepy Hollow Season 1 finale consisted of two episodes, Sleepy Hollow Season 1 Episode 12, "The Indispensable Man, which dropped a final hint leading into Sleepy Hollow Season 1 Episode 13, "Bad Blood."
By the end of our two-hour finale, it was clear the winner was Moloch, with two Horsemen in play and humanity sorely losing with two witness run asunder - one buried alive and the other trapped in Purgatory. Whoopsies!
The clock seems to have struck Armageddon.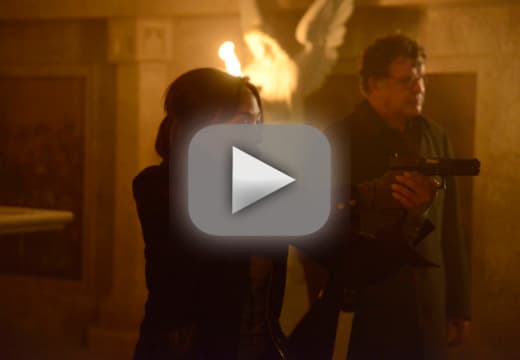 We were thrown some curve balls during the final two hours, and the first was starting the beginning of the finale from Henry Parrish's point of view. By leading off with him and his "nightmare," we we given a sense of calm and assurance that he was coming to the rescue. 
I don't know if you were all shaking off that feeling when Parrish grasped the prayer beads (Which I thought were Rosary beads. I don't know if this was intentional to point out that Reverend Knapp was Anglican and not Catholic, or not, as both denominations call their beads the Rosary -- I found it interesting). He healed quickly and seemed a bit concerned about it, so much so that he grabbed them again before they could take note of his hand. 
I knew then something was off, but never did it cross my mind that Parrish was the key to all of this. 
No matter how "inside" Andy Brooks was with Moloch, he wasn't inside enough to have the detailed information. Clearly his tie with Abbie was so deep as to be nearly indestructible.
It also makes me wonder why Parrish would have touched Andy just before Abbie thrust a pipe into his forehead knowing that he would tell Abbie to destroy the map. Perhaps he wanted her to kill him because Andy's love made him a wild card. Still, he did pop back to life. Maybe Parrish just wanted to know what Andy knew.
There are some confusing aspects about Parrish being Jeremy, even though it's a groovy twist. He was in the ground for 200 years and the death hex didn't work. Clearly. But why did he age just up to about his 60s or 70s? I'm going to need some explaining on that.
Parrish's love for puzzles and trying to give his over-confident and uber intelligent father clues to his existence were both shrewd and touching. Somewhere inside, he was still hoping to be recognized.
Perhaps if, instead of cleverly patting himself on the back all of the time, Ichabod had taken some time to better familiarize himself with his surroundings, he might have read the signs. Always thinking you're the smartest man in the room can be detrimental when your more cunning spawn is right in front of you.
Inserting himself into Katrina's mind in Purgatory was the perfect way for Jeremy start the ball rolling. If the witnesses are prophesied, then it makes sense that both of the first two Horsemen were in some way related to Ichabod. Will the other two be related to Abbie?
It only seems fair. Ichabod was there for the beginning of the planning for the Apocalypse and Moloch chose two of his loved ones as Horsemen. Abbie has been there for the carrying out of the Apocalypse, so now her loved ones should appear. Perhaps her parents, or Corbin or Jenny -- if she doesn't pull through.
It was a satisfying finale to a somewhat stuttering season. Even in it's conclusion, there were still pieces hanging that felt as though they should have been better addressed. After an entire hour focused on Irving and his family, he had only two brief scenes before confessing to murder and then he was shipped upstate. To keep him out of the action in the finale after earning his stripes seemed unfair.
It's difficult to imagine where Season 2 will pick up. Will Sleepy Hollow be neck deep in war? It should be. Irving isn't there to warn anyone; and if he tries, after naming "evil" as the being responsible for the murders before confessing he'll hardly be taken seriously.
Jenny may be dead, but more likely she'll either be in a coma or well and confined again since her sister is no longer around to be her guardian. Abbie is locked in Purgatory, Ichabod is in his son's tomb and only Katrina is left to fight for them all, and she has the pesky Horseman of Death dragging her down. 
I hardly imagine she'll be shown playing house, cooking the headless fellow meals while she waits for an opportunity to trek off and find her husband again so she can jump back into Purgatory to reunite the witnesses to fight the Apocalypse. Well, we shall find out next fall!
Until then, catch up or revisit them all when you watch Sleepy Hollow online. Maybe it will become more clear after a second or third viewing.
Be sure to swing by all of the Sleepy Hollow reviews again and jot your new thoughts down, too!
What was the biggest surprise in the finale?
Carissa Pavlica is the managing editor and a staff writer and critic for TV Fanatic. She's a member of the Critic's Choice Association, enjoys mentoring writers, conversing with cats, and passionately discussing the nuances of television and film with anyone who will listen. Follow her on Twitter and email her here at TV Fanatic.