Welcome back to TV Fanatic's Grey's Anatomy Round Table!
Our Grey's Anatomy review broke down "Map of You" in great detail. Now, TVF's Christina Tran and Steve Marsi, along with Lisa and Liv from GreysGabble.com, are back for a Q&A discussion.
Read their answers below and weigh in with yours!
----------------------------------------
1. What was your favorite scene or quote from the episode?
Christina: McDreamy takes the cake with, "This system of connection compels us to act, choose and behave... sometimes seemingly against our own will, but it is not random at all. It is the map of who we are. We will work to understand ourselves... solve the puzzle of how all the connections work and how all the pieces fit."
Lisa and Liv: Our favorite scene was with Alex and his dad. Justin Chambers is really bringing it, and we love it. Also, we liked any scene with Cristina Yang and her glue comments. We love her.
Steve: All things Derek take this for me. He was great.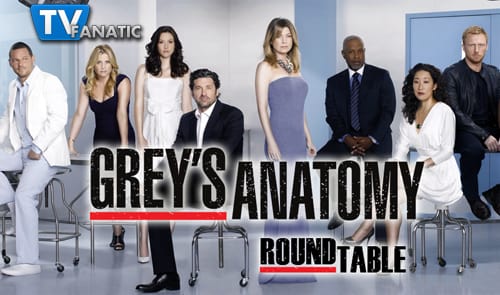 2. What do you think about the interns getting more screen time than ever? Has it been seamless?
Christina: Truthfully, not on board at first. However, I think the storytelling has been working. I've grown more interested in the interns with every passing episode. The only issue I have is with Leah being paired with Arizona. Did that really have to happen? It feels forced.
Lisa and Liv: We are not invested in the interns. They are like McMug… they have a hand in telling the story of the main characters.
Steve: Seamless, no. But more or less organic. New people come and go all the time in hospitals and most workplaces though. It doesn't feel too forced and you know that's the direction the show is headed so it's hard to get upset about it. For the most part I like the characters so it's not a huge issue for me.
3. How did you feel when Alex found out his dad was still fathering children and leaving his responsibilities behind?
Christina: I was as shocked as Alex was. I highly doubt his story is finished though. I'm ready to see more and I think that Alex's dad will come back for him.
Lisa and Liv: Pain, hurt and realizing that his dad didn't deserve him… Alex knows he is enough.
Steve: Talk about a stomach punch. Hard not to feel devastated for Karev in that situation but like Christina, I'm not convinced this chapter is closed.
4. The Cristina and Meredith battle continued. Was Meredith right to say the things she did?
Christina: Yes! She had every right to be upset with Cristina - that is, for what was said last week. Like Mer stated, Cristina doesn't have time for people who don't want the same things she does.
Lisa and Liv: Yes and no, just like last week. The truth is so hard to swallow. We are on this ride though, and going to wait to see what happens.
Steve: Not sure Meredith would choose the same words if given another chance. Or maybe she would. Either way, you can certainly see where she's coming from regardless of whether she crossed the line with any individual comment. These emotions come from a very real place.
5. Medicine, along with the interesting cases and patients, was at the forefront of this week's episode. Would you prefer seeing more installments follow suit or a bigger focus on the drama amongst the docs?
Christina: I prefer a solid balance. We saw that this time around, and it felt like classic Grey's Anatomy style. In more recent years, the medical cases haven't been memorable. We need more episodes like this one.
Lisa and Liv: We are torn. With the departure of Sandra Oh, we would appreciate as many Crowen scenes as possible. We want to see more Callie in action. We would like to see more throwbacks to Grey's Anatomy Season 5 to be honest.
Steve: I actually enjoy when it's a cool medical show in addition to a soap opera, so a good mix of the two - while hard to find - always seems to work best. NCIS does a great job of making each episode about the case yet letting the characters take center stage. Grey's will always be more character-driven that that, but it's a good example of striking the right balance.
What do you all think of this week's Grey's Anatomy? Share your responses below!