Burn Notice Review: Loyalties Questioned
Jim Garner at .
With nothing to lose anymore, Michael's frank and honest answers to James didn't surprise me as much as James' total trust in Michael to lie to the CIA on Burn Notice this week.
Then again, Michael's lied to the CIA before, always when he thought it was the right thing to do, so I really shouldn't have been that surprised by his willingness to do it for James in "Sea Change."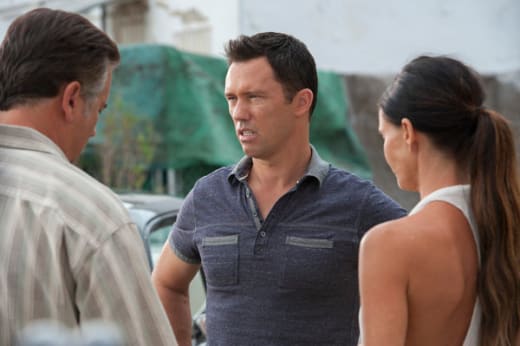 Of course, my new man-crush James didn't disappoint: he came to the logical conclusion that sacrificing himself would keep the organization, Michael, and Michael's friends all safe. A fair trade, really, James going to jail while his work continues... stronger than ever.
It was all a good plan except for Michael's conscious, which just happens to be located in Fiona Glenanne's heart. Like Jiminy Cricket, Fiona has been there to help as Michael's compass for right and wrong. Okay, so Sam contributes, but Fiona is attached directly to his heart. 
That's not to say that Sam and the gang didn't fumble a little on the plan to "rescue" Michael. Sam, of all people, should have known that Michael would see through a lie and been ready with a Plan B when he did. Getting into a knock-down brawl on the bridge and ending up in the Atlantic didn't seem like it was well thought out. 
Actually, when Michael and Sam began having their fight, I wondered why they didn't send Fiona to talk to Michael (and/or pick him up). She could have gotten close enough to drug him if needed, but as we saw on the rooftop, she didn't need to. If Fiona wants to remind Michael of what is right and wrong, all she has to do is put herself in harm's way, by confronting Sonya, for example.
In fact, the only thing that Sonya could have done to make Michael change his mind about taking over the organization from James was threaten to harm Fiona. There is no way Michael would let Fiona get hurt in the process of finishing the mission. I was surprised that Sonya couldn't see that. 
On the other hand, I wasn't expecting Fiona to burn down Madeline's house as a distraction to get her and Charlie away from James' men either.
Actually, add Madeline to that surprising list too; she actually agreed to let Fiona burn down her house that she's lived in for 45 years. All three of them shocked me this week.  
In the end, I'm betting Michael will have shot Sonya and saved Fiona, but we will have to wait till next week's final episode to see if I'm right, and if so, how James will take it. 
With only one more week of Burn Notice I find myself looking back at the years I've been reviewing the show and marveling at how far the show has come. In my very first review I mentioned that USA had taken a gamble on the series renewing it for seasons 4, 5 and 6 at the same time, but I expected it to pay off. I'm happy I was right!
Overall, even with a cliffhanger ending, it was a great episode and I'm giving it 4.9 Mojitos for Sam, who will need them to soak his broken pride and busted nose back to health. 
As we go into the final week, what are some of your fondest memories of Burn Notice? Any predictions you made on how the show would go that came true (or didn't)?
Jim G. is a TV Fanatic Staff Writer. Follow him on Twitter.