The cast of Parenthood gathered at the Television Critics Association press tour in Beverly Hills yesterday, teasing reporters on the scene with a spoiler-filled Season 5 promo.
There was Kristina with a new haircut… Jasmine and Crosby with their new baby… and Amber and Ryan discussion marriage!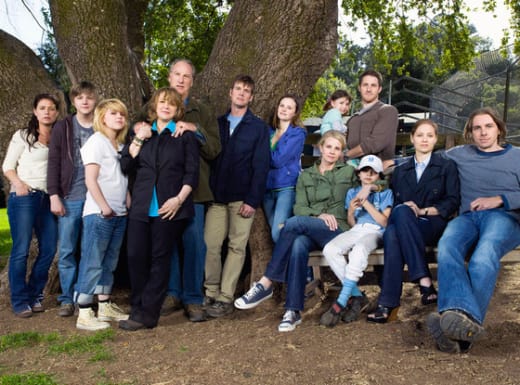 "It's a big decision to take a step like that when you're young and the things that come out after you make a choice like that and you start to feel settled I think would be interesting," Mae Whitman said of Ryan and Amber's possible engagement. "It's interesting to see how different questions come in in a relationship when you're adult and it's more serious…[to see] if they will grow together or separately." 
Sarah, meanwhile, will have a new apartment and a new job.
And, yes, Ray Romano will be back as Hank, but "this is a year of her wanting to figure out her life and figure our what her next step is in life and not be focused solely on a romantic relationship," teased creator Jason Katims.
Finally, viewers may need to be a "a little concerned" about Joel and Julia's marriage, due to the arrival of two new characters played by Sonya Walger and David Denman.
"There's a major role reversal in the fact that these construction opportunities are suddenly coming his way and we're going to see the dynamic change quite a bit," Erika Christensen said. "Julia's still unemployed and not happy about it."
Parenthood Season 5 premieres on September 26 and there will be an eight month time jump on the premiere.
Matt Richenthal is the Editor in Chief of TV Fanatic. Follow him on Twitter and on Google+.